Made By:
Jada Toys
Scale:
1/24
MSRP:
US$24.99
Overview:
Packaging (Design):
8/10
Packaging (Durability):
8/10
Casting (Body):
9/10
Casting (Interior):
9/10
Casting (Chassis):
7/10
Casting (Engine):
7/10
Paint (Exterior):
10/10
Paint (Interior):
N/A
Paint (Trim/Graphics):
9/10
Overall Panel Fit:
10/10
Total Score:
7.7/10

Other Comic & Manga Models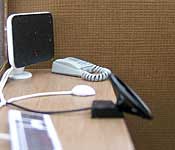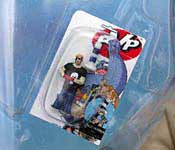 The Silver Spectrum Ford Deluxe
The Circuit Wolf BMW 3.0 CSL
Judge Parker Corvette
Detective Comics #156 Batmobile
Cyber Formula SIN Asurada Aero (Review)
Misery Machine
PvP Dexter Jettster
Batman #20 Batmobile
Detective Comics #27 Batmobile
Batman: Man-Bat Batmobile
Cyber Formula Experion Z/A-8 (Review)
Cyber Formula Super Asurada (Review)
DC Bombshells Batgirl (Review)
DC Bombshells Catwoman (Review)
Lupin III Mercedes-Benz SSK (Review)
Detective Comics #377 Batmobile
Cyber Formula SIN Ogre AN-21 (Review)
Batman #408 Batmobile
Detective Comics #597 Batmobile
Avengers Chevy Camaro (Review)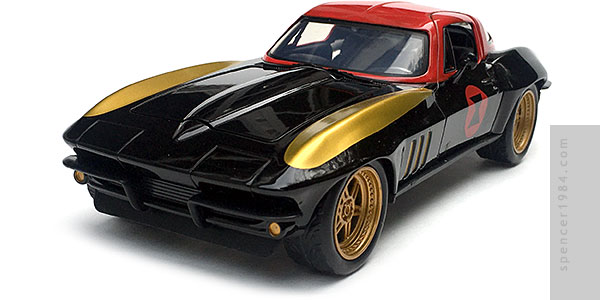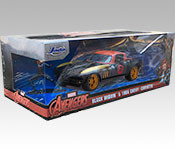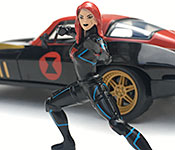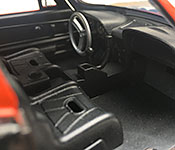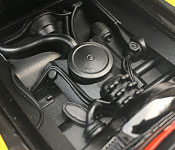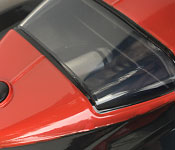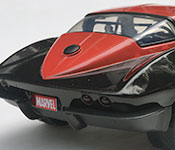 Background
When Captain America: The Winter Soldier was released, it introduced not only new characters but also the all-new C7 Chevrolet Corvette. The car was driven by Natasha Romanoff, and the idea of a black Corvette for Black Widow was revisited here for Jada's Avengers diecast series.
Packaging
Jada has updated their Avengers box for 2020, eliminating the all-plastic top front corner in favor of a more traditional framed box design. It's the same size and general color scheme as the previous one, and aside from the new window changes have been subtle: the "Metals" logo has been dropped and the Avengers logo has taken its place, leaving the comic portrait on the right side fo the front panel uninterrupted. On the back, the only co-sell is Venom's 2008 Viper. The interior tray is essentially unchanged, with two screws holding the car in place, a pair of plastic bands keeping the doors and hood closed, and Black Widow screwed to the base near the front of the car.
Casting/Paint
This casting was originally used for Jada's Furious 7 line, and as a new tooling it looks great: clean panels, tight seams, and an overall clean assembly. The body, doors, and hood are all diecast, with black plastic used for the grille, bumpers, and gas cap. Black plastic is also used for the chassis, which also serves as the front spoiler, rockers, and rear splash pan. The sideview mirror is soft black vinyl with a chrome sticker for the glass. Translucent red plastic is used for the taillights, but thanks to the black sockets appear almost colorless. Although the sheens are mixed - gloss for the body, matte for the plastic details, and satin for the mirror - they come together nicely. Equally surprising is how good the molded-in details like the wipers, door handles, and locks look. They're fairly delicate for being cast as part of their respective metal panels, but the black paint is doing a lot of lifting here as well. It a smooth, glossy back accented by the bright gold fender details and flame red greenhouse. Black is used for the trim around the windshield, vent windows, and rear window, and a red Widow hourglass is centered on each door. While the paint finish is excellent across the board, there are a few issues with accurate placement. Putting bold colors next to each other is always a risky proposition, and the intricate lines of the C2 don't help. There are several spots where the red and black bleed into each other. As usual for this series, the license plate is a simple "Marvel" logo sticker.
Inside is a highly modified interior, keeping only the dashboard and door panels from the stock Corvette. Seats are low-backed racing buckets, flanking a custom center console with a separate hydraulic handbrake lever. A nitrous bottle is nestled between the rear wheel tubs, and a roll bar is positioned tight to the roof behind the seats. The nitrous bottle and steering wheel are both painted silver, and the instrument cluster is detailed with a sticker. Otherwise, the interior is all black plastic.
The engine and chassis are likewise solid black plastic, but the less said about them the better. Both are severely oversimplified, with no extra parts or use of depth to make either look like anything other than what they are. The wheels are nice, though, in gold plastic with fat vinyl tires over silver disc brakes at all four corners.
Features/Accessories
The hood and doors open on smooth-working hinges that hold their position. Also included is a 1/24 Black Widow figure. Natasha is in her modern costume, black with blue piping and a red hourglass on her torso. She's in a fairly extreme fighting pose, but it still easy to stand and will stay balanced despite being fairly well-proportioned. Her paint is the usual excellent work, with only a small mark on her left cheek that could be excused as a recent battle wound.
Accuracy
This is not based on an existing design, but is instead a "character car" that simply uses an existing tooling with a new paint job to evoke a persona.
Overall
Despite my ever-growing Fast & Furious collection, I never picked up this replica when it was released then. Aside from suffering the usual "box scale," the proportions were off - the body was too short rocker-to-roof, and set too high off the ground. It gave the car a weird, ungainly appearance. But a lot of that is helped with the new paint scheme, as well as the clearly fanciful role this car plays. Its 1960s styling fits Black Widow's Cold War-era origin, and the new paint and updated hardware suggest that, like Natasha, it has been updated to fit modern times. If Jada had dropped the ride height like they did with KITT, this would be perfect. As it is, it still works as a decent fit for the character and is well worth picking up.
Have a question, comment, or criticism about this review?
Send me an e-mail
with your thoughts!