Made By:
Jada Toys
Scale:
1/24
MSRP:
US$24.99
Overview:
Packaging (Design):
8/10
Packaging (Durability):
8/10
Casting (Body):
9/10
Casting (Interior):
9/10
Casting (Chassis):
8/10
Casting (Engine):
7/10
Paint (Exterior):
8/10
Paint (Interior):
N/A
Paint (Trim/Graphics):
10/10
Overall Panel Fit:
8/10
Total Score:
8.3/10

Other Comic & Manga Models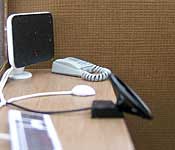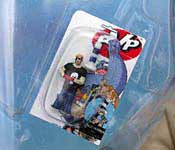 Cyber Formula Fire Superion (Review)
Transformers G1 Ratchet
Detective Comics #27 Batmobile
Cyber Formula SIN Asurada (Review)
G.I. Joe RAM
PvP Dexter Jettster
Cyber Formula Knight Savior (Review)
Teen Titans #9 Batmobile
Cyber Formula Super Asurada (Review)
Cyber Formula Asurada GSX (Review)
Batman #164 Batmobile
DC Bombshells Wonder Woman (Review)
Detective Comics #377 Batmobile
Detective Comics #597 Batmobile
Jigoro Jigorou Toyota Celica
Detective Comics #800 Batmobile
Pearls Before Swine Revenge-O-Mobile
Cyber Formula Asurada AKF-11 (Review)
DC Bombshells Harley Quinn (Review)
Lupin III Mercedes-Benz SSK (Review)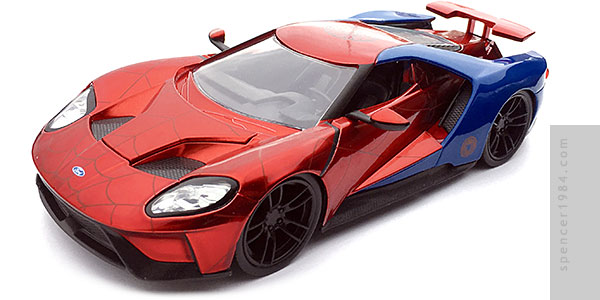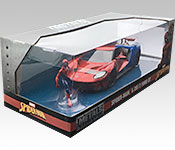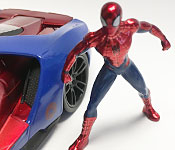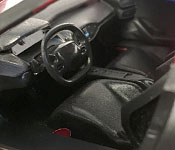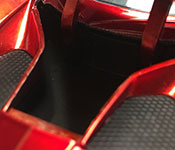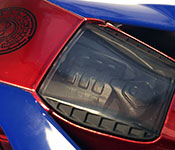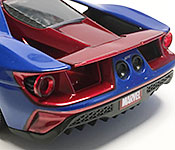 Background
The Spider-Mobile was introduced in 1973's Amazing Spider-Man #126, when Spidey was approached by a pair of men representing Corona Motors with an offer to make Spider-Man the face of their new non-polluting engine. After some initial hesitation, he and Johnny Storm built the first Spider-Mobile, unveiling the finished car in March 1974's ASM #130. Since then, variations of the Spider Mobile have appeared in various times and realities, including Deadpool rebranding it as the "Dead-Buggy" and Hawkeye using it in Old Man Logan.
Packaging
This is essentially the same packaging we saw for the Batmobiles, a wide box with the top forward corner being made of folded plastic to allow for an unobstructed view of the car and figure. The background of the box is the same dark gray textured to look like brushed metal, but now with a black and red band around the bottom of the front panel and both end flaps. The Marvel and Spider-Man logos are in the lower right corner under a portrait of Spider-Man, and "Spider-Man & 2017 Ford GT" is written in the red part of the band under the window. The back panel has co-sells for Iron Man's 2016 Camaro and Black Panther's Lykan HyperSport. Inside, the GT is held to a folded cardboard tray via two screws with plastic bands around the hood and trunk to keep them closed. Spider-Man is in a separate plastic tray mounted near the front of the car.
Casting/Paint
The redesigned Ford GT is a very difficult shape to capture, and while there are a couple of misalignments—the right headlight isn't quite flush with the fender and the left door doesn't seat completely—things generally look pretty good. The main body, doors, trunk lid, and rear spoiler are all diecast. The grille, front spoiler, hood vents, rear wheel vents, side skits, and taillight bezels are all rigid black plastic; the headlights, windshield, and rear window are clear plastic; the taillights are transparent red plastic; and the sideview mirrors are soft vinyl with chrome insert for the glass. Wheels are black plastic with vinyl tires over silver and red painted disc brakes. Black plastic is also used for the engine, interior, and chassis/rear diffuser. Detailing on all the black plastic parts is excellent, with everything from the fins around the taillights to the dashboard controls sharply defined. The texture work is especially impressive, as Jada managed to capture the different looks of carbon fiber, smooth plastic, metal, fabric, and multiple types of mesh. The engine is a simple relief casting, but with the narrow viewing angle it's close enough. The interior, by contrast, has separate seats, steering wheel, control column, pedals, and a multi-piece dashboard with stickers for the display faces.
Paint is also a hit, which is especially good considering Jada's track record with candies and metallics. Like the body it's not quite perfect thanks to some ghosting along the transitions and a couple of spots on the rear fascia, but nothing bad enough to effect the overall look of the car. The red is deep and smooth, with a cool chrome sheen, while the blue is strong and even to add a great contrast. A lighter flat red is used for the webbing on the front and sides, as well as the spider emblems between the door and rear wheel on each side. Flat black paint apps are used extensively, including the front vents, headlight frames, door dividers, windshield frame, engine louvers, rear ducts, and tailpipes. I do kind of wish that the windshield cowl was painted black as well, since red wipers look a bit out of place, but that's not a mistake so much as a personal preference. Black print is used for the roof symbol, which features the Spider-Man badge and legend "Protector of New York." The Ford emblem is printed in silver and blue on the nose, while the GT logo is printed in silver above the tailpipes. The Marvel logo is printed in red and white under the pipes as the rear license plate.
Features/Accessories
The hood and doors open, with the doors swinging out and forward on a diagonal hinge. The hinges work well, but the left door doesn't quite close correctly without extra force. The rear spoiler also moves up and down on a slider, holding at any level nicely. A 1/24 Spider-Man figure is also included, and is painted to match the car. This would have been more appropriate had he been cast in something that looked more like the Iron Spider suit, but this looks like his usual fabric costume.
Accuracy
This is not based on an existing design, but is instead a "character car" that simply uses an existing tooling with a new paint job to evoke a persona. The GT is a bit big, scaling out to around 1/22.5.
Overall
Like T'Challa and Tony's cars, this is a reissue of an existing Jada diecast...but it took me longer to warm up to this one. Even knowing that historically the Spider-Mobile was a sponsored vehicle (so the GT's price tag was not an automatic disqualifier), it just didn't seem to fit the character. Then I happened to catch a glimpse of it straight-on from the front, where the headlights give off a distinctly "Spider-Man" vibe with their shape and black outlines against the red "web head." Well played, Jada.
Have a question, comment, or criticism about this review?
Send me an e-mail
with your thoughts!