Made By:
Disney Store Exclusive
Scale:
N/A
MSRP:
US$24.95
Overview:
Packaging (Design):
9/10
Packaging (Durability):
8/10
Casting (Body):
8/10
Casting (Interior):
N/A
Casting (Chassis):
N/A
Casting (Engine):
N/A
Paint (Exterior):
7/10
Paint (Interior):
N/A
Paint (Trim/Graphics):
8/10
Overall Panel Fit:
9/10
Total Score:
8.2/10

Other Cartoon & Anime Models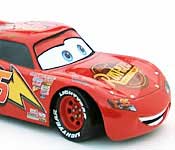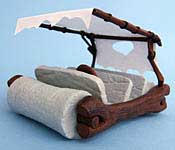 M.A.S.K. Manta
MOSPEADA/Robotech VR-052
Chop Socky Chooks Cars (Review)
Max Steel Turbo Racer (Review)
101 Dalmatians Cruella's Car (Review)
Roadster Racers Donald (Review)
Danger Mouse Mk III
Batman:TAS Batmobile (Review)
The Real Ghostbusters Ecto-1
1992 Batman:TAS Batmobile
Battle Force 5 Saber (Review)
Tiger & Bunny Double Chaser (Review)
Lupin III Mercedes-Benz SSK (Review)
G.I. Joe RAM
Batman:TAS Batmobile (Review)
Steven Universe Van
WALL·E
Evangelion Renault Alpine A310
Jimmy Neutron Rocket
Freedom Project Tricycle (Review)
Other Aircraft Models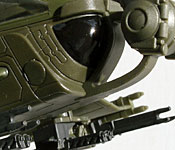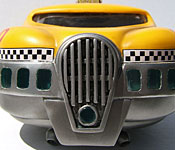 Star Wars X-Wing
Shadows of the Empire Virago
Day of the Cheetah XF-15F
Planes 2 Firefighter Dusty (Review)
Star Fox 64 Arwing (Review)
Jimmy Neutron Rocket
Planes Dusty Crophopper (Review)
Rick and Morty Space Cruiser
Avatar AT-99 Scorpion
Planes Bravo & Echo (Review)
The Fifth Element Flying Taxi (Review)
Supercar
Planes El Chupacabra (Review)
Jetsons Spaceship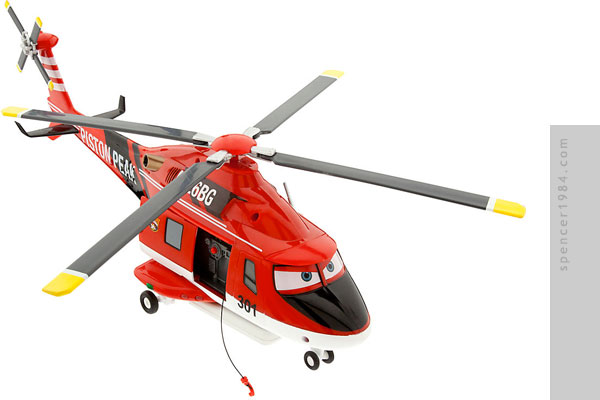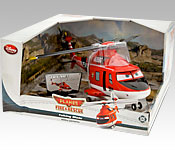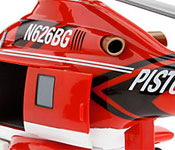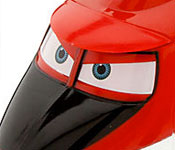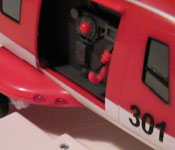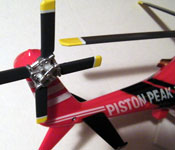 Background
When Dusty Crophopper went for training to become a firefighter, he wound up under the guidance of Blade Ranger. Blade was a former actor (known for his role as a police helicopter in the series CHoPs) who moved into rescue operations after the on-set death of a co-star. Unimpressed with Dusty's efforts at first, Blade eventually grew to respect the young aircraft.
Packaging
The Fire & Rescue series is similar to the original Planes packaging insofar as being a large gray open-topped box, but it is now smaller and lacks the "airplane hanger" look. It is 13½" (34cm) x 12¾" (32cm) x 7" (18cm) with full walls on the back and one side, and partial walls on the other two. The front of the package has the Disney Store logo, Planes: Fire & Rescue logo, "Talking Blade," the age restrictions, and a small image of Blade in flight. The one full end panel has a large portrait of Blade flying through a mountain range and the movie's title logo. The partial end panel has a smaller reversed version of this portrait and the title logo. The back panel has a large photo of the toy surrounded by callouts to Blade's features in multiple languages: "19 Phrases!" "LED Lights" and "Motion Activated Helicopter Sounds!" Three smaller photos demonstrate his removable stretcher, opening side door with working crane, and spinning rotor. The photo of the stretcher is apparently based on an earlier prototype, as the actual figure has the stretcher attach differently: you need to pull forward to release it from Blade. The bulk of the legal information is printed near the bottom of this panel, and another title logo is near the top left corner. The bottom of the box has only the battery exchange info and a Disney Store sticker. The two full walls form a partial top panel, which has only the title logo and "Talking Blade" text. The inside tray has a beautiful mural of Piston Peak National Park, printed as if Blade were flying high above the trees. Blade is held onto a clear plastic tray with two large plastic bands. A specially molded tray is fit around his folded-up main rotor to keep it stowed safely. "Try Me" it printed on a cardboard standee inside the box.
Casting/Paint
Blade is almost entirely cast in red plastic, with only the stretcher (white), landing gear (white with black rubberized tires), rotors (gray), and elevator (black) cast in alternate colors. There's a little bit of a step between the main fuselage halves, but overall everything looks very clean and nicely detailed. The paint further enhances it, with clean lines around the windows, clean graphics on the sides of the fuselage, and bright white and yellow tips on the rotor blades. The main exhausts are either gold plastic or (more likely) painted gold with black interiors. A Piston Peak Air Attack badge is printed on his starboard cargo door, and is sharply printed. If not for a poor masking job at the break between the white and red and poor edges on the moving doors, this would be an outstanding paint job. As it is, things are still at the higher end of the Disney Store Planes figures.
The on/off/try me switch is located between the two rear landing gear, and directly behind it is a push trigger to activate the main rotor. Disney's designers finally got one right: pushing the button spins the rotor the correct direction to provide lift. The speaker is in the starboard side of the tail, and the talk button is built into the main rotor.
Features/Accessories
Blade speaks 19 phrases from the movie: "All aircraft must be on the ground 30 minutes after sunset," "All right, mud droppers—watch your altitude," "Can you make it to your safety zone?," "Copy that," "Good move, partner," "I'd say you earned that certification—spin 'er up," "Lightning storm started a whole slew of spot fires and they've merged...this is a big one," "Hold and return...we still got a lot of work to do," "Negative—return to base," "Pull up, now!," "Push your engine," "Red light it! Red light it!," "The team needs to train; there's going to be some mud spilled along the way," "These cross-winds are too strong! Return to base," "This ain't no campfire," "Too early," "Too high," "Too low," and "You can't outrun the fire." These run in order, and start with the same phrase every time you turn him on. Moving him will activate his engine sounds. Continuous movement will repeat the "whop whop whop" sound, while leaving him alone will have the noise switch to an idling engine before turning off completely. Both cargo doors slide open (though the door handles are on the wrong ends of the doors). The port door opens on a small cargo area, while the starboard door reveals a retractable string with a hook on the end. Finally, the stretcher can be removed.
Accuracy
Blade matches his Fire & Rescue appearance very nicely, with only the prop trigger standing out as incorrect. His markings all look good, and he wears an appropriate determined expression. As with all Planes characters, scaling is open to interpretation. The AgustaWestland AW109 and Bell 429 GlobalRanger have been suggested as inspirations for Blade's design, and going by that he would be approximately 1:26 - 1:28 scale. Surprisingly, Blade's main rotor is actually a reasonable size. Most toy helicopters have ridiculously undersized rotors, but these are just about dead-on.
Overall
Blade is probably the best of the Disney Store "talking Planes" characters to date. the plastic is a good high quality, the paint apps are generally good, the play features are unobtrusive, and the overall look is great. I normally recommend waiting for a sale or coupon before getting any of these, but Blade is one who's worth the full retail price. Recommended.
Have a question, comment, or criticism about this review?
Send me an e-mail
with your thoughts!