Site Features
Getting Started in the Hobby
Model Categories
Made By:
LEGO (set #6641)
Type:
Building Blocks
MSRP:
$6.50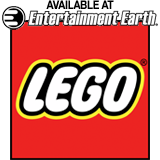 Other Building Toy Reviews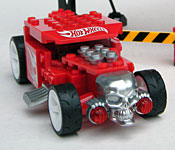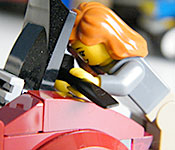 LEGO 4-Wheelin' Truck
LEGO Batman: Riddler Chase
LaQ Frog
LEGO Fuel Pumper
LEGO Cement Mixer
K'NEX Greenhouse
Luke's Toy Factory Fire Truck
Slotto Puzzle
Mega Bloks Super Blitzen
LEGO Delivery Van
Mega Bloks Super Stunt Test Facility
LEGO Flatbed Truck
LEGO Fuel Tanker
K'NEX Ferris Wheel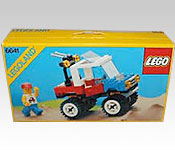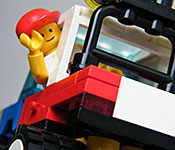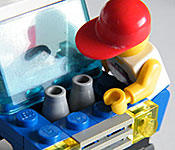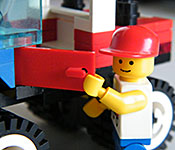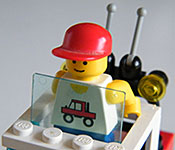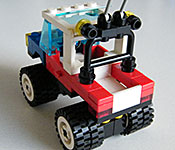 Released in 1987, the 4-Wheelin' Truck was one of the first ground vehicles to break LEGO's 4-stud wide design since the introduction of the Town theme in 1978. It was also one of the first to use components that were until that point exclusive to the "Technic" series. Part of the "High Speed Adventure" subtheme, this set came with 80 pieces and a single minifigure.
The minifig had a red cap, standard yellow smiley head, white torso with yellow arms and a truck/neckline print, and blue legs. Although common now, this was one of the first minifigs to use mixed colors between the torso and arms, as well as one of the first to create a unique neckline with a printed pattern.
The truck is based on the standard LEGO 4x10 auto chassis, but has several design features to make it really unique when it came out. The most obvious is the suspension, which uses round bricks to represent shock absorbers, a gray handle tile to act as a front bumper/chassis guard, and eight Technic wheels on 6L axles to create the wide off-road tires. The sunroof panel was also a recent piece, and the use of tiles and jumpers on the pickup bed made for a smoother look that was unusual at the time (the follow-up Road & Trail 4x4 didn't use the same design), but is fairly common today. Exposed engine components were also new, and although simple it conveys the idea beautifully.
The only real drawback to this set is that the drivetrain components are relatively heavy, and after a few "off roading" adventures the connection between the top of the suspension and bottom of the chassis can get a little loose. The four-color body seems like it ought to be an eyesore, but for some reason it actually works. What I really like about this set, though, is how perfectly it captures 1987: Monster Trucks were in, the LEGO Town theme was really running, and there were hints of the future in a set that is very much a classic.