Site Features
Getting Started in the Hobby
Model Categories
Made By:
Mega Bloks
Type:
Building Blocks
MSRP:
$19.99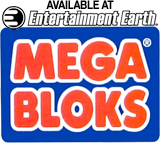 Other Building Toy Reviews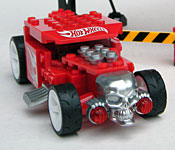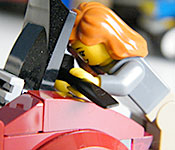 LEGO Batman: Riddler Chase
Mega Bloks Super Blitzen
LEGO Fuel Tanker
LEGO Delivery Van
Mega Bloks Super Stunt Test Facility
LEGO 4-Wheelin' Truck
K'NEX Greenhouse
LaQ Frog
Slotto Puzzle
LEGO Cement Mixer
Luke's Toy Factory Fire Truck
LEGO Flatbed Truck
K'NEX Ferris Wheel
LEGO Fuel Pumper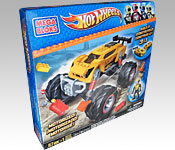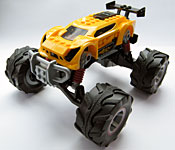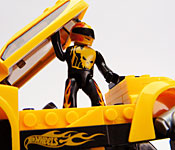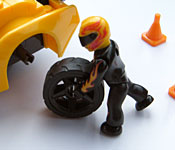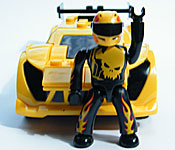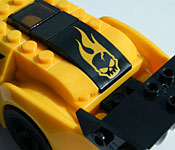 Mega Bloks has managed to create a rare trifecta of awesome by combining a building set, a Hot Wheels car, and a monster truck into one set.
Super Blitzen was originally part of Hot Wheels' 2011 New Models series, available in green and yellow. The Mega Bloks version is a simplified but easily recognizable version of the yellow variant, using a combination of generic and specific parts to recreate the car's shape. It even includes a set of wheels that mimic Hot Wheels' PR5 design.
Building it was simple but satisfying - from sealed box to finished car took less than ten minutes, following along with the clearly illustrated instructions. These show you how to build the standard Super Blitzen, a roadster version, and a monster truck. The conversion from street to monster is quite clever: by using the street car's axles as mounts for the shock absorbers, you only need to replace four parts to make the switch. The monster truck chassis includes a pull-back motor, which isn't very strong but rolls along nicely once you get over the inertia of the large tires (giving it a gentle bump after release is more than enough).
In addition to the car, this set also includes traffic cones, a red barrel, some spare parts, and a figure. The figure has ball joints at the neck, shoulders, hips, and ankles, plus swivels at the wrists and waist. This adds up to a surprisingly active figure, and thanks to the plugs in the bottoms of its feet you can get some really fun poses with it.
And in the end, that's what really counts here: the fun factor. It's a great little project that is a blast to build and has a huge potential for play options. The assembly is easy enough for most ages, and the finished car is solid enough that it won't fall apart even during more aggressive play. I also like that Mega Bloks designed this to work with the rest of their Hot Wheels series, allowing you to make monster trucks out of any of them. Very highly recommended.
Our thanks to Mega Bloks for providing this review sample. Have a question, comment,
or criticism about this review?
Send us an e-mail
!