Site Features
Getting Started in the Hobby
Model Categories
Original Kit:
2007 Ford Crown Victoria Police Interceptor
Made By:
Motor Max
Scale:
1/24

Other Police Models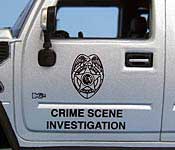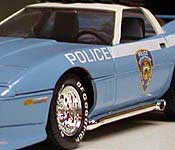 Blackhawk PD Concorde
Short Time Dodge Diplomat
Stranger Things Chevy Blazer (Review)
Mad Max V8 Interceptor (Review)
Transformers 280ZX
LAPD Monte Carlo SS Aerocoupe
Blue S.W.A.T. Striker EX (Review)
Resident Evil Raccoon City Police Car
Piranha 3D Crown Victoria
Transformers Saleen S281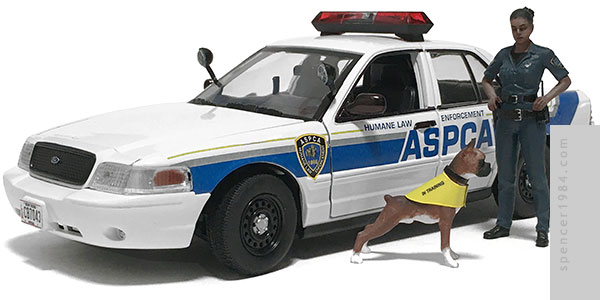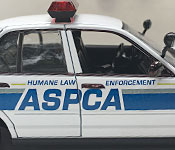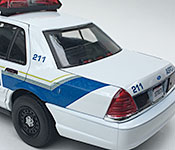 This was a relatively simple modification to Motormax's ubiqiutous Crown Victoria. It started out as a blank white car, so the only paint work it really needed was the trim around the windows, sideview mirrors, and rear panel. I did also remove the front bumper push bar, since none of the ASPCA cars of the era seemed to have it. The holes were filled in and the bumper was repainted Tamiya TS-26 Pure White.
The side markings were my own design, drawn up from reference photos of both the cars used in the series and the less-famous vehicles on the actual street of New York. These were printed onto clear decal stock and applied in sections across the sides of the car to make sre everything lined up correctly and fit the panels. Lastly, I swapped light bars with another Motormax Crown Vic, since this one came with a Vector light bar. The replacement had the right shape but was entirely clear, so I scored the lines where the breaks should be and painted the outer lenses Tamiya TS-74 Clear Red and the base flat black.
As a final touch, I decided to include an officer and dog. The base figure is Master Box's "Ashley - Field Interview" from their Dangerous Curves series, with a head swap from "Ali - #Status Check". I also added the T-shirt neckline and made a new hair bun from thread. She was painted with a combination of Tamiya, AK Interactive, and Apple Barrel colors. Her canine companion is the boxer that was included with the Atelier iT figure that became post-apocalyptic Velma. While the sculpting was great, there was an unfortunate seam that I couldn't quite seem to get rid of. So I decided to give him a uniform as well, making an "In Training" vest from a plastic tablecloth backed with aluminum repair tape to give it an appropriate "hi-vis" appearance. The decals for it, along with the officer's sleeves and badge, were custom pieces I printed up.