Site Features
Getting Started in the Hobby
Model Categories
Original Kit:
1996 Ford Mustang
Made By:
Maisto
Scale:
1/24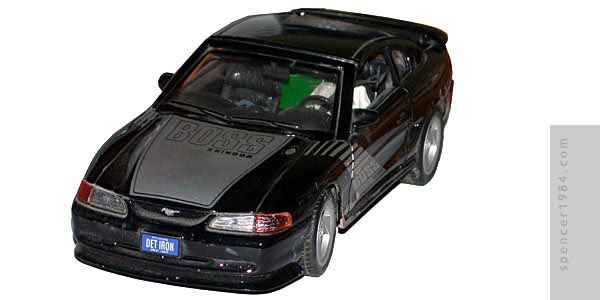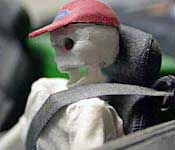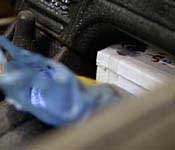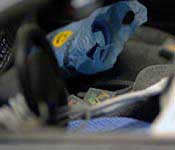 The final car that was put on my diorama, this "model" started out as a die-cast toy from Kay*Bee Toy Store. Modifications to the actual car are minimal: I painted the tail lights, grille, interior components, and some other details, then weathered the car slightly using mud and dust.
Most of the work on this model went into detailing the interior of the car. The most obvious edition is the surprised-looking skeleton in the front seat. The diorama this was put on is set in a post-alien invasion earth, and I wanted to add a driver, but I didn't want it to be too macabre, so I went with a very clean non-survivor of the alien attack (sort of like Mars Attacks, but without the green goo). The skeleton was mainly constructed from wire and plastic rod, and the skull is a highly modified head from a 1/24 trucker figure. I then dressed the skeleton in a T-shirt and denim shorts made from tissue paper and cloth patches.
Other details inside the car include a cooler, two Wal-Mart bags (made from the actual blue plastic bags), floor mats, CDs, and a camera.
Have a question, comment, or criticism about this model?
Send me an e-mail
with your thoughts!