Site Features
Getting Started in the Hobby
Model Categories
Original Kit:
Human Alliance Roadbuster
Made By:
Hasbro (#29621)
Scale:
1/27

Other Transformers Models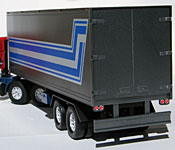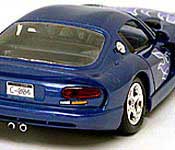 G1 Ironhide
Revenge of the Fallen Mudflap
Armada Sideswipe
G1 Optimus Prime
Robots In Disguise Prowl
Armada Mini-Cons
Robots In Disguise Sideways
Robots In Disguise R.E.V.
Robots In Disguise X-Brawn
Robots In Disguise Prowl (Super)
Other 2010s Movie Models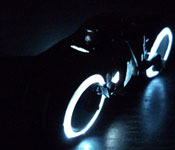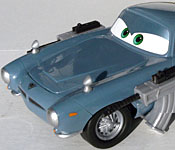 Furious 6 GT-R Ben Sopra (Review)
Piranha 3D Crown Victoria
The Last Stand Camaro
Planes 2 Firefighter Dusty (Review)
Safe Crown Victoria
Atomic Blonde Porsche 911
Furious 7 Lykan HyperSport (Review)
Furious 7 Nissan GT-R (Review)
LEGO Batman Batmobile
Fast 5 Nissan GT-R (R35)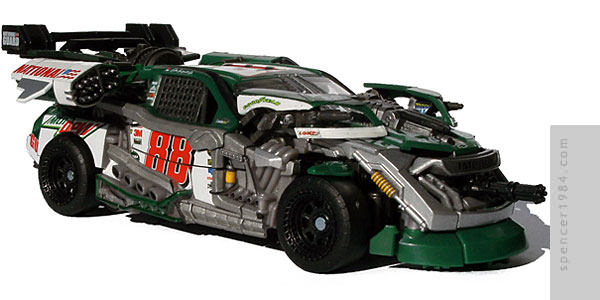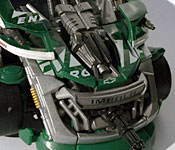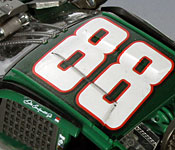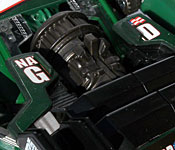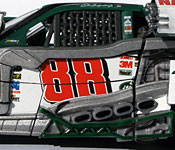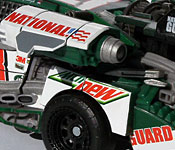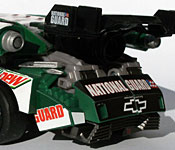 Cool Fact
By the time Dark of the Moon hit theaters, NASCAR had gone back to traditional spoilers (rather than the wings used on the Wreckers) because the wings generated lift during spins, causing cars to flip over during accidents.
Roadbuster needed the most work of any Human Alliance figure so far. Given the intricate nature of his "weaponized" mode, it's not surprising that Hasbro missed several paint apps...though it is surprising how far off the ones they did include looked. Fortunately, between myself and Reprolabels' upgrade set, I was able to get him a lot closer to his movie look.
I started by redoing the exposed framework with Testors' Steel. Then I went through and detailed the side runners, wires, hoses, springs, and other tech details according to photos of the movie prop. I also painted the exhaust ports and door spacers black, and several body panels white. Finally, it was ready for the Reprolabels stickers, which went on with the usual ease. My only modification here was a little trimming of the hood stickers, because I had painted my hood to include the frame rails of the movie car.
Although it was a lot more work than what the HA figures usually require, it's impossible to overstate what a huge improvement the extra paint and deco work make. The sculpted details are outstanding, they just needed a little extra care to make them stand out.