Site Features
Getting Started in the Hobby
Model Categories
Original Kit:
Back to the Future II DeLorean
Made By:
Aoshima (kit #19634)
Scale:
1/24

Other 1980s Movie Models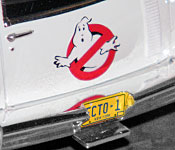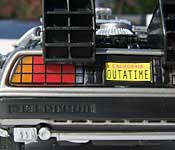 Star Wars Speeder Bike (Review)
Gremlins VW Beetle
Indiana Jones and the Last Crusade Bike
Blues Brothers Bluesmobile (Review)
Tron Light Cycles (Review)
Batman Batmobile
Field of Dreams VW (Review)
BTTF DeLorean (Review)
The Karate Kid Ford Convertible
Sharky's Machine Dodge Diplomat
The Junkman 1981 Corvette
BTTF3 DeLorean (Review)
Transformers Hot Rod (Review)
Gone in 60 Seconds 2 Slicer
Rain Man Buick Roadmaster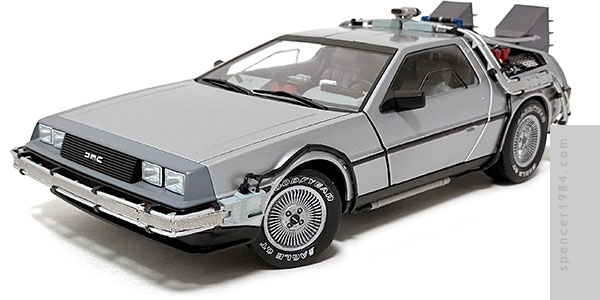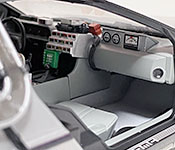 Cool Fact
A refrigerator was originally supposed to be the time machine, not the DeLorean. Robert Zemeckis and Steven Spielberg scrapped the idea because they didn't want children climbing into refrigerators and getting trapped inside.
This is the Japanese kit from the second movie in the Back to the Future series. There were about seven models of the DeLorean in the series; two from each movie, plus a "railroad version," which came with it's own display stand. Each of the street car versions could be bought as regular gray plastic, or with metal-plated bodies. My kit was the standard gray version from the second movie.
The model is basically box stock. Aoshima did a great job detailing everything, so all the builder really has to do is assemble and paint. I would suggest watching the movie instead of following the paint guides, though (for example, the instructions claim that the interior of the car was light blue).
The most difficult part of this model was the body. Silver paint is too dull to create a realistic "metal" effect, and stainless steel is not as shiny as chrome plating or chrome paint. I ended up combining techniques: the hood and doors of the car are metal repair tape, and the fenders are chrome paint. To make the two colors match, and to knock the shine off, I lightly waxed the whole car with automotive wax, and did not remove it. It gives the almost perfect impression of stainless steel, but unfortunately the car cannot be touched at all, or the wax will come off and leave bright streaks.
The rest of the car is painted with various auto paints, including Krylon Dark Gray for the nose and tail, and silver and flat black for some of the component pieces.
Have a question, comment, or criticism about this model?
Send me an e-mail
with your thoughts!