Made By:
The Danbury Mint
Scale:
1/24
MSRP:
US$129.00
Overview:
Packaging (Design):
5/10
Packaging (Durability):
10/10
Casting (Body):
10/10
Casting (Interior):
10/10
Casting (Chassis):
9/10
Casting (Engine):
9/10
Paint (Exterior):
10/10
Paint (Interior):
10/10
Paint (Trim/Graphics):
10/10
Overall Panel Fit:
10/10
Total Score:
9.3/10

Other Paranormal Models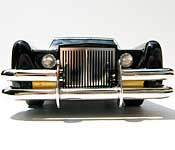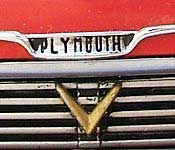 Haunted Mansion Hearse (Review)
Ghostbusters Ecto-1
Blade '68 Charger
Stranger Things Chevy Blazer (Review)
Speed Demon Chevelle
Misery Machine
Harry Potter Anglia 105E
Supernatural Chevelle
Wheels of Terror Charger
Christine (Review)
Supernatural Impala (Review)
Supernatural Impala
Stranger Things Chevy Van
Nightmare on Elm St Cadillac (Review)
Nightmare on Elm St Cadillac
Ghostbusters 2 Ecto-1A
Ghostbusters Ecto-1 (Review)
Kaiki Daisakusen Tortoise (Review)
The Real Ghostbusters Ecto-1
Ghostbusters: The Video Game Ecto-1B
Other 1980s Movie Models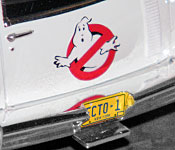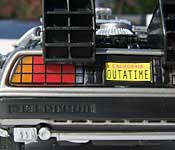 Tucker: The Man... Tucker (Review)
Who Framed Roger... Benny (Review)
The Karate Kid Ford Convertible
The Junkman 1981 Corvette
Gremlins VW Beetle
Stroker Ace Thunderbird Stock Car
Night of the Comet 1953 Buick (Review)
Gotcha! Citroën 2CV
Transformers Optimus Prime
Cobra Mercury
Tron Light Cycles (Review)
The Terminator Police Car (Review)
Sharky's Machine Dodge Diplomat
Ghostbusters Ecto-1 (Review)
Batman Batmobile
BTTF2 DeLorean (Review)
Rain Man Buick Roadmaster
Blues Brothers Bluesmobile (Review)
Star Wars Speeder Bike (Review)
Transformers Hot Rod (Review)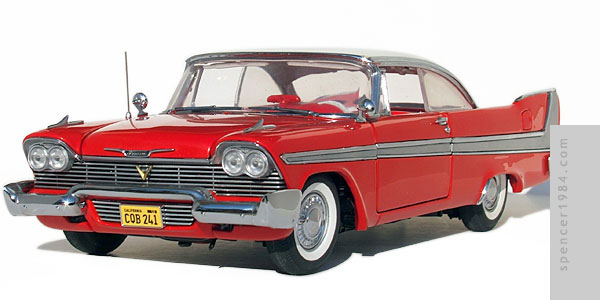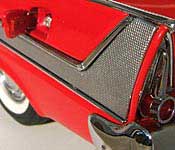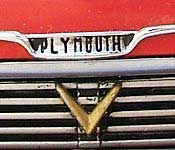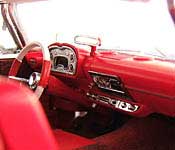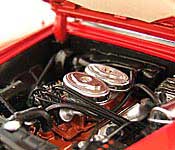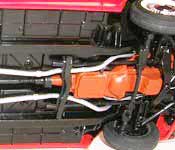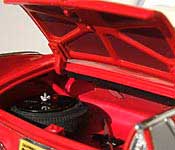 Packaging
Packaging is Danbury Mint's standard white box, with the movie logo across the top of the box in red and the product name and legal information on the end flap. Inside, the car is sandwiched between two styrofoam trays that hold it securely in place, with softer foam padding around certain delicate areas. The packaging also includes the certificate of authenticity and other paperwork.
Casting/Paint
As expected, the quality of the casting is top notch. The metal body is nice and smooth, with no sink marks or ripples visible anywhere. The panels all fit together nicely, with only a small amount of "roll" along the edges. All of the details are nice & delicate, with a wire antenna, separate chrome details, and photoetched grilles and trim pieces to make the car look that much more realistic. Paint is equally well done, with a nice, even finish and high quality gloss that doesn't look out of scale. The roof is more of a cream color than a true white, which looks a little strange at first but seems appropriate after looking at it for a short time.
Features/Accessories
Though accessories are generally slim on diecast cars, the Danbury Mint makes up for it in working features. The doors, hood, trunk, and fuel door all open and close smoothly, with miniature latches to hold the doors in place. Inside, both halves of the front seat can fold forward and are made from realistic vinyl. The car also has functional steering and suspension, and in the trunk you will find a removable jack and spare tire.
Accuracy
This is where the Danbury Mint really shines. The overall shape of the car is unmistakable, and is expertly recreated here. The aforementioned trim is all accurately recreated, including the noticeable lack of "Fury" scripts (the movie used both Furies and Belvederes, so to make things easier they simply removed all of the model-specific trim). anything that could be a separate piece has been: the wipers, cowl vent, trim, mirrors, and lights are all detailed beautifully. I wish they had done something to hide the mounting pins on the headlight lenses a little better, but it's not a huge problem. The license plate is a little odd as well: it is the correct style and number, but has 1958 validation tags instead of the '79 tags it should have had. Under the hood is Chrisitne's famous mill, complete with all the appropriate hoses, belts, and wires and topped with a pair of chrome air cleaners. You'll even find detailed horns and the under-hood padding. The interior looks just as nice, with a fully detailed dashboard, flocked carpeting, courtesy light, door sills, and separate gas and brake pedals. The paint is flawless, with no slop or bleed anywhere. The trunk is fairly plain, but accurate, with the appropriate darker red used for the padding inside the trunk lid and a fully detailed jack and spare tire. There's not much to see under the car, unfortunately: it's solid black with the exception of the engine and exhaust pipes. The detailed suspension components and cool little reverse light wire are somewhat at odds with the big copyright stamp on the fuel tank and exposed screw heads...should we be looking at the chassis detail or not? Not that you can really study the underside while Christine is on the shelf, but it's still an odd mix down there. Finally, the dimensions of Christine scale out to a perfect 1/24 - a property that's frequently off in diecast replicas.
Overall
Christine isn't cheap, and the price will certainly put a lot of people off. The Danbury Mint works hard to make collectors feel like they get their money's worth, though, and replicas like this prove them right. The fit, finish, and attention to detail are outstanding, and I would happily recommend Christine for fans of the movie, the book, or collectors in general.
Have a question, comment, or criticism about this review?
Send me an e-mail
with your thoughts!