Site Features
Getting Started in the Hobby
Model Categories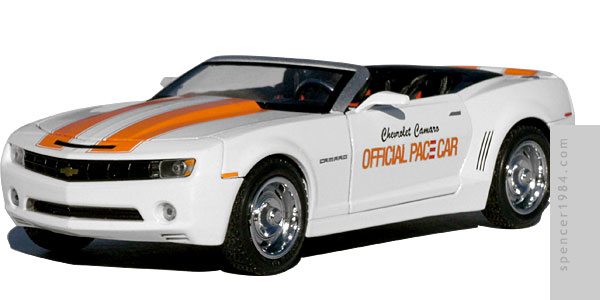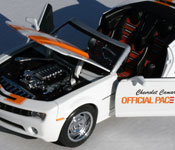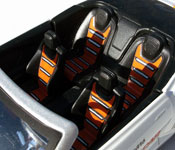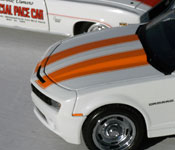 The '69 Camaro Pace Car is one of the iconic images in motor sports, and seemed to be a perfect fit for the new Camaro. Unfortunately, it was not to be: first the convertible option was eliminated by Chevrolet, then it turned out that the orange and white elements were reversed.
Based on Jada's concept convertible, this model has been disassembled, cleaned of any casting imperfections, and the paint has been retouched and hand polished. The interior features a custom orange & white pattern to reflect the exterior colors, and the tonneau cover has been textured to look like soft material over the retracted top.
It rides on a custom set of classic style rallye wheels, updated to fit the modern design of the new Camaro. Last but not least, a set of custom "Official Pace Car" graphics adorn the doors, created as a combination of the original graphics and Chevrolet's recent advertising campaign.
Have a question, comment, or criticism about this model?
Send me an e-mail
with your thoughts!