Site Features
Getting Started in the Hobby
Model Categories
Original Kit:
Rookie of the Year Combo (Ken Schrader's Sunny King #90 Ford Thunderbird)
Made By:
Monogram (kit #6368)
Scale:
1/24

Other Burt Reynolds Models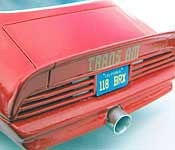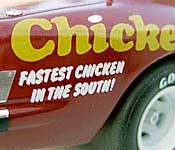 Smokey & the Bandit Firebird T/A
Smokey & the Bandit 2 Firebird T/A
Sharky's Machine Dodge Diplomat
Hooper Firebird
Stroker Ace Thunderbird Stock Car
Other 1980s Movie Models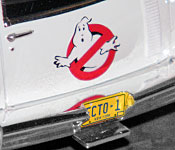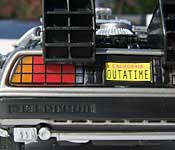 Tron Light Cycles (Review)
Ghostbusters Ecto-1 (Review)
The Philadelphia Experiment Charger
Night of the Comet 1953 Buick (Review)
The Terminator Police Car (Review)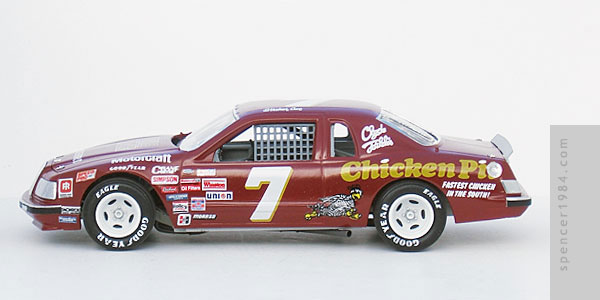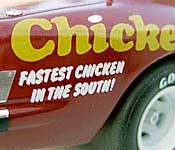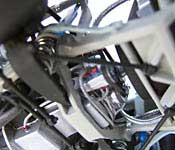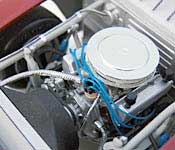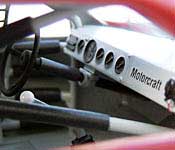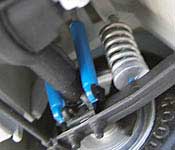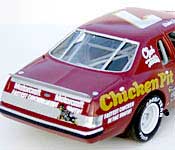 I hadn't really built any stock cars before this, but Stroker Ace provided me with the chance to try out the genre while adding to my TV & movie car collection. With the Monogram Thunderbird stocker as a base and decals from Fred Cady, I was all set.
Being my first real attempt at a stock car, I didn't stray too far from the instructions. I did add a few extra details, though. The engine was wired and plumbed with oil and fuel lines, and carburetor linkage was added. On the chassis, I replaced all four springs with custom-made wire parts and modified the exhaust system to look more realistic (including hollow tips). I also modified the front wheel mounts to allow the tires to sit more correctly in the fender openings. Inside, the dashboard was changed to more closely resemble the movie car, and roll cage padding was added all around. the body was pretty much left as-is, but I did fill in the headlight buckets and made a new grille to more closely match the movie car.
Watching the movie, the colors of the chassis/cage didn't exacty match between the interior shots and the rollover scene. I thought it would be fun to recreate that effect, so I painted everything inside the car (including the inside of the body) with Rustoleum light gray, and the bottom of the chassis and engine surround were painted Model Master's Flat Gull Gray. The outside of the body is Boyd Red over red primer.
Fred Cady retired in December 2006, which meant that I couldn't exactly get another set if I messed up on the ones I had. Fortunately, his reputation as a top-notch decal maker was well deserved and I had essentially no problems with their application. The drop shadows on the numbers didn't exactly line up with the numbers, but they were very close. Other layered decals, like the chicken logos, were dead-on perfect. The set didn't include all of the the contingency sponsors, but various decals from other sources filled in the fenders and dashboard nicely. Once all of the decal work was done, the car was detailed with BMF and paint.