Site Features
Getting Started in the Hobby
Model Categories
Original Kit:
Lamborghini Diablo
Made By:
Welly
Scale:
1/24

Other Transformers Models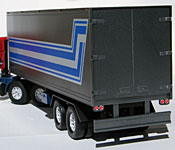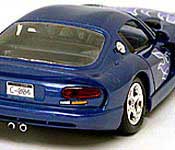 Robots In Disguise Side Burn
G2 Firecracker
G1 Road Rage
G1 Ironhide
Revenge of the Fallen Skids
Prime Bumblebee
G1 Mirage
Robots In Disguise Bumblebee
Machine Wars Prowl
Dark of the Moon Leadfoot
G1 Bluestreak
Revenge of the Fallen Sideswipe
Transformers Jazz
Robots In Disguise Sideswipe
G1 Jazz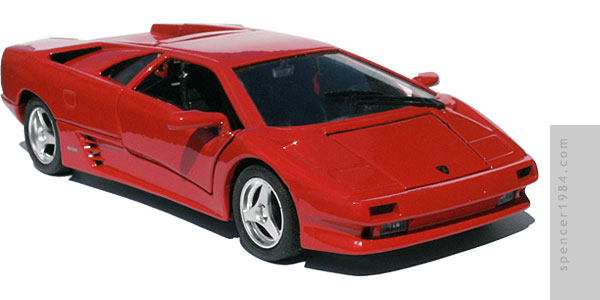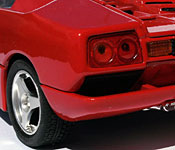 Cool Fact
During Generation 2, three different sets of Go-Bots were released. The initial set consisted of 6 original molds, each representing a new character. The second set was largely the same, replacing all of the transparent plastics with opaques of the same colors. Firecracker and Blowout were replaced by Optimus Prime and Megatron in this set.
This project came about somewhat by accident. I had purchased a totally unrelated kit through eBay, and the seller contacted me shortly after the sale to let me know that upon double-checking the kit he saw that the wheels were missing. He offered to cancel the sale or offer a partial refund, but I didn't need the original wheels and so was still happy with the sale as it stood. He still wanted to make up for the error, and so included a set of aftermarket Fujimi wheels that he was not going to use. They looked vaguely familiar, but it wasn't until a few weeks later that I realized that they were pretty accurate to the wheels Hasbro first used on their G2 Go-Bots.
Once again, I used a diecast Diablo as the basis, this time from Welly. Unlike the cars from Bburago or Maisto, it had no working steering and so doing a wheel swap was even easier than I expected: two lengths of stainless steel rod and a little glue were all that was required to turn the stock Diablo into Prime's fastest Earth mode ever.