Site Features
Getting Started in the Hobby
Model Categories
Original Kit:
Chevrolet Impala (NYPD)
Made By:
Maisto (kit #39102)
Scale:
1/24

Other 2000s Movie Models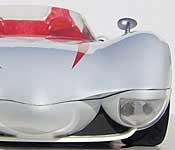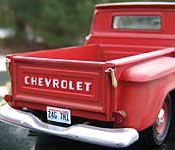 The Matrix Reloaded Escalade EXT
Terminator 3 Lexus
Final Fantasy VII Fenrir (Review)
War of the Worlds Monte Carlo SS
Joe Dirt '69 Charger Daytona
Transmorphers: Fall of Man Police Car
I Am Legend Shelby GT-500
2012 Lincoln Town Car
Megafault Dodge Ram
Dale Daytona Winner (Review)
Driven Target CART Racer
The Fast & the Furious '70 Charger
Ghost Rider Stunt Bike (Review)
Death Proof 1969 Charger (Review)
Watchmen Owl Ship (Review)
Twilight '63 Chevy Pickup
Ninja Cheerleaders VW Beetle Cabriolet
Speed Racer Mach 5 (Review)
Fast & Furious Chevelle (Review)
xXx '67 Pontiac GTO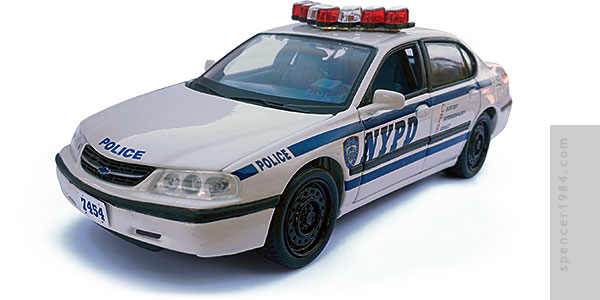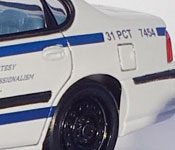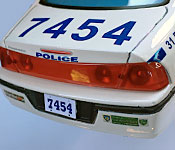 This one was more or less a bench cleaning exercise for me. After completing my 2017 Halloween group build, I had this kit sitting there after having donated one of its two sets of wheels to the RPD car. Rather than repack everything and put it back on a shelf, I decided to make a quick build out of it.
Masto painted many of the details, including most of the interior details. They did miss the padding on the bar between the front and rear seats, though, so I fixed that. I also painted the housing for the rear view mirror and repainted the plain silver wheels gloss black. Other than those details, the interior, chassis, and engine were simply assembled as per the kit instructions.
The body required the most work, starting with filling in the holes for the antenna and push bar. I didn't want to repaint the whole car and lose the NYPD markings, so I carefully filled them with superglue & baking soda, Tamiya filler putty, and paint. Once they were leveled I painted them white, feathering the paint and doing a little polishing to blend it with the original factory paint. The results aren't flawless if you know where to look, but for a quick afternoon build they're not too bad. I then painted the trim around the windows and on the bumpers and sides of the car, and outlined the rear doors, fuel fill, and trunk lid with an LBX Panel Line pen.
Finally, I removed Maisto's precinct and car markings and replaced them with a set of screen-accurate decals. Removal was done with the careful application of acetone, and the new markings (including the correct bumper stickers and license plates) were drawn up in Illustrator. Bare Metal's clear decal stock was used for the fender and trunk markings, and card stock was used for the plates.