Site Features
Getting Started in the Hobby
Model Categories
Original Kit:
Mini Cooper
Made By:
Welly
Scale:
1/24

Other Comic & Manga Models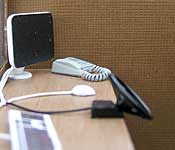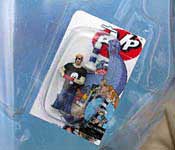 Misery Machine
DC Bombshells Wonder Woman (Review)
PvP Mini Cooper
Transformers G1 Ratchet
Judge Parker Corvette
DC Bombshells Harley Quinn (Review)
PvZ Ferrari 250
PvP Dexter Jettster
DC Bombshells Catwoman (Review)
Transformers: Armada Hot Shot
Jigoro Jigorou Toyota Celica
DC Bombshells Poison Ivy (Review)
It's Walky! 1986 Dodge Ram 50
Ctrl-Alt-Del Zeke
Detective Comics #156 Batmobile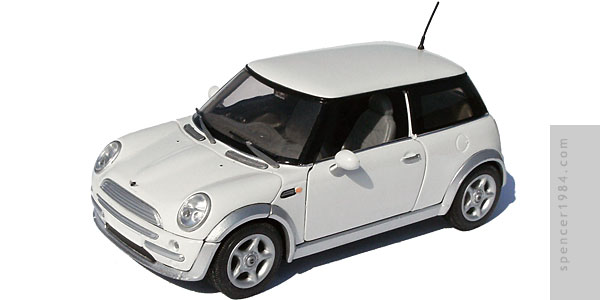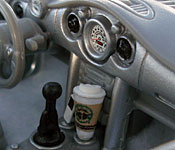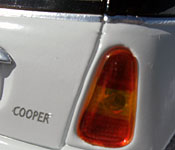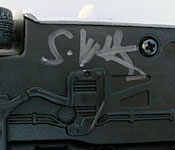 As noted elsewhere, I've been a fan of PvP for quite some time. So when it was revealed in April of 2004 that Brent drove a Mini Cooper, I knew I'd have to add one to my collection. The only tricky part was that, since PvP is generally a black & white comic, I had no idea what color it was supposed to be. So the project was put on hold until New York Comic Con 2009, when I had the opportunity to ask Scott Kurtz directly about the color. He liked the idea of it being a "Mac Mini" in gloss white and brushed aluminum, and I then had the final piece so that I could begin work.
I chose Welly's diecast Mini as a starting point because I wanted something that would be durable enough to travel back to NYCC when it was finished. I disassembled it, stripped off the original blue paint, and repainted it gloss white. The trim components were all painted using Model Master Aluminum and then lightly buffed. Inside, I painted various details, added carpeting, and made a scale iPod and Starbucks cup (both staples of Brent Sienna's life). The car was then reassembled and trimmed using Bare Metal Foil and custom made decals.
As planned, the Mini then made the trip with me to New York Comic Con 2010, where I was able to meet the strip's author again. As before, he showed himself to be a great guy and was nice enough to sign the bottom of the car for me.