Site Features
Getting Started in the Hobby
Model Categories
Original Kit:
Hogan's Heroes WWII Jeep
Made By:
AMT/Ertl (kit #31752)
Scale:
1/25

Other Transformers Models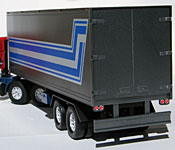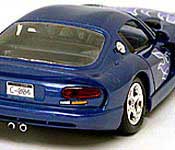 G2 Soundwave
G1 Skids
G1 Ironhide
Age of Extinction Optimus Prime
G1 Smokescreen
G1 Ratchet
G1 Road Rage
G1 Prowl
G1 Sideswipe
G1 Sunstreaker
G1 Hound
G2 Optimus Prime
Transformers Jazz
Beast Wars Grimlock
G1 Bluestreak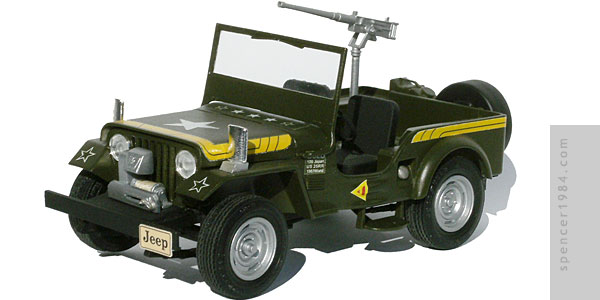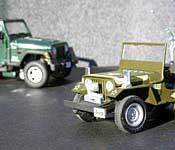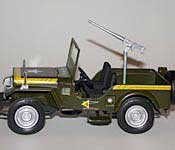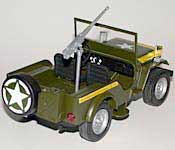 Cool Fact
Hound was the first character in the Alternators and Binaltech lines to receive the same vehicle make and model as his G1 self.
With AMT/Ertl's reissue of their Hogan's Heroes Jeep, I finally got a chance to replace my Hound model with a more accurate representation. It still required some work to really look like Hound, but the simpler WWII style lent itself to the proper modifications better than the much later CJ kit I had used previously.
The most obvious difference between the WWII Jeep and Hound is the front fenders; the earlier model had simple flat-topped fenders, while later Jeeps had a short angled flap extending from the front of the fender. I also modified the windshield (making it slightly larger and removing the center divider), added a recessed fuel fill in front of the left rear wheel, and added louvers to the side of the cowl behind the left front fender. The WWII Jeep's grill was also the wrong style for Hound, but fortunately the kit had an optional grill that matched perfectly. The winch was taken from my original Hound model (as it was a near-perfect match for the prototype), and the steps came from AMT's Dukes of Hazzard Jeep.
I also made several modifications to the Jeep's running gear. Instead of the in-line flathead 4cyl, I used a late model V8 (modified from it's original use in a Mustang). The new engine/transmission required a new transfer case and a new exhaust system, both of which were scratch built. Though the wheels are the original kit's components, I replaced the tires with an updated set of street tires.
For the "accessories" (Hound may be best remembered for having some of the most delicate and/or easily lost parts of any Transformer) I used the gas can and machine gun straight out of the kit, while the spare tire came from a Revell van kit.
The Jeep body is painted Model Master Dark Green with a thin layer of Gloss Coat. Other than the star on the hood, I custom made all of the decals using a Hound sticker sheet from ReproLabels as a reference.
Have a question, comment, or criticism about this model?
Send me an e-mail
with your thoughts!