Site Features
Getting Started in the Hobby
Model Categories
Original Kit:
Mercedes CLK GTR
Made By:
Maisto
Scale:
1/27

Other Batmobile Models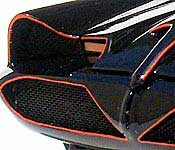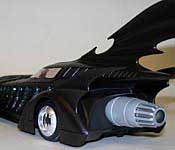 1987: Batman #408 interior
1950: Detective Comics #156
2015: Arkham Knight (Review)
1969: Detective Comics #394
1992: Batman:TAS (Review)
1972: Detective Comics #420
2006: Batman: Man-Bat
1944: Batman #20
1952: Batman #73
2004: Teen Titans #9
1980: Batman #330
1944: Batman #25
2017: The LEGO Batman Movie
2016: Batman v Superman
2017: The LEGO Batman Movie (v2)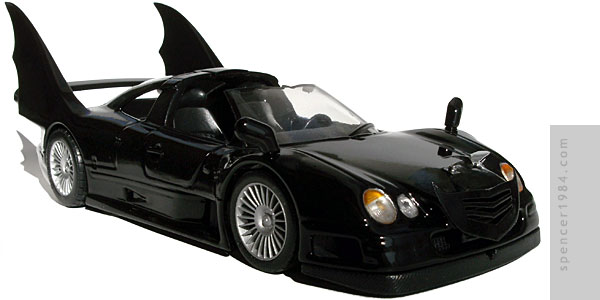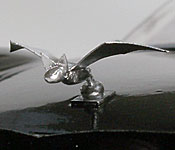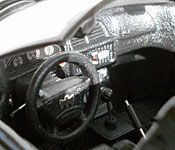 This Batmobile is one of my more ambitious diecast customizations to date. Although the basic shape of the CLK GTR is still there, nearly every panel has been reworked to some degree.
The first step was adding the massive fins to the rear, built from sheet styrene around the stock spoiler. Tubing was used for the nacelles, and the rear deck was smoothed over. The roof was converted to a targa top, which meant that the scoop had to be rebuilt and the doors had to be mounted differently. I used an aluminum tea can for the scoop, which let me bend it to shape while keeping a nice thin wall. I considered keeping the hinged doors, but in the end decided that was an unnecessary feature and glued them solidly into place. Finally, I extended the hood and made a custom bat mask to match the comic car.
Inside, the only pieces of the original kit that remain are the steering wheel and the dashboard. The seats were taken from a late model Firebird, and the bucket and center console were scratchbuilt. Flocking, custom floor mats, and a tiny photoetched bat symbol on the steering wheel finished things off nicely.
I went simple with the paint job: gloss black over satin black for the interior and carbon fiber components. The last and probably trickiest detail was the hood ornament, which I made by carving the body from 0.080" round stock and adding wings and ears made from more aluminum can bits.
Have a question, comment, or criticism about this model?
Send me an e-mail
with your thoughts!