Site Features
Getting Started in the Hobby
Model Categories
Original Kit:
Porsche 911
Made By:
Bburago
Scale:
1/24

Other 1970s Movie Models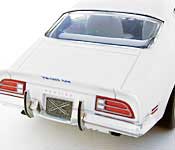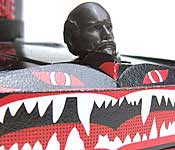 Inglorious Bastards Jeep
The Godfather Cadillac
The Cars that Ate Paris VW
Hooper Firebird
Herbie Rides Again Herbie
Jaws Blazer
Animal House Deathmobile
The Man with the Golden Gun AMC
Diamonds are Forever '71 Mustang
Gone in 60 Seconds Eleanor Mustang
Good Guys Wear Black Porsche
Dirty Mary, Crazy Larry '69 Charger
Kelly's Heroes Jeep
Star Wars C-3PO & R2-D2
Thunderbolt & Lightfoot Firebird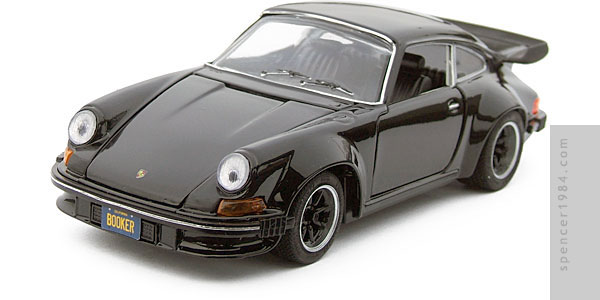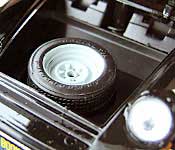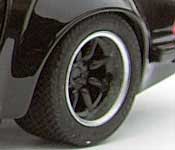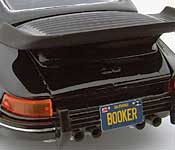 Finding the correct base model for this car was more difficult than I expected. I needed a classic-style 911 (with the grilles under the headlights) with flared fenders and a whale tail spoiler. I've actually not seen a stock Porsche that matched what was used on-screen, so it's possible that this particular car had been tweaked a little bit. The closest I could find in 1/24 was Bburago's 911, which at least had two out of the three. The only thing that was truly wrong was the rear deck, which had some sort of giant rectangular wing that looked like a wooden plank. It also had terrible looking wheels and a rear-view mirror cast into the windshield, but those were relatively minor fixes.
My first job was disassembly and clean-up. The casting was over a quarter century old, so I tried to work within the limitations of the vintage quality rather than attempt a lot of detail work. I removed the rear deck and replaced it with one from Monogram's 911 Turbo (not an exact match, but it generally looked the part). I also tossed the stock wheels in favor of a set of Watanabes from Fujimi's Toyota Celica, and replaced the spare tire with one from my parts box. I also shorteed the exhaust tips and sanded some of the sillier details off the winshield.
The interior was painted Krylon Satin Black, while the body was painted Krylon Gloss Black with a coat Testors Ultra Gloss. Once assembled I added the window trim and a set of "Booker" license plates to finish it off. It's far from the most detailed model in my collection, but it was a fun project.