Site Features
Getting Started in the Hobby
Model Categories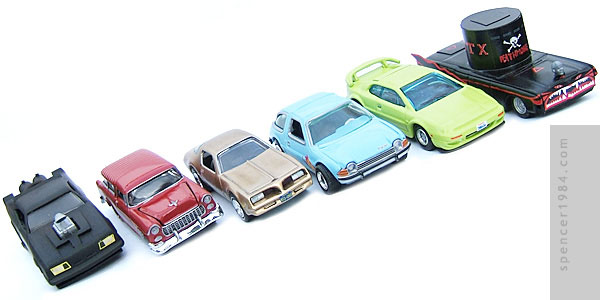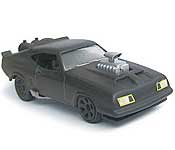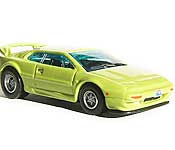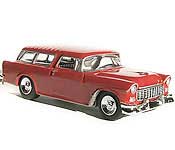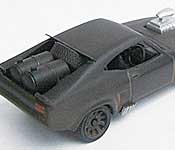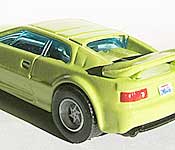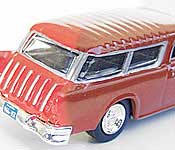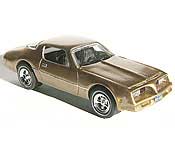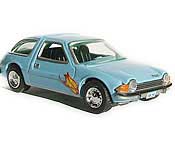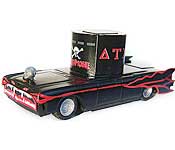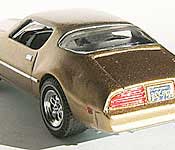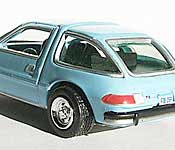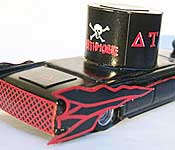 This year's Holiday Auction was the sequel to 2005's TV & Movie Car set. No repeats, though: each and every car in this set was a totally unique custom.
First up is the black-on-black Interceptor (aka the "Pursuit Special") from Mad Max 2: The Road Warrior. Based on a generic Racing Champions casting, this car was extensively reworked to match the movie car as closely as possible. The air dam and trunk lid were removed and the nose, hood, and windows were modified to match the 1:1 prototype. Further modifications include a roof spoiler, rear fuel tanks, different front and rear wheels, a spare tire, adjusted ride height, and an all-new interior complete with accurate right-hand drive and passengers' side jump seat. Satin black with heavy weathering finished the look.
Second in this set was lime green Lotus Esprit from the Clint Eastwood/Charlie Sheen action movie The Rookie. Modifications to this car include a corrected left-hand drive dashboard, custom-made wheels, license plates, and - of course - a new paint job.
Third was Jill's Nomad from Home Improvement (pre-I beam incident). There have been a couple of red Nomad diecasts in the past, but since none of them were officially licensed vehicles, there were always a couple of details that were slightly off. This custom features a new red paint job with a high-gloss clearcoat, modified bumpers, chrome wheels, and an opening hood to show off the chrome powerplant.
Fourth was Jim Rockford's Firebird Esprit from The Rockford Files. Why none of Rockford's cars were made as official diecasts remains a mystery, but now that oversight has at least been addressed unofficially. The original Firebird Trans Am was changed into a Firebird Esprit with a solid roof, non-shaker hood, and the removal of the rear spoiler, front fender scoops, and rear fender spats. The rear wheel arches were also modified to accept a set of same-size mag wheels wearing thin whitewalls, just like the car from the TV series.
Car #5 was the AMC Pacer - better known as the "Mirthmobile" - from Wayne's World and Wayne's World 2. The paint job was changed to a solid baby blue, and it received flames, different front and rear wheel sets, and a set of Illinois plates to match the screen-used car.
And finally, another car that was never released as a 1/64 diecast for reasons unknown: the "Deathmobile" from the comedy classic Animal House. Like the car used in the movie, this started out as a Lincoln Continental, but is hardly recognizable any longer. I removed the roof and replaced it with a flat panel to create the main deck. I then added a scratchbuilt turret, fins, and front and rear masks to match the movie car. The head of Emil Faber's statue was made by modifying a 1/48 scale figure head and mounting it to the hood. A set of no-frills steel wheels complete the look.
Have a question, comment, or criticism about this model?
Send me an e-mail
with your thoughts!