Site Features
Getting Started in the Hobby
Model Categories
Original Kit:
Saleen S7
Made By:
Motor Max (kit #139)
Scale:
1/24

Other Video Game Models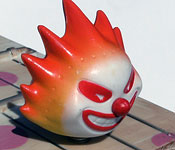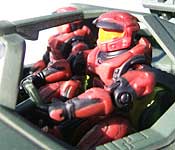 Mega Man 66 Action Vol. 2 (Review)
Borderlands 3 Claptrap (Review)
SpyHunter 2 Saleen S7
Portal 2 Defective Sentry
Need for Speed Murciélago (Review)
HALO 2 Warthog (Review)
MarioKart DS B-Dasher (Review)
Need for Speed '69 Charger (Review)
SpyHunter Lamborghini Diablo
Lamborghini American Challenge Diablo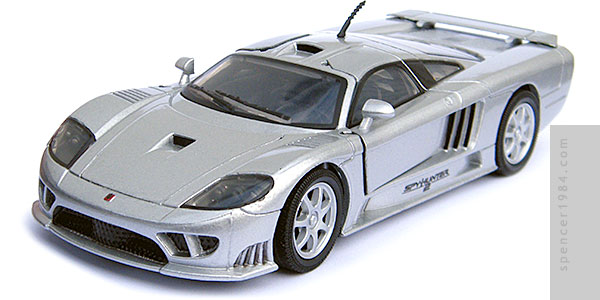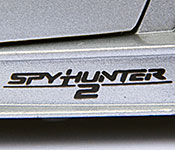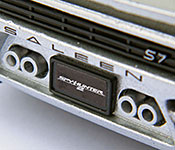 Essentially an unassembled version of their Saleen S7 with extra paint apps, I figured this would be a good project for a quick no-hassle build. Not so much, as it turns out.
The first problem is that the kit isn't complete. Presumably in the interest of saving ¾¢, MotorMax left out the two screws that are supposed to attach the door frames to the door skins, and the instructions tell you to glue them together instead. That would be bad enough, but since those screws act as the locators you're kind of left with a vague definition of how the doors are supposed to go together (not a great idea with the 45° hinging design). I used a couple of "close enough" screws from my supply jar to fix this oversight. Second, the body is unfinished. I expect some flash and rough spots for a diecast of this age and price point, but there was a huge wad of leftover metal in the right rear window, and smaller gobs that prevented the headlights, taillights, and windshield from fitting correctly. These all had to be cleaned up before I could complete the assembly, and even then I ended up having to glue the windshield in place because the glass was distorted. Finally, one of the rear tires was so badly warped it wouldn't (and still doesn't) fit the wheel correctly.
This kit is just ugly, lazy work all around. If it wasn't for the additional graphics on the sides and the rear license plate sticker, it would really need to be stripped and totally refinished to look good. Considering that the S7 only has a passing resemblance to the G-8155 Interceptor, those graphics are the only thing that make this a potentially worthwhile addition to a TV/movie/game car collection. Much as I hate to admit it, those who have kept this kit in its original box probably have the right idea.