Made By:
Jakks Pacific
Scale:
N/A
MSRP:
US$8.99
Overview:
52
Packaging (Design):
8/10
Packaging (Durability):
8/10
Casting (Body):
9/10
Casting (Interior):
N/A
Casting (Chassis):
7/10
Casting (Engine):
N/A
Paint (Exterior):
9/10
Paint (Interior):
8/10
Paint (Trim/Graphics):
6/10
Overall Panel Fit:
N/A
Total Score:
7.9/10

Other Video Game Models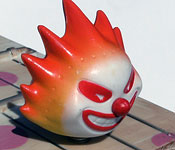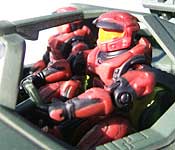 HALO 2 Warthog (Review)
MarioKart DS Royale (Review)
MarioKart DS B-Dasher (Review)
Fortnite Figures
Portal 2 Defective Sentry
Ghostbusters: The Video Game Ecto-1B
HALO 4 Warthog (Review)
SpyHunter Lamborghini Diablo
Mega Man 66 Action Vol. 2 (Review)
LEGO Dimensions Ecto-1
Need for Speed Murciélago (Review)
Need for Speed Mustang GT (Review)
Arkham Knight Batmobile (Review)
Real Drift Corvette Z06
Metallo
Half-Life 2 Muscle Car
Need for Speed '69 Charger (Review)
SpyHunter 2 Saleen S7
Borderlands 3 Claptrap (Review)
Lamborghini American Challenge Diablo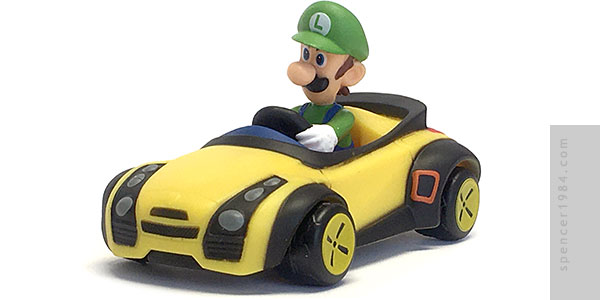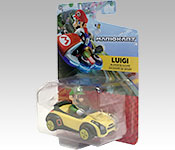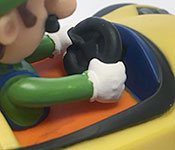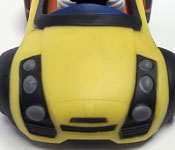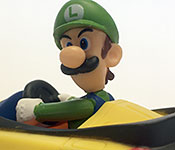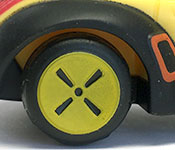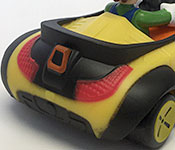 Background
The Sports Coupe is one of the 18 unlockable bodies in Mario Kart 8, featuring a supercar-inspired body with contrasting aero effects, a supercharged engine with high-mounted exhaust port, and slick integrated head- and taillights. While it offers good speed and weight, it does so at the cost of acceleration and traction. In the Mario Kart 8 Deluxe port, it improved traction but had somewhat reduced handling.
Packaging
Jakks' "World of Nintendo" Mario Kart vehicles are packaged on a blister card, 4½" (114mm) wide and 6" (153mm) high. The bulk of the card is a revised version of the box art (Mario is further back on the track, Princess Toadstool has been moved down onto the track behind him, and Lakitu holds his camera somewhere between the two), and a red checkerboard field is behind the vehicle. The Mario Kart logo and character name/vehicle are printed between the hanger and blister, while the Jakks logo is in the bottom left corner. The back side has a single product photo, co-sells for the other vehicles in the line, and all the legal info. The blister holds a molded plastic tray that keeps the car in place, and the only way to remove it is to cut or remove the outer blister.
Casting/Paint
The Sports Coupe has a very simple design with just ten parts total: four wheels, two axles, the chassis, the body, and a two-part Luigi. despite the low part count the casting is pretty good, with nicely defined grille meshes, panel breaks, and textured lights. Other than the metal axles and vinyl figure, everything is cast in a lightweight plastic with a matte finish. Any lighter and it'd feel like a knock-off, but the sharp casting helps to mitigate that a bit. Seams are pretty good, too, with only a faint parting line at each corner. Luigi has a few more, but they've been located to cause the least impact on the figure's final appearance.
Paint is nowhere near as good. While the base colors are all evenly applied, there's some pretty rough edges between the yellow and black, the orange outlines don't match side to side, the taillights have bleed from the black and onto the yellow, and none of the headlights are centered on their lenses. Luigi makes out a little better with sharp features and great printing on his eyes and hat. Too bad that gets lost where he grips the steering wheel: his white gloves stop well short of the molded hands, leaving large black areas near the wheel. At least the tires are great, with sharp printing and molded treads. There's even a little bit of chassis detail - not much, but the vestiges of a drivetrain and frame rails are here.
Features/Accessories
Luigi's head can rotate 360°, allowing you to get a pretty good facsimile of his "Death Stare."
Accuracy
Overall a pretty good albeit basic representation of the Sports Coupe. The shape is good, it has the default Standard wheels, and most of its markings seem true to the game. There should be a bit more black up front, and it's generally portrayed as glossy rather than matte, but otherwise it's all good. There is no scale listed, but is fits pretty well with the previous Pull & Speed racers.
Overall
Solid but not brilliant, it looks good enough but could really be excellent if you wanted to do a little repainting on it.
Have a question, comment, or criticism about this review?
Send me an e-mail
with your thoughts!