Site Features
Getting Started in the Hobby
Model Categories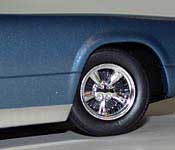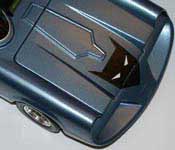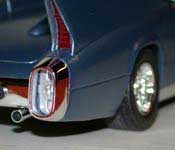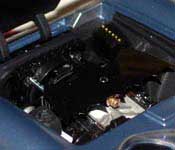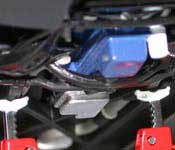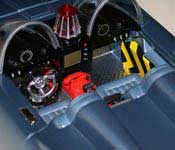 Arguably the most popular version of the Batmobile was the one used during the mid-1960s. The comic books quickly picked up on this popularity, and the "comic book car" was born. A few models of this car have been made available, including offerings from Corgi and The Danbury Mint. However, the most accurate portrayal of the comic book car came from Johnny Lightning, with their popular diecast kit (see the 1960s Diecast review at batmobilehistory.com for details). However, even though the shape of the body was accurate, the comics typically used shades of blue for the car. This year's holiday auction model is a comic-accurate version of this Batmobile. As with all previous years, the proceeds from this auction went to local charities during the holiday season.
The body of the car was completely disassembled and prepped, and then received a new medium blue tone with PlastiKote automobile paint. Details added to the body include a set of mesh grilles in place of the large yellow lights, simulated stainless steel rocker panels, and a custom-made bat mask on the hood. The chassis was built box stock and the details were painted by hand, while the engine received a compliment of ignition wires, hoses, and a custom made air cleaner. The main block was painted with actual automotive engine enamel, and the transmission and accessories detailed with several metallic shades.
The interior was also repainted and fully detailed. First, the floor was finished using Bare Metal Foil to look like newly polished diamond plate. The telephone handset was replaced with a more accurately scaled scratchbuilt piece, and both the phone and the CB have custom spiral cords. Instead of the molded-in grappling hook inside the passenger's door, Batman & Robin now have a custom made tool box with bright yellow and black "hazmat" stripes.
Have a question, comment, or criticism about this model?
Send me an e-mail
with your thoughts!