Original Kit:
Scooby Doo Mystery Machine
Made By:
Polar Lights (kit #814)
Scale:
1/24

Other Cartoon & Anime Models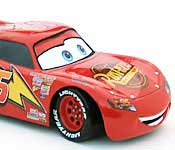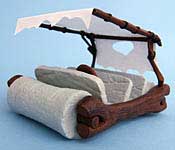 Ben 10 Alien Force Kevin's Car (Review)
Chop Socky Chooks Cars (Review)
Cars 3 Jackson Storm (Review)
Battle Force 5 Saber (Review)
Betty Boop '39 Chevy Deluxe (Review)
Evangelion Renault Alpine A310
Batman:TAS Batmobile (Review)
The Simpsons Family Sedan
Cars 3 Cruz Ramirez
Roadster Racers Donald (Review)
101 Dalmatians Cruella's Car (Review)
Spiral Zone Monocycle
Max Steel Jet Racer (Review)
Jimmy Neutron Rocket
Big Hero 6 Baymax (Review)
Other Classic TV Models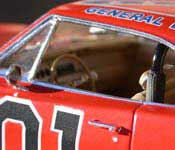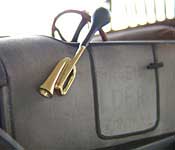 Dukes of Hazzard General Lee
Riptide 1960 Corvette
Flintstones Family Car
Man from U.N.C.L.E. Piranha
Scooby Doo Mystery Machine
Supercar
Doctor Who TARDIS
Stingray 1965 Corvette
Dukes of Hazzard 1977 Fury (Review)
A-Team Van
Jetsons Spaceship
Beverly Hillbillies Truck
V Laser Jeep
Automan Countach
Dukes of Hazzard Undercover General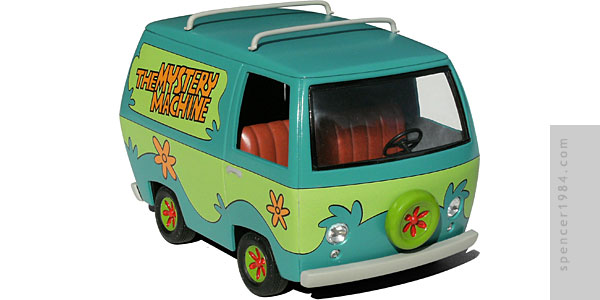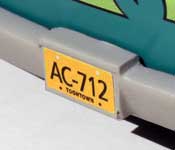 Cool Fact
According to Ronn Webb at
WingnutToons.com Animation Reference Site
, the Mystery Machine's license plate (AC-712) only showed up once in the history of Scooby Doo, in a 1979 Scooby/Scrappy episode "The Neon Phantom of the Roller Disco"
As I have noted elsewhere, I will occasionally revisit a kit if my first build was unsatisfactory. One of the kits near the top of that list was the Mystery Machine: my first version of it was OK, but I knew I could do better.
My biggest problem with it was the green areas: the original Polar Lights stickers were not quite accurate, and suffered from being printed on thick, inflexible paper with fragile ink that wore off easily. My own custom paint was a good match color-wise, but was thicker than I wanted. Unrelated to these problems, my color choices inside the body were too dark, and I wanted to fix that as well. Finally, the time came when I pulled the finished model off the shelf to give it a full rebuild.
First, the kit was almost completely disassembled. The chassis/wheels/tires assembly had already been upgraded during my first build (kudos once again to whoever at Polar Lights made sure that the Mystery Machine could use standard 1/24 scale parts), so I left that alone. Everything else was broken down to the individual parts, and the body, dash pad, roof rails, and bumpers were sanded down to raw plastic.
I was still happy with how the front seat turned out, and didn't want to lose that during this rebuild. So I masked it off before repainting the cargo floor. I also masked off the dash face so that I could paint just the pad. Krylon has discontinued the Teal that I used the first time, but fortunately I still had plenty to repaint the body. Once the teal was dry, the inside of the van was painted a medium gray.
I worked with the folks at Reprolabels to create a better, more accurate set of markings for the van. It took a few tries, but eventually we were able to arrive at a good set that should also work for other customs (should someone want to build a Pinewood Derby Mystery Machine or convert a Ford/Dodge/VW diecast van into a Mystery Machine). They're printed on stock with a little give to it, and the ink is pretty indestructible, so they do a good job adhering to the bulbous van body. The set was also designed to have as few breaks as possible: a single cut at each corner with an X-Acto or a pair of scissors is all that is required.
Now that the interior and body were done, the only thing left was the trim. First, I reshaped the rear bumper bracket to accept a proper 1/24 scale license plate. Then it was time for paint. Bright chrome seemed a little out of place on what was supposed to be a kids' van - most "cheap" trucks and vans at the time had painted bumpers, mirror housings, etc. - so I was going to go with a light color for these parts instead. I painted the bumpers and roof rack Flat Gull Gray as a primer, but ended up liking the look so much that I stopped there. The components were then reassembled, and I had a much better looking Mystery Machine in my collection.