Site Features
Getting Started in the Hobby
Model Categories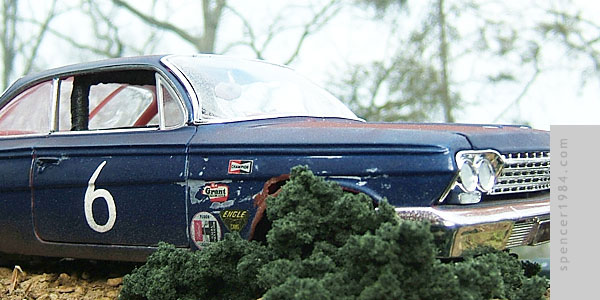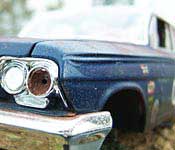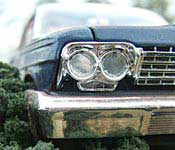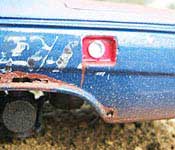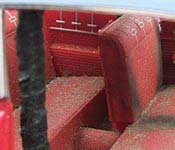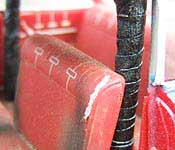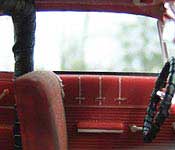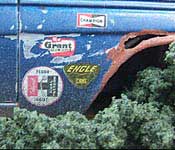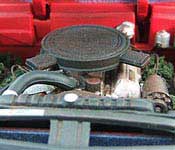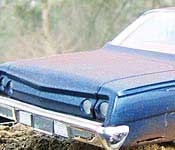 The 2006 Holiday Auction was for anyone who's a fan of nostalgia racing: a '62 Chevy Bel Air, formerly fit for racing & now long retired. The car started with Maisto's 1/18 Bel Air diecast, then was completely disassembled, detailed, and reassembled into what you see here. As with all previous years, the proceeds from this auction went to local charities during the holiday season.
I wanted the car to look like it had a long history before it was put out to pasture, including a repaint at some point in its past. To make it look as if the car had been repainted, the inside of the body and appropriate panels were painted red to contrast with the blue body shell. To give it the appropriate racing look, the interior was fit with a roll bar, the passenger's half of the front seat was removed, and the steering wheel was taped for grip. Outside, the headlights and tail lights were removed and replaced with aluminum circles, blow-out straps were added to the rear window, and the wipers were removed from the cowl. The stock exhaust system was removed and replaced with a pair of straight pipes exiting out from under the driver's door. A hole was cut in the body to remove the fuel door, and a scratchbuilt filler panel and tube were put in its place. Finally, numbers and age-appropriate decals were added.
Once these modifications were done, I began weathering the car to give it the appropriate "aged" look. Everything from paint applications to pastels were used to distress it, with generous amounts of accumulated debris added inside and out. The seat was also distressed, including cracks and a couple of places where the stuffing is peeking out. I wanted the car to appear aged rather than wrecked, so actual damage to the car is limited to a few rust holes along the rockers/fenders, a missing headlight cover, and plenty of surface rust.
With the car done, I moved on to the base. The floor of a 1/18 display case was removed, and the frame was mounted to a piece of wood. The center of the base was then filled in with ground cover and textured to allow the car to fit nicely. A bush was added to appear to be growing around the front of the car, including a few small tufts poking up through the engine bay. Two holes were drilled through the base to mount the car, which is now firmly attached. To finish the piece, a felt pad was added to the bottom of the base.
Have a question, comment, or criticism about this model?
Send me an e-mail
with your thoughts!