Site Features
Getting Started in the Hobby
Model Categories
Original Kit:
Lamborghini Countach
Made By:
Revell-Monogram (kit #85-2769)
Scale:
1/24

Other Batmobile Models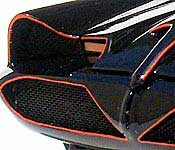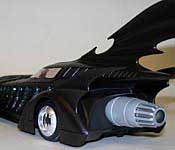 1968: Detective Comics #377
2005: Batman Begins/The Dark Knight
1992: Batman Returns
1992: Batman:TAS (Review)
2006: Legends of the Dark Knight #198
2017: Justice League (Review)
1972: Detective Comics #420
1964: Batman #164
1987: Batman #408 cover
1992: Batman Returns (Review)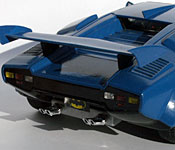 The time between the first parts coming together and the finished model getting parked on the shelf was probably the longest stretch of any Batmobile I have built to date. As a result, the finished piece shows a pretty wide gap between the skills that I had when I first started it and those I had when I finally called it a wrap. Still, it didn't turn out too bad, and I'm finally glad to have this one in the "finished" column.
I started with a box-stock build of the chassis and engine, adding only some basic detailing. The interior was nearly box stock as well, though I did add a keypad to the center console and a video monitor to the dashboard to create a Knight Rider-inspired theme.
Most of the work - and all of the delay - went into the body work. I replaced the spoiler tips and added a central roof fin to match the art, then replaced the NACA ducts with more aggressive air intakes. The upper engine intakes were opened up, and a pair of "eyes" were cut in the front. Finally, I changed the side windows by removing the vertical and horizontal dividers and making a new vertical break further back.
Once modifications were done it was painted blue with gloss black bat mask and lower back panel, and flat black bumper, scoops, standoffs, and other details.