Site Features
Getting Started in the Hobby
Model Categories
Original Kit:
The Car
Made By:
Planet X
Scale:
1/25

Other Paranormal Models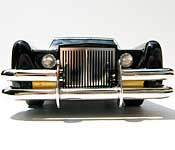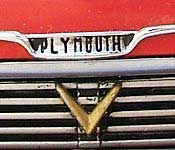 Misery Machine
Ghostbusters: The Video Game Ecto-1B
Wheels of Terror Charger
Supernatural Impala (Review)
The Car
Supernatural Chevelle
Nightmare on Elm St Cadillac
Blade '68 Charger
Christine (Review)
Stranger Things Chevy Van
Other 1970s Movie Models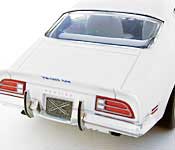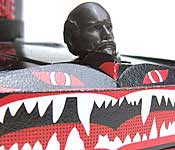 Star Wars Luke's Landspeeder
Hooper Firebird
Diamonds are Forever '71 Mustang
Jaws Blazer
Duel Peterbilt Tanker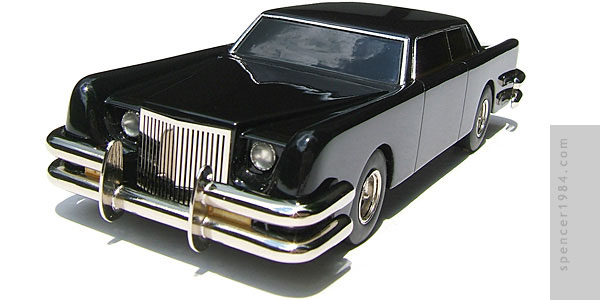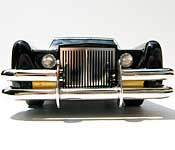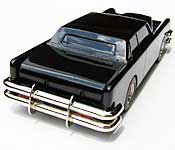 I've been working with resin parts and trans-kits for several years now, but this was my first true "garage kit." The kit contained the resin body, a resin chassis pan based on AMT's '65 lincoln Continental, white metal wheels, metal axles, vinyl tires, clear headlight lenses, a photoetched grille, and chrome plated metal bumpers. With fewer than two dozen parts it wasn't terribly complex, but the quality was excellent and the weight of it (both visually and literally - those bumpers are heavy!) gave it a nice presence right out of the box.
Assembly was almost nonexistent: I had to fill in a few small holes in the body, and drilled holes for the axles, bumpers, and mount screws. Only the headlight lenses and grille required glue. Everything else fit together so well that adhesive was merely a formality.
The bulk of the work on this kit went into paint. This was no small feat, however, as the slab sides and gloss black paint would show off any flaw left in the base. I used two coats of Model Master Gloss Black, followed by three coats of Model Master Ultra Gloss Clear. The car was then wet sanded and polished with Novus to achieve the final gloss. The windows also received two coats of amber-tinted Future floor wax in an attempt to replicate the tinted windows shown in the movie. The result isn't quite as visible as I had hoped, but the windows do show up as amber when viewed from certain angles. The final trim pieces were done using Bare Metal Foil (headlights) and metal tape (windows).