Site Features
Getting Started in the Hobby
Model Categories
Original Kit:
BMW X5
Made By:
Maisto
Scale:
1/24

Other BMW Models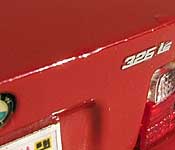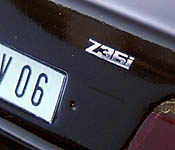 M3 Street Machine
Misfile BMW M3
'01 X5
Tomorrow Never Dies 750iL (Review)
The World is Not Enough Z8
'94 740i (Review)
The Circuit Wolf 3.0 CSL
The Transporter 735i
The Chase 325is
Other Factory Stock Models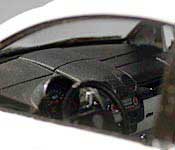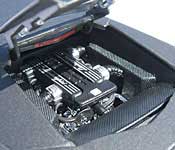 V.I.P. Jaguar
Land Rover Defender (Review)
Aston Martin DB7 (Review)
'94 BMW 740i (Review)
'71 Alfa Romeo (Review)
Citroën DS 19 (Review)
Bedazzled Lamborghini
'98 VW Beetle
'98 VW Golf
'01 BMW X5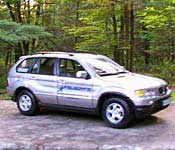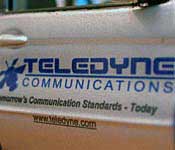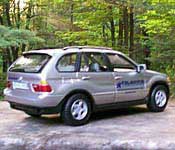 Cool Fact
A couple of years after I made this model, I discovered that
Teledyne
is an actual corporation, and their business, logo, and corporate colors are actually pretty close to what I created. The coincidence is just that, and completely unintentional.

This model came about somewhat backwards. I have made my own decals several times in the past, but much of the decal sheet ended up being wasted on blank areas or useless "filler". With a new package of 8.5" x 11" water slide decal stock, though, I wanted to fill in the whole page with as little waste as possible. So, I started making up various corporate logos and designs for 1/24 - 1/25 scale vehicle doors, hood, and tailgates. Among those logos were a set of door and trunk emblems for the fictitous "Teledyne Communications" corporation. I decided they should go on a high-end vehicle like a Mercedes or BMW as a corporate "field car". Maisto came out with their model of the new X5 SUV, and I knew it was the one to use.
The car was first disassembled, the mold marks were filed off, and the body was then painted in two steps - first with three mist coats of PlastiKote Metallic Brown, followed by four mist coats of PlastiKote Silver. The interior was painted with Testor's Sea Gray, and details were added inside and out. To match the charcoal color of the unpainted front and rear bumpers (for the rockers, fender flares, and window trim), I mixed up a batch of flat black and gloss gray. It was a nearly perfect match to the semi-gloss of the plastic bumpers. Once everything was dry and reassembled, I added the decals that started the whole thing in the first place.
Have a question, comment, or criticism about this model?
Send me an e-mail
with your thoughts!