Site Features
Getting Started in the Hobby
Model Categories
Original Kit:
Transformers Adventure Big Drift
Made By:
Takara (#TED18)
Scale:
1/24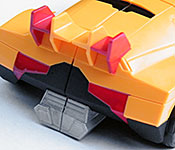 After Bumblebee and Sideswipe, I had to start looking outside North America to add more Robots in Disguise cars. Not that Drift wasn't available in the US, but his first (and so far only) release was in a "Blizzard Strike" blue and white paint scheme. Good thing Takara had a more standard paint job on their Transformers Adventures Big Drift, though even that needed a few additional touches.
Unlike the two previous figures, Drift required no physical modifications. He did need to have his entire rear half painted, since the factory paint stopped at the rear edges of the doors. I also touched up the beltline and rocker, which had orange stripes visible in what should have been solid black areas. The taillights were painted dark red, and the exposed engine tailshaft was painted flat silver. The final touch was the red stripes on his wheels, and Drift was ready to go.