Site Features
Getting Started in the Hobby
Model Categories
Original Kit:
JGSDF Type 07 Tank Nacchin
Made By:
Cavico (kit #MIM-005-JG)
Scale:
N/A

Other Robot & Cyborg Models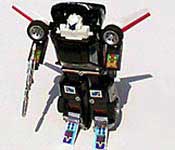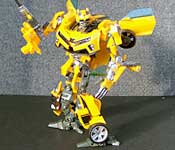 Revenge of the Fallen Bumblebee
UR2EZ
Big Hero 6 Baymax (Review)
LEGO Optimus Prime
Transformers Optimus Prime
Ghost in the Shell Motoko Kusanagi
Star Wars Fighter Droid
Draw 50 Monsters UR2EZ
Metallo
WALL·E
Transformers Vector
The Day the Earth Stood Still Gort
KONGO Attack Vehicle
C-3PO & R2-D2
JGSDF 07 Tank Nacchin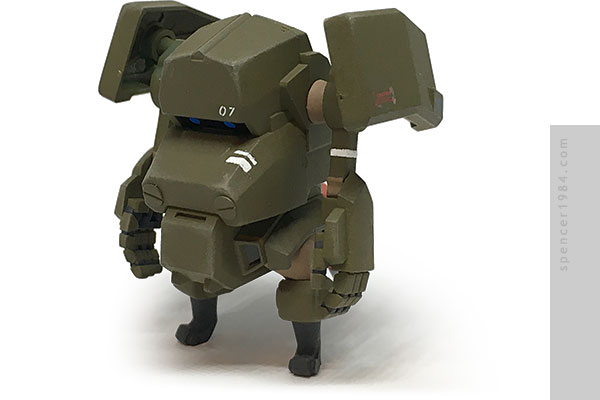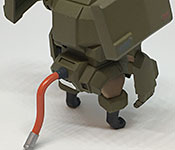 Similar to Gourai and her WeGo, this wasn't a true 1/24 scale kit. But it was such a unique design, I saw all sorts of options beyond the typical "giant mech." It actually reminded me of something Boston Dynamics would make, albeit much more heavily armored. So I'm considering it either a proof of concept or (better yet) a personnel-sized version of the tank Nacchin.
The kit was very simple - 16 parts on three sprue trees and a cardboard insert that had both the optional eye panels and an exploded diagram for the instructions. It's molded in green, so paint isn't strictly required, but does look better with a little extra color thrown in the mix. I painted it with a base of Model Master 1911 Olive Drab, then added the details with Apple Barrel acrylic paints and a light weathering with Tamiya's effects. The "tail" was painted bright orange with a silver tip and dark gray boot to suggest an extension cord, good for recharging the unit while off duty. I chose the standard blue eyes and carefully cut them out of the insert, gluing them into place with Aleene's Tacky Glue. The few remaining markings were a combination of Archer dry transfers and Gundam decals.
It's far from the most complex kit I've dealt with, but is a neat little design that was fun to put together. After working with this I will definitely check out more of Cavico Models' kits.