Original Kit:
1963 Ford Galaxie
Made By:
AMT (kit #30267)
Scale:
1/25

Other Fast & Furious Models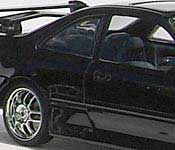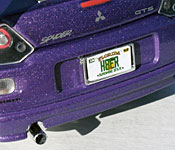 Furious 7 Off-Road '67 Camaro (Review)
F8 of the Furious Rally Fighter (Review)
F9 Charger Widebody (Review)
Furious 7 '70 Charger (Review)
Fast 5 '70 Charger
Furious 7 Off-Road '70 Charger
2 Fast, 2 Furious Eclipse Spyder
Furious 7 Off-Road Challenger (Review)
Fast & Furious Chevelle (Review)
The Fast & the Furious '70 Charger
Furious 7 '70 Charger
F8 of the Furious Fleetline (Review)
Furious 7 '72 'Cuda
Fast 5 '11 Charger Police (Set)
Furious 6 '69 Mustang (Review)
Other 2010s Movie Models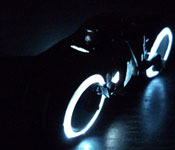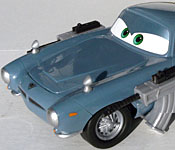 Tron Legacy Sam's Light Cycle
Transformers 4 Optimus Prime
Edge of Tomorrow Sgt Vratraski
Drive '73 Chevelle
Furious 7 '72 'Cuda
Safe Crown Victoria
Fast 5 '70 Charger
Deuce of Spades '32 Ford
Fast 5 '11 Charger Rio Police
Zootopia Police Cruiser (Review)
Tron Legacy Clu's Light Cycle
Furious 7 Off-Road '70 Charger
Fast 5 Nissan GT-R (R35)
Furious 6 '69 Charger Daytona
Men in Black III Ford Galaxie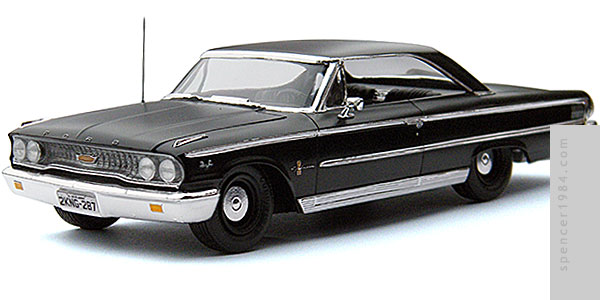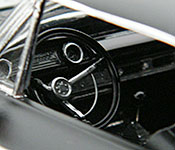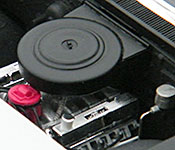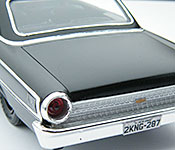 Cool Fact
Roman's joke in Fast Five was closer to reality than some may realize: records indicate that Coretta Scott King did in fact purchase a 1960 Ford Galaxie
I picked this kit up after talking with a friend about some of the more offbeat cars that showed up in the Fast & Furious movies. We never got to see what the Galaxie was truly capable of, but considering the car's NASCAR lineage (plus Tej's own laid back facade but capable 52 Blocks training) I decided to make this a sleeper.
The first thing I did was replace the kit-supplied Thunderbird mill with a late model NASCAR engine from my parts box. I omitted the external oil pump, replaced the distributor with an HEI unit from Morgan Automotive Detail, made a custom cowl-induction air cleaner, and shortened the tailshaft to fit the Galaxie's chassis. The headers also needed a little massaging to fit around the Galaxie's fender wells. This was done by carefully heating the headers over a candle, then re-bending them with a pair of round jaw pliers so as to minimize damage to the plastic. It was delicate work, but eventually I got everything to fit together nicely. The front of the engine bay was less nice: thanks to the kit's roots as promotional model, the radiator bulkhead had some really ugly mount points, was too shallow, and the area from the back of the grille to the front of the bulkhead was a featureless box. Rather than scratchbuild the correct details for this area, I opted to make a panel to cover the whole mess (the in-universe explanation being that this panel helped direct cold air through the radiator). Holes were drilled for the hood latch and radiator cap, and round chrome stickers were added to look like fasteners.
The interior is nearly box stock. I replaced the horn ring and shift lever, then detailed the seats, dash, and bucket using a combination of paint, BMF, and flocking. The chassis was a simple one-piece pan, but didn't look too bad so I simply sprayed the whole thing flat black and added minimal paint detailing.
I replaced the kit-supplied wheels and tires with a set of parts box tires and vintage Holman-Moody wheels from Plastic Performance Products. I could not find a source for the correct "dog dish" hubcaps, so I created a 3D file in SketchUp based on photos of the 1:1 caps and had them printed at Shapeways. These just needed a quick wash and some BMF, and were ready to go on the car.
The body looked surprisingly good considering the age of the mold, and AMT had even done a reasonable job of minimizing the parting seams. I did have to deepen the panel lines, but otherwise correction work was minor. To give it the proper patina, I sprayed the body flat black followed by a coat of Tamiya Transparent Smoke. This gave a very nice mid-level sheen, and by strategically polishing only some parts of the body I was able to recreate a pretty decent "old paint job" look. Unfortunately, the chrome was a near total write-off. Solid headlights, ugly seams, lots of flash, and tendency to chip at the slightest provocation meant that it had to be redone. I sprayed the front and rear fascias with Easy-Off to strip the factory chrome, then cleaned up the seams and flash. I drilled out the headlights to accept a set of lenses from AMT's '67 Mustang, and sprayed everything silver. I then went back and carefully painted the strip between the grille and bumper black, and redid the bumpers, emblems, and light bezels with more BMF. BMF was also used for the rest of the body trim, except for the Galaxie shields (gold paint), rear fender trim (silver paint), and front fender trim (useable kit chrome). The Mustang that donated the headlight lenses also provided the side view mirror. Final details included a guitar wire radio antenna and a set of screen-accurate license plates made up in Illustrator.