Made By:
Jada Toys
Scale:
1/24
MSRP:
US$12.99
Overview:
Packaging (Design):
9/10
Packaging (Durability):
6/10
Casting (Body):
8/10
Casting (Interior):
N/A
Casting (Chassis):
8/10
Casting (Engine):
N/A
Paint (Exterior):
10/10
Paint (Interior):
N/A
Paint (Trim/Graphics):
9/10
Overall Panel Fit:
9/10
Total Score:
8.4/10

Other Fast & Furious Models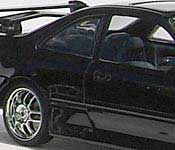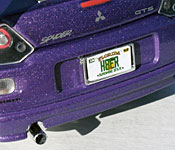 F9 Charger Widebody (Review)
Furious 7 Off-Road '70 Charger
Furious 6 '69 Mustang (Review)
F8 of the Furious Ripsaw (Review)
Tokyo Drift '70 Road Runner (Review)
Furious 7 Nissan GT-R (Review)
F8 of the Furious Plymouth GTX
Furious 7 Off-Road '67 Camaro (Review)
Fast 5 '70 Charger
Fast & Furious Chevelle (Review)
Furious 6 '69 Charger Daytona
Furious 7 '72 'Cuda
2 Fast, 2 Furious Evo VIII (Review)
The Fast & the Furious '70 Charger
Fast & Furious '70 Charger
Spy Racers Ion Motors Thresher (Review)
Furious 7 '70 Road Runner (Review)
Furious 7 Supra
Furious 7 '70 Charger (Review)
F8 of the Furious Rally Fighter (Review)
Other Cartoon & Anime Models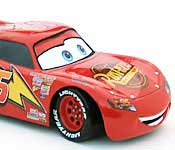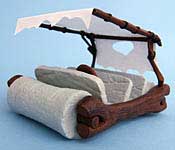 Transformers Optimus Prime
Batman:TAS Batmobile (Review)
Batman:TAS Batmobile (Review)
F&F: Spy Racers Thresher (Review)
Paprika Aston Martin DB7
M.A.S.K. Thunderhawk
Max Steel Turbo Racer (Review)
101 Dalmatians Cruella's Car (Review)
Turbo Teen
Lupin III Fiat 500
Speed Racer F1 Mach 5
Roadster Racers Daisy (Review)
Freedom Project Tricycle (Review)
Planes 2 Firefighter Dusty (Review)
Ghost in the Shell Motoko Kusanagi
Flintstones Family Car
Cyber Formula SIN Ogre AN-21 (Review)
Battle Force 5 Saber (Review)
Cyber Formula Super Asurada (Review)
Ben 10 Alien Force Kevin's Car (Review)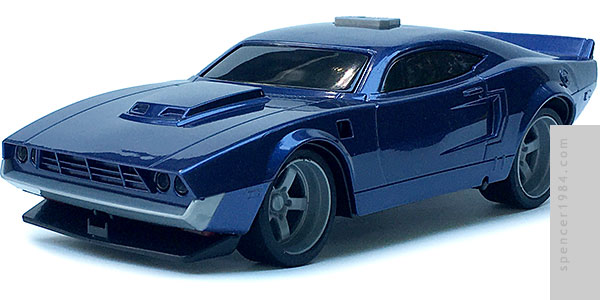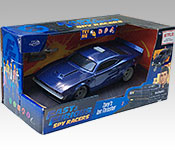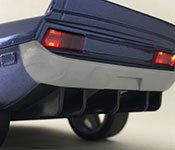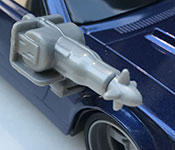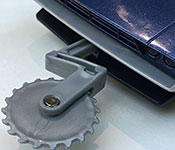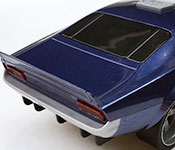 Background
Tony Toretto looks up to his cousin, and has mirrored much of his life on the examples set by Dominic. He's a street racer with his own ragtag group, is quick to put himself in the line of fire, and drives a classic Mopar. Or, at least, a classic Mopar-inspired car. To avoid any legal issues, Tony drives the "Ion Motors Thresher," a high-performance coupe inspired by the 1972 Dodge Challenger.
Packaging
The general size and design of the packaging here follows Jada's current Fast & Furious-style box, the biggest change being the lack of a clear plastic window. This is both part of a larger industry trend to reduce plastic used in packaging, and it allows customers to easily access the "try me" feature on the car's roof. The packaging is brighter overall, with a dark blue background, bright blue and orange Fast & Furious: Spy Racers logos, and colorful graphics from the show. To the right of the main opening is a portrait of Tony over his car, with a smaller photo of the Thresher showing off its optional features. At the top corner is the Netflix logo. Across the top of the opening is the Jada logo and "try me" callout with icons for sound, lights, and batteries. The narrow end flap has an image of the five main cast members, while the wider end has an action shot of Echo and Cisco's cars. The back has cross-sells for the four cars in this wave, and the underside is covered in the necessary legal verbiage. The car is held to the inner tray with two simple twist locks, similar to what Mattel used previously and far better than traditional screws. The car's accessories are held in a small plastic tray on the back wall.
Casting/Paint
Casting here is pretty simple, with the body being made of the main shell and lower front and rear fascias. It's generally clean work, though there are a few small dents in the roof and rear quarter panels where reinforcement points on the inside of the shell pulled the plastic. Fit between the panels is excellent, and the breaks are smartly done along natural character or assembly lines so as to not stand out. The windows are opaque black plastic, fit from the inside with a good flush fit all the way around. The lights are clear as part of the car's action gimmick, and a single gray button is just aft of center on the roof.
It's finished in a sharp looking indigo with gray bumpers. A few more paint apps would have been nice - the fuel cap and side markers remain unpainted - but what's here is well done. The chassis is a single black plastic piece that extends out to make the chin spoiler, side pipes, and rear diffuser. There's not a lot of space for detailing thanks to the battery door, speaker grille, and requisite legal information. Wheels are gray plastic that nicely match the painted bumpers and sport slick vinyl tires.
Features/Accessories
Pressing the button on the roof will produce one of three sound effects: mechanical working sounds, engine revving, and start/idle. All three are accompanied by the headlights, indicators, and taillights lighting up. There are also three snap-in spy accessories included: a front-mounted saw blade inspired by the Mach 5, and a pair of fender-mounted non-firing rockets. None of these are all that great - the rockets kind of just stick in the fenders and end up at weird angles, the saw is limited, and the lights and sounds are all generic "car noises" - but at least they don't interfere with the car too much. The roof button is the worst offender, but the fender holes are at least shaped and located to recall the fender gills on the 1971 'Cuda.
Accuracy
This is definitely the Ion Motors Thresher, from the Challenger-esque grille to the large side intakes. There are a lot of small details missing, like the mirrors, wipers, splitter braces, and myriad paint apps, but the broad strokes are there. It scales well with actual 1/24 and 1/25 vehicles, but will look small compared to most of the recent 1/24 Fast & Furious diecasts due to Jada's tendency to upsize.
Overall
Spy Racers has been another interesting side trip in the overall world of The Fast & the Furious, and I'm happy to have some 1/24 scale vehicles available. As a collector I would have liked some more detail, but as a builder I appreciate the potential for upgrading this without having to remove a bunch of cast-in details meant to pass safety standards. It's kind of a best case scenario, and I look forward to picking up the rest of the series.
Have a question, comment, or criticism about this review?
Send me an e-mail
with your thoughts!