Made By:
Jada Toys
Scale:
1/24
MSRP:
US$14.99
Overview:
Packaging (Design):
8/10
Packaging (Durability):
8/10
Casting (Body):
9/10
Casting (Interior):
7/10
Casting (Chassis):
7/10
Casting (Engine):
7/10
Paint (Exterior):
8/10
Paint (Interior):
9/10
Paint (Trim/Graphics):
9/10
Overall Panel Fit:
9/10
Total Score:
8.1/10

Other Fast & Furious Models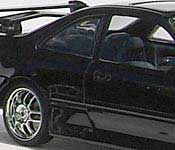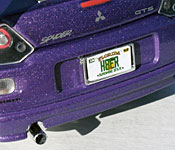 Fast 5 '63 Galaxie
Furious 7 '70 Charger
Furious 6 '69 Charger Daytona
Fast 5 '70 Charger
Spy Racers Rally Baja Crawler (Review)
Fast & Furious Chevelle (Review)
Furious 7 HyperSport (Review)
Fast 5 '11 Charger Police (Review)
The Fast & the Furious Chevelle
Furious 7 Maximus Charger (Review)
Hobbs & Shaw Peterbilt (Review)
Tokyo Drift '70 Road Runner (Review)
Furious 7 '70 Charger (Review)
Furious 7 Supra
The Fast & the Furious F-150 (Review)
Fast & Furious '70 Charger
Furious 7 '72 'Cuda
F8 of the Furious Fleetline
Furious 7 Nissan GT-R (Review)
Furious 7 '70 Road Runner (Review)
Other 2010s Movie Models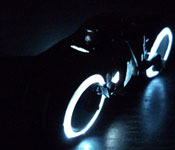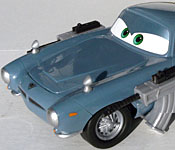 Cars 2 Finn McMissile (Review)
Dark of the Moon Leadfoot
Men in Black III Ford Galaxie
Hobbs & Shaw Peterbilt (Review)
Furious 7 Off-Road Challenger (Review)
LEGO Batman Ultimate Batmobile
Furious 7 Off-Road '67 Camaro (Review)
Deadpool Taxi
Tron Legacy Sam's Light Cycle
LEGO Batman Batmobile
Batman v Superman Batmobile
F8 of the Furious Chevy Fleetline
Need for Speed 2014 Mustang (Review)
Transformers 5 Crosshairs (Review)
Jurassic World Mercedes-Benz 6x6
Dark of the Moon Roadbuster
Furious 7 Nissan GT-R (Review)
Furious 7 '70 Charger
Fast 5 '63 Ford Galaxie
Atomic Blonde Porsche 911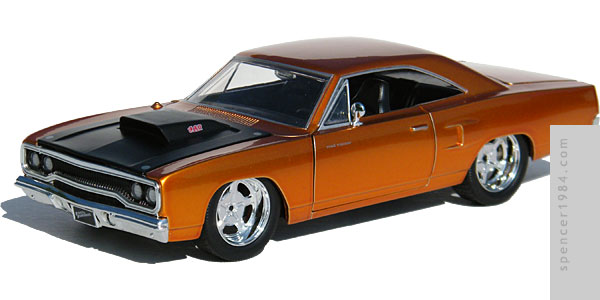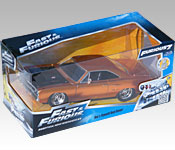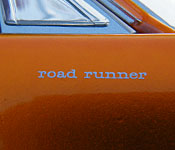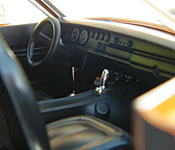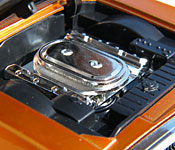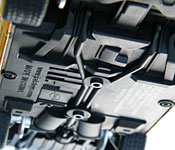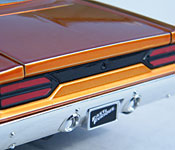 Background
After killing Han in Furious 7, Deckard Shaw stalks his funeral and draws Dom into a confrontation. Part of that confrontation is a game of chicken where neither blinks, resulting in a head-on collision between Deckard's Maserati Ghibli and Dom's Plymouth Road Runner.
Packaging
Part of Jada's second wave of 1/24 Fast & Furious cars, this is a mild update to their earlier packaging. The window is framed by angled cuts, with the front panel having text framing the bottom and right edge of the window: "Fast & Furious Official Movie Merchandise" is in the bottom left corner (English only), "Dom's Plymouth Road Runner" is a sticker applied to a blank space immediately to the right of that, and a close-up photo of the Charger's engine, a die cast callout, the Jada logo, and the movie title are stacked along the right edge. One end flap is partially made from he folded main window, and has the "official movie..." and close-up engine photo repeated from the front panel. The other end flap has an angled window and the "official movie..." blurb as well. The back panel has a massively expanded "Collect them all!" callout, featuring all of the first wave of cars plus Brian's Nissan Skyline GT-R (R34) in silver and blue variants, Dom's Chevy Chevelle SS in gray and red variants, Brian's Toyota Supra (first movie), D.K.'s Nissan 350Z, Ford GT, Letty's Plymouth Barracuda, and Roman's Chevy Camaro (Off Road). The legal and contact info has been moved entirely to the bottom panel. Inside is an elaborately folded tray, made to keep the box rigid and hold the car at an angle to match the window cutout. Two screws hold the car to the bottom tray, stickers hold the hood and trunk closed, and a plastic band holds the doors closed.
Casting/Paint
Another repurposed tooling from Jada's "Big Time Muscle" series, but unlike the Charger, this looks fantastic. The casting is nice and smooth, the panels all line up beautifully, and there are none of the tacked-on parts like we saw on that one. If it wasn't for a (very) slightly raised corner of the hood and a tooling mark along the lower trailing edge of the trunk lid, the casting would have scored a perfect 10. The paint is solid work, with a nice gloss but some a few tiny specks on the left side. It also suffers from the same thinning at the edges as we saw on Brian's F7 R35, but the lighter color and sharper edges help diminish the negative impact. The front bumper/grille, wheels, sideview mirror, and rear bumper are chrome plated plastic, the headlights and window glass are transparent clear plastic, the rear fascia is black plastic, and the tires are black vinyl. Black paint is applied to the grille and hood, silver is applied to the hood pins, door handles, and window frames, and dark red is applied to the taillights. "440/6BBL" is printed on both sides of the hood scoop, and "Road Runner" is printed on both doors. All of these are printed and/or applied sharply, with only a little ghosting along the bottom edge of the grille.
The engine is a chrome plated affair that looks like a cross between the 440 mentioned on the hood scoop and a 426 Hemi. it has the correct oblong six-pack air cleaner, though. The interior is black plastic with chrome pedals, a chrome shift lever, and printed speedometer and tachometer faces. Casting is good if simplified, such as the smooth, flat floor and the hollow seat backs. The gauges are fantastic, lined up perfectly against the edges of their bezels with nice sharp definition. The chassis is a step up from Jada's usual basic pan, with simple but recognizable K-member, engine bottom, 727 transmission, full-length exhaust system, and rear suspension ends. The brakes are their usual silver and red discs at all four corners.
Features/Accessories
The doors, hood, & trunk open. All use very good smooth operating hinges, and hold their positions wherever you leave them.
Accuracy
This is one of Jada's better replicas. The proportions look good, the sides have the correct B-body tuck in at the bottom, and of course they totally nailed the wheels. Jada even has the correct single driver's side mirror. The only possible nitpicks are that the color here looks a little lighter than the movie car (but given Jada's track record with correct paint and the historic difficulty with photographing translucent paints, I'll give them the benefit of the doubt), and the ride height is a little too low (the top edges of the wheels should be fully visible). Scaling it just barely on the large side, coming in at 1/23.5.
Overall
After the face-plant that was their Furious 7 Charger, I was very cautious in my hope for this. But Jada really came through with a fantastic looking piece that, while it may not be 100% flawless, is well worth adding to your Fast & Furious collection. Highly recommended.
Have a question, comment, or criticism about this review?
Send me an e-mail
with your thoughts!