Site Features
Getting Started in the Hobby
Model Categories
Original Kit:
1953 Hudson Hornet
Made By:
Moebius Models (kit #1200)
Scale:
1/25

Other 1980s Movie Models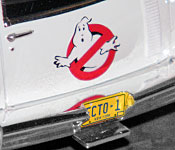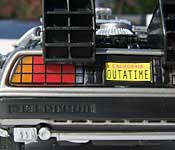 The Terminator Custom Pickup
Indiana Jones and the Last Crusade Bike
Gone in 60 Seconds 2 Slicer
The Terminator Police Car (Review)
Beverly Hills Cop Nova
Who Framed Roger... Benny (Review)
Smokey & the Bandit 2 Firebird T/A
Tucker: The Man... Tucker (Review)
Ghostbusters Ecto-1
Transformers Hot Rod (Review)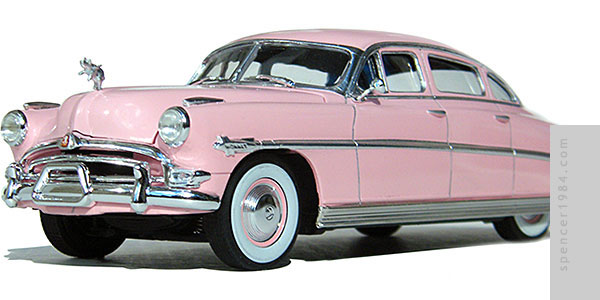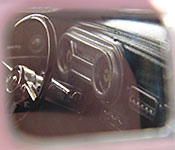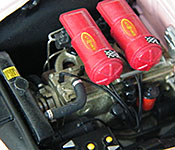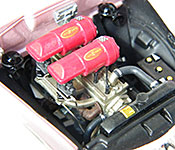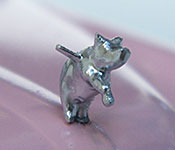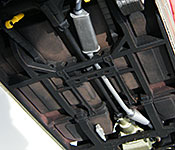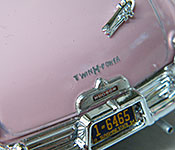 Despite completing their Tumbler over two years earlier, this was actually the first Moebius Models kit that I ever worked on. Had I kept it box stock, I probably would have finished it first, too...but instead I decided to use a trans kit from Motor City Resin to turn it into the four door "pink pig" from the original Porky's. The trans kit was actually pretty good, it just seemed like using it marked the point where all progress ground to a halt.
The bulk of the kit went together effortlessly. Moebius really did their work in making this beautifully detailed as well as incredibly easy to assemble. Parts fit was nearly perfect across the board, there was zero flash, and it took detailing upgrades easily. The engine received wiring and mesh over the air cleaner intakes, but is otherwise box stock (including the myriad factory-correct decals). The chassis was a completely stock assembly, with only some light weathering and paint detailing.
MCR's transkit included new door panels and a new rear seat, and these all mated up to the kit's floor and dashboard with only minor trimming. There were some scars in the resin doors, but the narrow windows and seat locations hid them well enough that I could get away without modifying them. I did, however, need some help figuring out what colors the interior was supposed to be since every scene with the Hudson was at night and from the wrong angles. I was able to get in touch with Roger Womack, stunt coordinator for the film, and he was able to point me in the right direction as far as colors and some extra details.
Finally, it was time for the body. Seldom do I run into as many paint problems as I did here: fish eyes (even after thorough washing...I think the body I got may have been pulled early), dust, runs, ghosting, bleed, orange peel, the works. If there was a way for this paint job to foul up, it did so. I can't even remember which color I ended up using, as I went through at least three different brands trying to get something to work. In the end I had to cut my losses and just accept that this was as good as it was going to get (which, considering what it had looked like at some points, wasn't too bad). The trim was done with a combination of paint and BMF, and a custom period-correct Florida license plate. The hood ornament was made from an N scale pig that I modified and painted Duplicolor Chrome.