Site Features
Getting Started in the Hobby
Model Categories
Original Kit:
Thunderbird Stock Car
Made By:
Racing Champions
Scale:
1/24

Other Transformers Models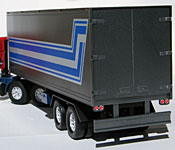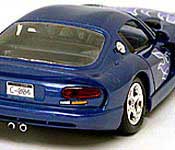 G1 Red Alert
Robots In Disguise Sideways
Dark of the Moon Leadfoot
G1 Huffer
G1 Cliffjumper
Beast Wars Grimlock
Robots In Disguise Prowl (Super)
G1 Siren
Prime Bumblebee
G1 Smokescreen
G1 Road Rage
G1 Ladybug
Revenge of the Fallen Mudflap
Revenge of the Fallen Sideswipe
Machine Wars Prowl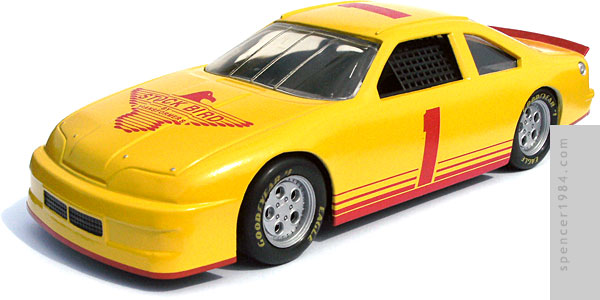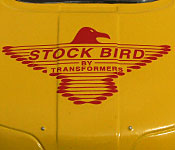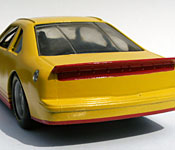 After my Optimus Prime wheel swap, I ended up with a spare set of Lamborghini wheels. Since my mind was already on the G2 Go-Bots, the wheels were barely off the Lambo before I was planning on how to use them to represent the 5-hole design used with the NASCAR Thunderbird. Gearhead was the first use of this casting, and so seemed like a fitting candidate to try my idea.
I disassembled the T-Bird and stripped the body, then repainted it Krylon Sunrise Yellow. The windows, chassis, and interior were almost painfully simplified, but adequate for what I needed - so I cleaned them but otherwise made no changes here. I then painted the inside of the body black, and reassembled everything.
I had to get a little creative with his markings: without a solid base color, ink is actually somewhat transparent. So if I had made his markings in red, they would have looked fine on the page but orange once they were on the car and the yellow base coat bled through. Instead, I made the decals magenta, since in the 4-color printing world yellow + magenta = red. It looked a bit silly on the sheet, but the results were exactly what I was hoping for. I used a combination of paint and pinstriping tape for the skirting, spoiler, hood/trunk pins, grilles, and fuel fill, and the original tires were mounted on the Lamborghini wheels to complete the look.