Site Features
Getting Started in the Hobby
Model Categories
Original Kit:
Lamborghini Diablo
Made By:
Welly
Scale:
1/24

Other Transformers Models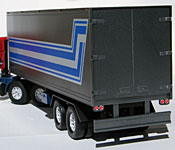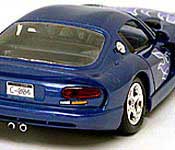 G1 Ladybug
Robots In Disguise R.E.V.
G1 Bumblebee
Robots In Disguise Sideswipe
G2 Sideswipe
Robots In Disguise Drift
Robots In Disguise Sideways
G1 Hoist
G1 Bluestreak (Anime)
Transformers Bumblebee
G1 Sunstreaker
G1 Road Rage
Revenge of the Fallen Skids
Robots In Disguise Side Burn
G1 Cliffjumper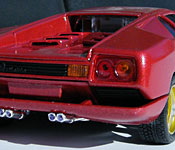 Cool Fact
Go-Bots were developed to be used with tracks and playsets from Hot Wheels and other 1/64 scale cars, sharing the same smooth-rolling axle/wheel construction that lets the toys be quickly zipped along smooth surfaces.
Source: Transformers Wiki
Like Optimus Prime, Firecracker was a red Lamborghini Diablo. But because he was part of the first wave of Go-Bots, he was cast in translucent plastic. I didn't want to simply swap "translucent" for "opaque" and call it a day, so I looked around for a new color. Model Master's Revving Red finally caught my attention: I liked the color, and the metalflake seemed appropriate for the character and the Diablo.
I then did the usual wheel swap, and like Sideswipe I colored them with a yellow Sharpie to recreate the gold wheels used on the G2 cars.