Site Features
Getting Started in the Hobby
Model Categories
Original Kit:
Batman Forever Batmobile
Made By:
Revell (kit #6720)
Scale:
1/25

Other Batmobile Models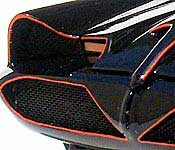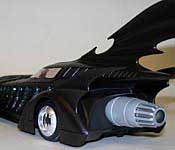 2006: Legends of the Dark Knight #198
2004: Teen Titans #9
2005: Batman Begins/The Dark Knight
1989: Detective Comics #597
1969: Detective Comics #394
1990: Legends of the Dark Knight #5
1964: Batman #164
2008: LEGO Batman
1987: Batman #408 interior
1992: Batman Returns Batmissile
1972: Batman #246
1992: Batman Returns
1992: Batman:TAS (Review)
1966: Batman (Review)
1977: Batman #288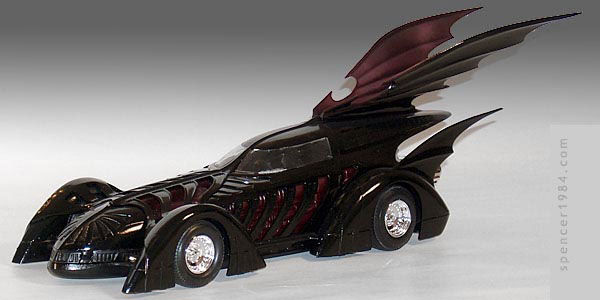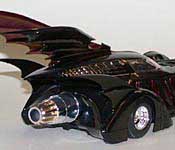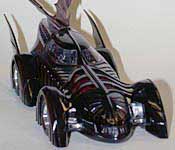 Cool Fact
When talking about the Batmobile, Production Designer Barbara Ling said, "We went for a stylized, automotive version of a bat. I wanted the Batmobile to look like a living, breathing thing." The car was also inspired by the earliest Batmobiles, with the single vertical roof fin.
I have always preferred Batman's darker incarnations; it creates a more interesting dynamic when the "good guy" is on the verge of losing it himself (a bit like the original Mad Max). Batman Forever began the change away from a very serious Batman to campy "comic book style" Batman. One of these changes was the redesign of the Batmobile; instead of the dark, tanklike menace of the previous movies' cars, the Batman Forever Batmobile had a much lighter design - literally.
When I first got it, I built this model box stock, and even gave the chrome panels a light blue wash so they looked like what appeared in the movie. After about a year, though, I decided that it needed to be redone. I took the car apart, cleaned it, and rebuilt it with a darker persona. The large chrome body panels and inner fin were painted dark maroon to give the car a more organic look, and I eliminated the fixed bat-logo wheels and replaced them with a set of chrome racing wheels. I also lost the eye-stalk headlights, replacing them with low profile ellipsoids from a late model Cougar. Finally, the body was painted black and given a coat of Testor's Black Window Tint to give it a dark shine.
In the years since I built this model I grew to respect the original design, and finally decided that I also wanted to have a movie accurate car. I didn't want to lose this version of the car, so I bought a second kit to turn into the Batman Forever Batmobile, complete with illuminated engine panels and wheels.
Have a question, comment, or criticism about this model?
Send me an e-mail
with your thoughts!