Original Kit:
Barnabas Vampire Van
Made By:
MPC (kit #763)
Scale:
1/25

Other Paranormal Models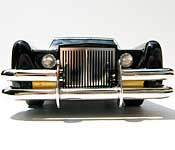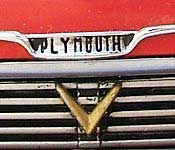 Blade '68 Charger
Nightmare on Elm St Cadillac
The Real Ghostbusters Ecto-1
Stranger Things Chevy Blazer (Review)
Ghostbusters: The Video Game Ecto-1B
Speed Demon Chevelle
Supernatural Chevelle
Haunted Mansion Hearse (Review)
Kaiki Daisakusen Tortoise (Review)
Misery Machine
Christine (Review)
Night Watch Audi TT
Ghostbusters Ecto-1
Ghostbusters Ecto-1 (Review)
Supernatural Impala
Other Classic TV Models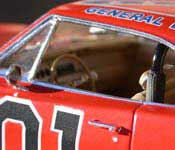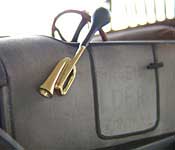 Knight Rider KITT (Review)
1966: Batman (Review)
Doctor Who TARDIS
Flintstones Family Car
WWF "Macho Man" Bronco (Review)
Supercar
Riptide 1960 Corvette
Batman Batmobile (Review)
Dukes of Hazzard General Lee
Bewitched '69 Camaro (Review)
Man from U.N.C.L.E. Piranha
Dukes of Hazzard 1977 Fury (Review)
Scooby Doo Mystery Machine
Highway Patrol Buick
A-Team Van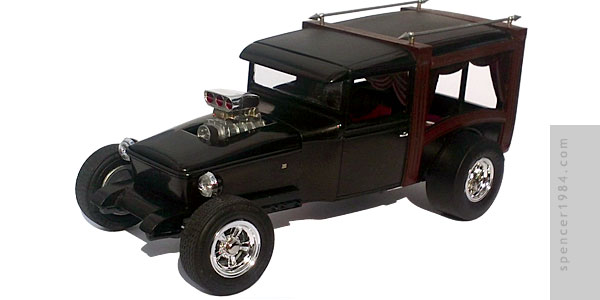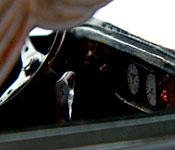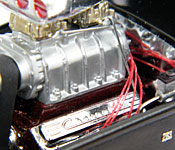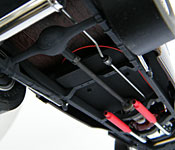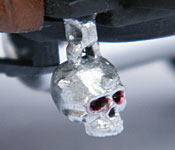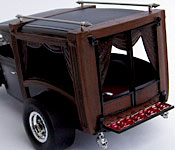 This is not a bad kit, but it's definitely showing its age. That it was quickly modified from an existing kit to cash in on the Dark Shadows and Show Rod crazes of the late 1960s didn't help much, either. But I still liked the general look of it, and was happy to see Round 2's reissue of it.
I started with the chassis, which needed to be cleaned up but was generally not too bad. I widened the gas tank and added a battery box, cables, and a fuel line. The frame and suspension were painted dark gray, and the floor was painted flat black over Krylon Make It Suede to make it look like it was sprayed with undercoating. The interior was about the same: it recieved photoetched Moon pedals, carpeting, a new gauge cluster, and a fuel fill in the back, but was for the most part built straight from the box.
The engine was another story, and needed a fair amount of work. The front cover, belt, exhausts, and everything from the intake manifold up was replaced with items from my parts box. I tried something a little different with the ignition wires: to recreate the translucent plastic that was a popular item on hot rods at the time, I used clear fishing line tinted red. To complete the "show rod" appearance under the hood, I used a piece of chrome vinyl for the mirrored firewall. The Cherry Bomb mufflers were scratchbuilt from plastic and brass tubing.
Like the engine, the body needed several upgrades. I removed the molding around the nose and recreated it with half round so that it would be straight and even. I then glued the nose to the body, which showed me how poorly the hood fit. This had to be shortened several scale inches, and was then reinforced with flat styrene to remove its warp. Everything was painted satin black, then I masked off the roof and hit it with gloss clear to give it a proper vintage-looking shine. The wood was painted with oil paints, and the curtains were dry brushed with dark red to give them a more fabric-like appearance. When I mounted it on the chassis, I relieved the mounting locations so that it would sit lower.
The chrome parts did not age well at all, and so I decided to replace pretty much everything but the wheels. The headlights, badges, and door handles were from my parts box, and the hub caps were modified craft brads. The roof rails and taillights are customized wargaming pieces: the rails are spear heads mounted on styrene rod, and the taillights are hanging skulls that recieved some extra detailing. Both rails and lights were painted rather than plated, so they're not quite as bright as the other parts, but I think they fit the "mood" of the car perfectly.