Made By:
Greenlight Collectibles
Scale:
1/24
MSRP:
US$24.99
Overview:
Packaging (Design):
8/10
Packaging (Durability):
9/10
Casting (Body):
10/10
Casting (Interior):
8/10
Casting (Chassis):
8/10
Casting (Engine):
7/10
Paint (Exterior):
8/10
Paint (Interior):
8/10
Paint (Trim/Graphics):
7/10
Overall Panel Fit:
9/10
Total Score:
8.2/10

Other Classic TV Models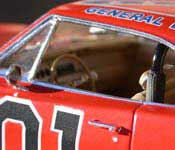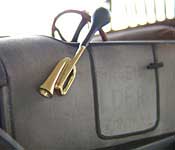 Starsky & Hutch Ford Torino
Man from U.N.C.L.E. Piranha
A-Team Van
WWF "Macho Man" Bronco (Review)
Scooby Doo Mystery Machine
Batman Batmobile
Dukes of Hazzard 1977 Fury (Review)
V.I.P. Jaguar
Batman Batmobile (Review)
Speed Racer F1 Mach 5
Stingray 1965 Corvette
Automan Countach
Knight Rider KITT
1966: Batman (Review)
Blue S.W.A.T. Striker EX (Review)
Miami Vice Ferrari 365GTS/4 Daytona
Birds of Prey Hummer
Doctor Who TARDIS
Knight Rider KITT (Review)
Flintstones Family Car
Other Camaro Models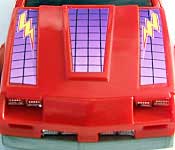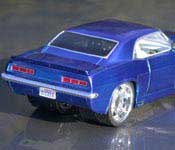 Charlie's Angels '69 Camaro
Troy PD SCCA Camaro
'67 Camaro (Review)
M.A.S.K. Thunderhawk
Blood Drive '67 Camaro
Avengers Grimm Camaro ZL1
'71 Camaro (Review)
'16 Camaro (Review)
'69 Camaro
'85 Camaro (Review)
Bewitched '69 Camaro (Review)
"Stylo" Camaro
KITT
Avengers 2016 Chevy Camaro (Review)
Furious 7 Off-Road '67 Camaro (Review)
"Heavy Chevy" Camaro (Review)
Transformers Bumblebee
'06 Camaro Concept (Review)
The Last Stand ZL1
'69 Camaro Pace Car (Review)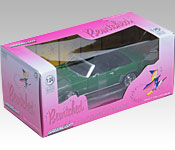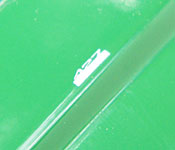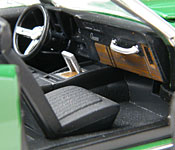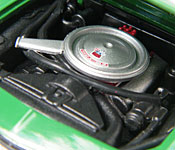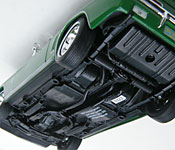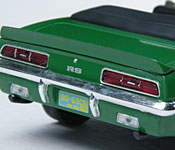 NOTE: This is a repaint of an existing model, and this review will focus on the changes made between the cars. You can see the original review for more details.
Background
In the Bewitched season 5 episode, "Samantha Twitches for UNICEF," Sam is recruited by the local Housewives for UNICEF and invited to a meeting in town. Chevrolet was a primary sponsor of Bewitched, and the parking lot outside of the meeting was a showcase of the then-current lineup—including Sam's 1969 Camaro RS convertible.
Packaging
Greenlight's Hollywood-licensed vehicles each come in a box with unique printing and a slightly different cutout for the window. For the Camaro, the box is primarily a pink to white gradient repeated on all six panels. The Greenlight logo, scale, and "Limited Edition" are printed on every surface, and the Bewitched logo is printed on every surface except the bottom. "Adult Collectible" is on the top, back, and both end flaps. The cartoon image of Sam riding her broom (as seen in the show's title sequence) is on the front and both end flaps, and Sam in her human guise is on the back next to a box listing the show's synopsis and a couple of fun facts. Whoever layed out the box art was not as diligent as they should have been: the closed spaces formed by Sam's arm (as a witch) and handbag (as a human) were not knocked out, so the gradient background is interrupted by white triangles. The interior tray is yellow with vertical stripes and twinkles like those used in the title logo, and a folded plastic tray captures both ends of the car to prevent it from moving. A plastic band holds the doors closed.
Casting/Paint
While the casting is still solid, the overall presentation here isn't quite as good as it was on the Pace Car. The trim doesn't appear to be quite as sharp as it was, with bleed around the door handles, rocker trim, windshield frame, and wipers. There's also a weird issue with the scripts: the front fenders have the correct "350" call out, but the hood has a "427" badge. There's also a large gob of glue holding the rear view mirror in place, and the seats don't quite line up with each other. There's a faint chemical smell coming from the interior, so it's possible that this particular car got a bad batch of plastic or was improperly cured. Fortunately, the metal parts look as good as they did before, and the panel fit and base paint remain very good. Some details even look better this time, like the steering wheel. Without the lighter "wood" paint, the rim looks thinner and more realistic. The aforementioned 350 fender badges ("396" on the Pace Car) are carried over to the air cleaner. There are a few other minor changes as well: the tires are generic whitewalls rather than Firestone Wide Ovals, the A/C lines are now tucked under the air cleaner, and the "SS" badges have been changed to "RS" badges.
Features/Accessories
The doors & hood open, and the front wheels can be posed. They are tied to the steering wheel, but the wheel itself barely moves from lock to lock.
Accuracy
This wasn't too much of a stretch to turn the Pace Car into Samantha's Camaro. Other than the weird 427 badge, all of the trim looks correct and the Rallye Green looks pretty close. The only things that are really wrong are the hood (which has a cowl induction scoop but should be flat), and a lack of bumperettes. The New York license plates are correct for the episode, but are not quite right in size or shape.
Overall
Although not quite as outstanding as the Pace Car, Greenlight still did a very good job with this casting. It's also nice to see a Camaro in its baseline trim without the usual stripes and graphics, and the Bewitched tie-in is a fun addition. Mildly recommended.
Have a question, comment, or criticism about this review?
Send me an e-mail
with your thoughts!