Site Features
Getting Started in the Hobby
Model Categories
Original Kit:
Ferrari 250 GT S.W.B.
Made By:
AMT/Ertl (kit #8688)
Scale:
1/24

Other Comic & Manga Models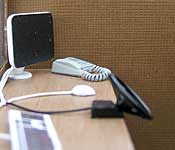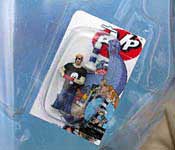 The Circuit Wolf Jota
Detective Comics #156 Batmobile
Misfile XR4Ti
DC Bombshells Poison Ivy (Review)
Cyber Formula Asurada GSX (Review)
Transformers Optimus Prime
Misery Machine
Cyber Formula SIN Asurada (Review)
Dilbert Carbicle
DC Bombshells Harley Quinn (Review)
Beetle Bailey Jeep
G.I. Joe RAM
The Circuit Wolf BMW 3.0 CSL
Pearls Before Swine Revenge-O-Mobile
Detective Comics #27 Batmobile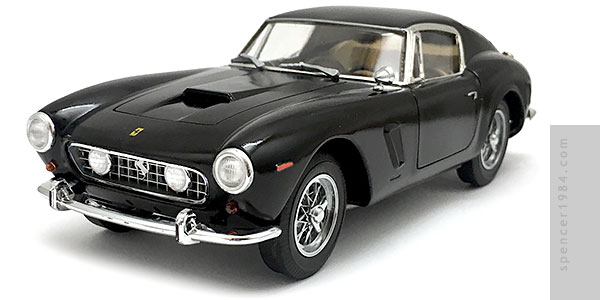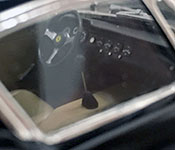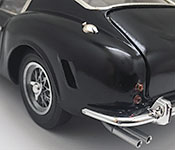 Fractured faerie tale, zombie slayer, and classic Italian grand tourer all came together in artist Jesse Wichmann's "Cinderella" promotional piece for Princesses vs. Zombies. 1/24 scale options for the Ferrari 250 are somewhat limited, but I happened to have an AMT release of the SWB kit in my stash, and with a little modification thought it would be a good candidate for Cindy's ride.
I've heard tales of this kit's shortcomings for years, but when I actually started working on it I found them to be somewhat exaggerated. It's not flawless by any stretch - there's a fair bit of flash and parting seams that need to be cleaned up, and the body definitely has some weird contours around the roof and rear window. But the parts fit is solid, and just about everything has a good positive locator so you're not left guessing what should go where. It's got pretty good detailing, too, with things like separate disc brakes, separate shocks, and a 10-piece exhaust system.
One of the universally accepted weak points in the wheels, which I tossed in favor of a set from Danbury Mint's Ferrari 250 Testa Rossa. I also reshaped the grille surround and roof as best I could without completely reworking the material, which helped smooth out some of the model's lumpiness. A few smaller details got replaced as well, including the intake bells (crimp beads), the shift lever (straight pin), exhaist tips (aluminum tubing), and the fuel cap (craft brad and wire). The kit comes molded with the hood shut, so I opened that and added some sills to the inside of the body from 0.010" plastic strip. To match the art, I used the bumpers from Italeri's 250GT California kit in place of the stock parts. Although this seems like a lengthy list of upgrades, just about everying I replaced was relatively small details that just didn't age brilliantly...the bulk of the kit was actually built box stock with little hassle.
Paint work was fairly straightforward, too: Tamiya TS-46 Sand for the interior and TS-14 Black for the body, with the engine and chassis being a mix of flat black and various metallic colors. I considered adding the blood splatters seen in the original art, but since Cindy is often portrayed as the fastidious sort (including her weapon of choice here being a mop), I figured her car ought to be nearly spotless. The final details include custom decals I made and chrome scripts I got from a seller on eBay.