Site Features
Getting Started in the Hobby
Model Categories
Original Kit:
Datsun 240Z Patrol Car
Made By:
Fujimi (kit #18417)
Scale:
1/24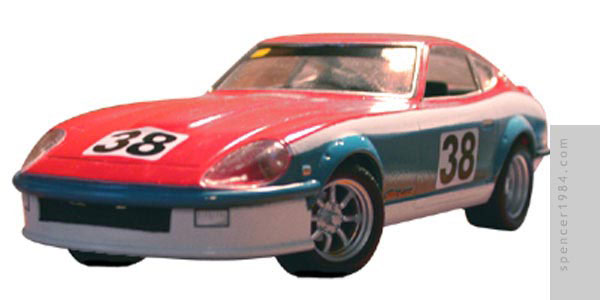 Smokescreen was one of those times when I took some artistic license with a Transformers character (see RiD Prowl or RiD X-Brawn). Although the toy prototype used the same base Datsun 280Z as Prowl and Bluestreak, I decided to instead use the slightly older 240Z as a base for this model. My primary reason here was that the Fujimi police car was already most of the way to being a race car on it's own - the interior was pretty spartan, it had more aggressive "cop tires", and the wheel arch flares were already molded in place.
Other factors also contibuted: the 240Z has more angular lines and a sharper nose than it's decendant, and generally looks sleeker. Also, since Smokescreen did not have his hood vents painted black like Prowl (Bluestreak didn't have them painted either, but Bluestreak had his own paint issues), his hood appears at a glance to be solid, like the 240Z. And finally, I already had the kit so I just decided to make the most of it. Takara/Hasbro took their own liberties converting Don Devendorf's IMSA winner into Smokscreen, so I just made a few more adjustments.
Most of the model is a pretty straight buildup of Fujimi's kit. Inside I omitted the passenger's seat and window cranks, and added a raised floor and some extra reinforcement plates/bars. Outside, the car received a rear spoiler and scratchbuilt air dam. To finish the model, I used a combination of Krylon and Testor's paints and custom decals to match Smokescreen's look as closely as possible.
Have a question, comment, or criticism about this model?
Send me an e-mail
with your thoughts!