Site Features
Getting Started in the Hobby
Model Categories
Original Kit:
Three-Step Changers Sideswipe
Made By:
Hasbro (#B0898AS0)
Scale:
1/24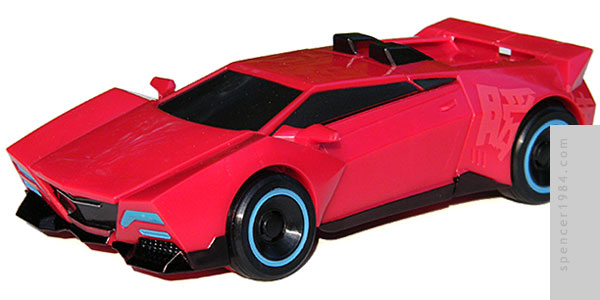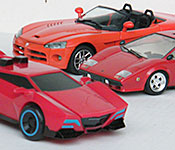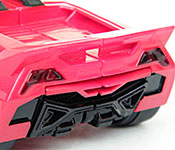 Like the earlier Three-Step Changers Bumblebee, Sideswipe just needed a few modifications to make for a decent companion to my other 1/24 Transformers.
I started by removing the "toe" panels from the rear spoiler and sanding/polishing the plastic to return its original gloss. Although I should have done the same for the knees on the car's roof, I really liked the way Hasbro made them look like engine intakes (reminiscent of the original Sunstreaker), and so I left them alone. I then tacked together the joints using superglue, to make sure that everything lined up correctly and would stay nice & tight.
Physical changes done, it was time for paint. I used a combination of paint and ink to blacken the splitter, lower intakes, side skirts, and rear fascia. The lower marker lights and wheel rims were painted flat blue, the grille ornament and mirrors were painted silver, and the taillights were painted dark red. Now Hasbro just needs to release a 3-step Strongarm...