Made By:
Walt Disney World (Disney Theme Park Edition)
Scale:
N/A
MSRP:
$19.99
Overview:
Packaging (Design):
8/10
Packaging (Durability):
8/10
Casting (Body):
8/10
Casting (Interior):
N/A
Casting (Chassis):
7/10
Casting (Engine):
N/A
Paint (Exterior):
8/10
Paint (Interior):
N/A
Paint (Trim/Graphics):
9/10
Overall Panel Fit:
8/10
Total Score:
8/10

Other Paranormal Models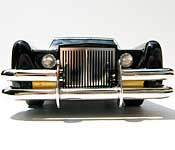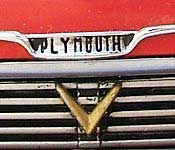 The Real Ghostbusters Ecto-1
Speed Demon Chevelle
Wheels of Terror Charger
Ghostbusters Ecto-1 (Review)
Stranger Things Chevy Van
Ghostbusters: The Video Game Ecto-1B
Supernatural Impala
Supernatural Impala (Review)
The Car
Christine (Review)
Blade '68 Charger
Stranger Things Chevy Blazer (Review)
Supernatural Chevelle
Harry Potter Anglia 105E
Night Watch Audi TT
Nightmare on Elm St Cadillac (Review)
Ghostbusters Ecto-1
Kaiki Daisakusen Tortoise (Review)
Haunted Mansion Hearse (Review)
Ghostbusters 2 Ecto-1A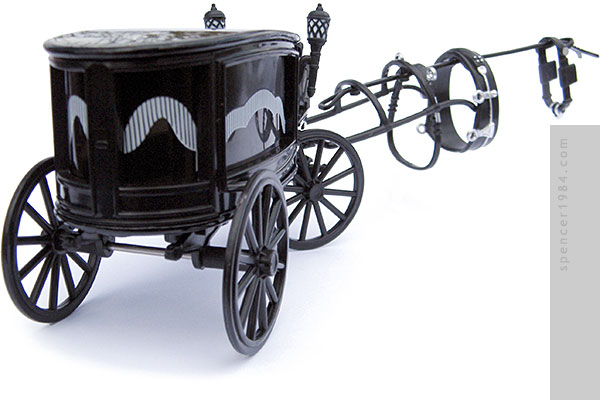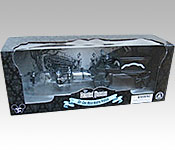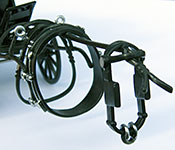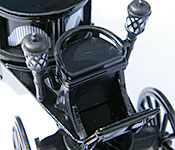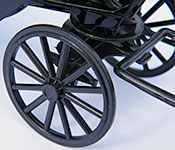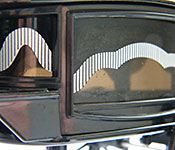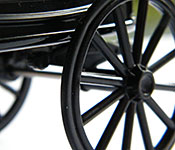 Background
The Haunted Mansion idea predates any of Disney's actual theme parks, dating back to when Walt Disney hired the first Imagineers. Artist Harper Goff is credited with the first official sketch of a run-down manor perched at the top of a hill above Main Street, while Ken Anderson was tasked with creating stories from Goff's drawing. While Disney did not want a dilapidated building in his otherwise pristine park (preferring something more along the lines of the Winchester House), the idea moved forward under Imagineers Rolly Crump and Yale Gracey. Further contributions were made by X Atencio, Marc Davis, and Claude Coats, the latter two having a disagreement as to whether the attraction should be more "scary" or funny." Atencio was able to combine their ideas into a single transitioning ride, with music by Buddy Baker and narration by Paul Frees. The final major change took place after Walt Disney's untimely death, when Imagineers were concerned about the relatively few guests the Mansion could handle at any one time. The solution came from the Omnimover system for Adventure Thru Inner Space, which was renamed the "Doom Buggy" and implemented so that guests could be moved quickly while still maintaining the feel of a solitary walk through a haunted house. After more than a decade of planning and years of construction, the Mansion's official opening to all guests was August 12, 1969.
Packaging
This is a basic but effective window box, measuring 13" (33.5cm) x 3¾" (9.5cm) x 5¼" (13.5cm). The window takes up most of the front and top panels, with an elaborate die cut edge to suggest Victorian scroll. The Haunted Mansion title is centered on the the front panel under the window, above a floating banner that reads, "Die-Cast Metal Hearse Vehicle." A Disney Parks logo and the age restrictions flank the banner. Each end flap has a "Haunted Mansion/HM/Authentic" shield centered on the panel. The back panel has the text "A Ghost will Follow You Home" below an oval cloud with the following text:
The Haunted Mansion® Hearse sets the chilling, thrilling tone for one of the all-time great Disney attractions — home of 999 happy haunts having the time of their unnatural lives! There's a mystical medium in a crystal ball, a birthday bash where ghosts blow out candles, "a swingin' wake" that's busting with song, hitchhiking ghouls making last-minute travel plots and a ghost host who's the master of scare-o-monies. They're all just "dying to meet you" in the Haunted Mansion!
By using the Haunted Mansion's creature wallpaper and omitting all colors except the blue used for the banner, shield outlines, cloud, and "A Ghost..." glow, the package is both immediately recognizable and yet subdued enough that it doesn't draw attention to itself. The hearse is mounted on a clear form glued to the inner cardboard tray, and is held down by eight black twist-ties. While this is great for MIB collectors (especially considering the fun/creepy haunted gate printed on the otherwise plain gray wall behind it), there is no way to get it out of the package without destroying things.
Casting/Paint
The hearse is a combination of plastic and metal. The platform and roof are metal, cleanly (if simply) cast and finished in a nice gloss black that only has minor orange peel texture under close examination. The windows are cast in a deeply tinted clear plastic, with opaque black curtains with white fringe printed on them. The fringe is a little crude, but it gets the point across. The torches are cast in soft vinyl with white painted glass. Everything else is cast in black plastic, and like the metal the casting is basic but recognizable. There are some parting seams, most notably on the torches and seat, but generally pretty clean work. The bigger problem seems to come from the reality of making a scale Victorian-era coach sturdy enough for the average person to handle: all four corners have elliptical springs, but they are cast as solid blocks; the floor boards and irons are present, but are cast as a single piece; the seat irons and torch braces are very thick; everything below the fifth wheel is cast as a single piece, with substantial plastic flanges; the singletree, thills, and rear straps are one piece; the axles are bare metal rods; etc. These simplified areas definitely appear to be deliberate, because in places that are naturally sturdier, such as the window frames and wheel hubs, the detail work is much finer. The black plastic doesn't quite match the painted metal, but the only place it really stands out is where the boot meets the platform. The bridle, collar, and girth are separate pieces cast in black plastic with silver paint for their hardware. The paint is generally applied well, with slight ghosting at the edges but even coverage and no runs or overspray. These hang from a rod that acts as the spine of the ghost horse, with ridges acting as locators for the parts. None of them stay very securely, so if you plan to display this outside of its package either leave the twist-ties in place, add some poster tack, or plan to be picking them up a lot. You may also want to consider a prop rod of some sort, since the added weight of these accessories makes the harness droop until it hits the ground (knocking all of the accessories off again).
Features/Accessories
The wheels roll and the front end can be posed.
Accuracy
This is a decent if basic replica of the Disney Parks prop. The only thing that looks incorrect is that all four wheels are the same size, while the fronts should be smaller than the rears. No scale is mentioned, but the size of the seat is about right for a 1/24 scale figure. I'm not sure what's going on with the ghost horse, though. From crupper dock to saddle is about 1½" (4cm), and from saddle to facedrop is about 3¾" (10cm). Assuming the rest of its anatomy is more or less horse-shaped, this means its neck is twice as long as it should be. Ghost giraffe?
Overall
So, limited details, minimal paint, and funny-looking "horse." Still...there's something undeniably cool about a Victorian-era funeral coach, and adjusting expectations to account for it being a toy and a theme park exclusive for under $20 means that it's not a bad deal at all. Recommended.
Have a question, comment, or criticism about this review?
Send me an e-mail
with your thoughts!