Made By:
Jada Toys
Scale:
1/24
MSRP:
US$24.99
Overview:
Packaging (Design):
8/10
Packaging (Durability):
8/10
Casting (Body):
10/10
Casting (Interior):
9/10
Casting (Chassis):
N/A
Casting (Engine):
8/10
Paint (Exterior):
10/10
Paint (Interior):
N/A
Paint (Trim/Graphics):
10/10
Overall Panel Fit:
10/10
Total Score:
9.1/10

Other Batmobile Models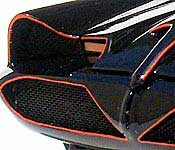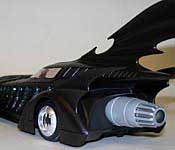 1944: Batman #25
1977: Batman #288
2001: Gotham Knights
1980: Batman #330
2017: Justice League (Review)
2008: Batman and the Outsiders
1989: Detective Comics #597
1970: Detective Comics #400
2006: Batman: Man-Bat
1968: Detective Comics #377
1987: Batman #408 cover
1952: Batman #73
1992: Batman:TAS (Review)
2004: Teen Titans #9
1992: Batman Returns (Review)
2005: Batman/Danger Girl
1972: Detective Comics #420
2017: The LEGO Batman Movie (Ultimate)
1992: Batman the Animated Series
1992: Batman:TAS (Review)
Other Cartoon & Anime Models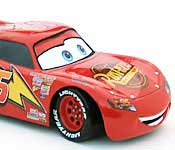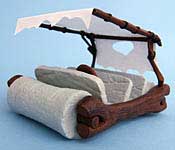 Max Steel Turbo Racer (Review)
Rick and Morty Space Cruiser
Zootopia Police Cruiser (Review)
Ninjago Ultra Sonic Raider
F&F: Spy Racers Crawler (Review)
Lupin III Fiat 500
M.A.S.K. Manta
Big Hero 6 Baymax (Review)
Batman:TAS Batmobile (Review)
Roadster Racers Mickey (Review)
Chop Socky Chooks Cars (Review)
Battle Force 5 Saber (Review)
1992 Batman:TAS Batmobile
Steven Universe Van
Jetsons Spaceship
Danger Mouse Mk III
Evangelion Renault Alpine A310
Lupin III Mercedes-Benz SSK (Review)
Ben 10 Alien Force Kevin's Car (Review)
Speed Buggy Speedy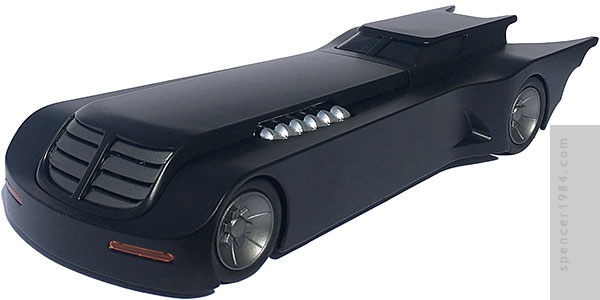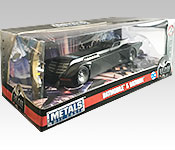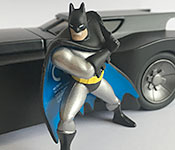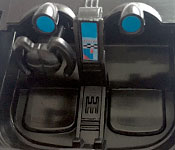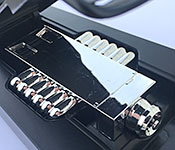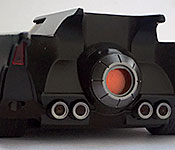 Background
Coinciding with the 1992 release of Batman Returns, Batman: The Animated Series used similar elements such as gothic scenery, dramatic plots, and dark characters. Also like the Tim Burton-directed movies, the Batmobile used in B:TAS was a mix of cutting-edge technology and prewar aesthetics (though the realities of hand-drawn animation required much simpler and straighter lines than the live action Batmobile). Designed by artist Shayne Poindexter, this Batmobile served as Batman's transportation through the first three years of the DC Animated Universe and countless tie-in and promotional items.
Packaging
This is the same packaging Jada uses across the entire Batmobile series, just with the images and text swapped to reflect Batman: The Animated Series The Batmobile has two screws holding it to the base, a plastic band over the hood to keep it closed, and a soft plastic sleeve over one of the in tips to prevent paint wear against the plastic tray. Batman is also held in place with two screws, with a set of plastic bases similar to what's under the Batmobile used to reinforce where he's attached to the cardboard.
Casting/Paint
There are basically two parts making up the bulk of this Batmobile: the hood, and everything else. Casting is clean and smooth, with just a few subtle contours to prevent it from being a brick. Plastic parts like the grille and exhaust nozzles are used where sharper detail is needed, and to great effect. The open slats on the grille and subtle louvers on the main exhaust nacelle add interest without going against the "animated" styling. Other plastic parts include transparent orange for the headlights and main jet exhaust, smoke clear for the windows, and transparent red for the taillights and lower rear ports. Tires are soft vinyl over one-piece plastic wheels. The grille, wheels, and exhaust ports are painted gunmetal gray, while everything else is satin black. The paint is as good as the casting, with a smooth finish and great edges.
Under the hood is a very basic but cartoon-accurate engine cast in chrome plated plastic. The only thing that looks even slightly off is the too-thick header pipes, but thanks to the way the body curves around them you'll only see the problem from certain angles. The chassis is a simple flat plate, but lack of detail doesn't count against a car like this.
Despite having thin windows and a permanently sealed canopy, Jada actually went to the trouble of casting a fully detailed interior here. Seats, gauges, and a center console are both fully cast and decorated with stickers. It's a nice attention to detail that will be completely missed unless you disassemble the car.
Features/Accessories
The hood opens just as it does in the cartoon, on a rear-mounted hinge that makes the hood impossibly long. The hinge holds the hood open with no problem, and when closed it fits perfectly in a groove and around the header pipes. There is also a metal Batman figure included, this time in his Animated Series look with determined grimace and a Batarang at the ready. Bruce Timm's art style lends itself to a diecast figure better than most, and the dynamic pose really looks great. The colors are a little strange, though, with his base suit being shiny metallic silver and the lining of his cape painted bright blue.
Accuracy
In addition to the previously noted animation troubles, there has also been a more general redesign of the Batman: The Animated Series Batmobile in recent years. The original animation models and toys had a long but narrow fuselage, with the hood and cockpit making up about a third of the overall width. This meant that, for it to have a seating area large enough to comfortably fit two adults, the car had a footprint the size of a bus (see this scene from "The Mechanic"). More recent replicas, most notably the 2015 DC Collectibles Batmobile, have reduced the overall length of the Batmobile significantly and changed the proportions to keep the cockpit a reasonable size, making that center section about half of the car's overall width. That's the look Jada went for here, with a wider, flatter look than the earlier design. It captures that look very well, and is a near perfect downsizing of the DC Collectibles car. So while it is accurate to an official replica, it's not exactly what we saw in the cartoon back in the '90s.
That said, it is still on the smallish side. Not that a small Batmobile is news, but this is the first time that the included Batman figure is also noticeably undersized. His crouched position helps hide it a little bit, but if you put him next to other 1/24 scale figures by Jada the result is rather silly.
Overall
Excellent work once again by Jada. The only real areas of contention are the updated look and undersized scale, but both of those are matters of preference rather than craftsmanship. The casting, paint, and attention to detail are all spot-on, and I appreciate the effort that went into things like the fully detailed cockpit and screen-accurate engine. Highly recommended.
Have a question, comment, or criticism about this review?
Send me an e-mail
with your thoughts!