Made By:
Jada Toys
Scale:
1/24
MSRP:
US$12.99
Overview:
Packaging (Design):
9/10
Packaging (Durability):
6/10
Casting (Body):
9/10
Casting (Interior):
N/A
Casting (Chassis):
9/10
Casting (Engine):
N/A
Paint (Exterior):
9/10
Paint (Interior):
N/A
Paint (Trim/Graphics):
8/10
Overall Panel Fit:
9/10
Total Score:
8.4/10

Other Fast & Furious Models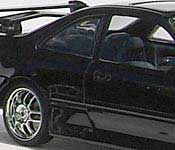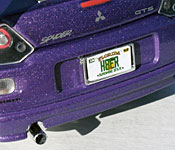 Furious 7 Supra
Hobbs & Shaw Peterbilt (Review)
F8 of the Furious Fleetline (Review)
Furious 6 '69 Charger Daytona
2 Fast, 2 Furious Eclipse Spyder
F8 of the Furious Ice Charger (Review)
The Fast & the Furious Chevelle
Fast 5 '11 Charger Police (Review)
Furious 7 Off-Road '70 Charger
The Fast & the Furious RX-7
Furious 7 Off-Road '67 Camaro (Review)
Furious 7 Maximus Charger (Review)
Fast & Furious '70 Charger
Fast 5 '70 Charger
The Fast & the Furious F-150 (Review)
Furious 7 '70 Charger
The Fast & the Furious '70 Charger
F9 Charger Widebody (Review)
F8 of the Furious Ripsaw (Review)
Fast 5 '63 Galaxie
Other Cartoon & Anime Models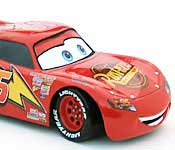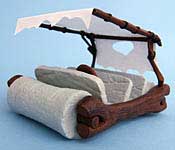 Rick and Morty Space Cruiser
The Real Ghostbusters Ecto-1
Lupin III Fiat 500
Cars Mack (Review)
Batman:TAS Batmobile (Review)
Max Steel Jet Racer (Review)
Steven Universe Van
Ghost in the Shell Motoko Kusanagi
Tekkonkinkreet Colt Galant
Urashiman Magna Beetle
1992 Batman:TAS Batmobile
Who Framed Roger... Benny (Review)
G.I. Joe RAM
Planes 2 Firefighter Dusty (Review)
Ninjago Ultra Sonic Raider
Gunsmith Cats Shelby GT500
Freedom Project Tricycle (Review)
MOSPEADA/Robotech VR-052
Batman:TAS Batmobile (Review)
Jetsons Spaceship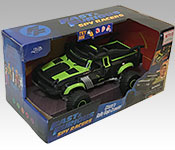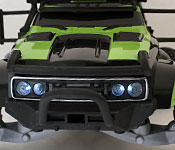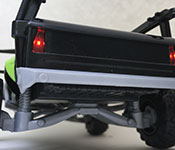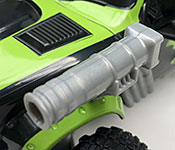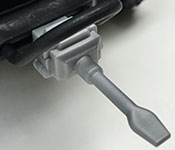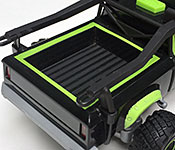 Background
Cisco Renaldo is a mechanic and member of Tony Toretto's crew who acts as the muscle and heart of the team. His vehicle is the "Rally Baja Crawler," a custom mini truck that's nimble enough to handle most on- and off-road courses but still tough enough to catch and haul away a loaded semi trailer. Frostee usually rides shotgun in the crawler, being too young to drive himself.
Packaging
This is identical to the package we saw with the Thresher, with the portrait and text on the front of the box updated to be Cisco and his ride.
Casting/Paint
The body shell here is all one piece, including the glass, box, and fender flares. Bright green paint is used to mark the edges of the panels, and save for a few fuzzy edges around the most extreme corners they do the job very well. The rear flares are probably the worst, and even they only have overspray around the upper rear corners. The roll cage, bumper guard, mirrors, and snorkel are cast in a softer black plastic that has a nice matte finish to contrast nicely with the gloss black body. Silvery gray plastic is used for the exhausts and rear bumper, clear plastic is used for the headlights, and transparent red plastic is used for the taillights. The button on the roof is cast in a green that closely matches the painted areas.
The chassis is cast in a matte black that closer in type to the hard ABS used for the body, but matches the safety cage nicely. The axles are the same silvery gray as the exhausts, and are cleverly designed to look more complex than they are. The wheels are black plastic with green trim rings and large balloon tires (and, unlike their diecast trucks, these are full, solid tires inside and out).
Features/Accessories
Pressing the button on the roof will produce one of three sound effects: squealing tires, engine revving, and startup/drive away. All three are accompanied by the headlights and taillights lighting up. There are also three snap-in spy accessories included: a front-mounted jackhammer, and a pair of fender-mounted cannons on rotating arms. These mount much better than they did in Tony's car, and the holes are less obtrusive against all the black plastic.
Accuracy
Off-road vehicles are notoriously difficult to translate into toys, with suspensions and roll cages simplified to the point of absurdity in order to meet cost and safety requirements. The Rally Baja Crawler fares better than most thanks to a combination of clever design and dark plastic. Sizing is particularly hard to gauge thanks to the extreme custom nature of the vehicle. It feels like it could have been a little bigger, but it's not so small as to look awkward.
Overall
I like this one better than I thought I would going in. There's a lot of clever work going on here, and the simplified parts aren't as bad as they could have been. A fine addition to the Spy Racers lineup.
Have a question, comment, or criticism about this review?
Send me an e-mail
with your thoughts!