Made By:
The Franklin Mint
Scale:
1/24
MSRP:
US$135.00
Overview:
Packaging (Design):
7/10
Packaging (Durability):
10/10
Casting (Body):
10/10
Casting (Interior):
10/10
Casting (Chassis):
9/10
Casting (Engine):
9/10
Paint (Exterior):
10/10
Paint (Interior):
10/10
Paint (Trim/Graphics):
9/10
Overall Panel Fit:
10/10
Total Score:
9.4/10

Other 1980s Movie Models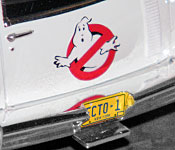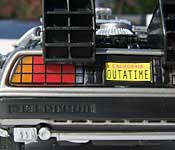 BTTF DeLorean (Review)
Never Too Young to Die Corvette
Gremlins VW Beetle
Transformers Optimus Prime
Back to the Future DeLorean
Ghostbusters 2 Ecto-1A
Who Framed Roger... Benny (Review)
Ghostbusters Ecto-1
Blues Brothers Bluesmobile (Review)
Indiana Jones and the Last Crusade Bike
Ghostbusters Ecto-1 (Review)
Beverly Hills Cop Nova
Transformers Hot Rod (Review)
Night of the Comet 1953 Buick (Review)
BTTF3 DeLorean (Review)
The Karate Kid Ford Convertible
Tucker: The Man... Tucker (Review)
Smokey & the Bandit 2 Firebird T/A
The Terminator Custom Pickup
Stroker Ace Thunderbird Stock Car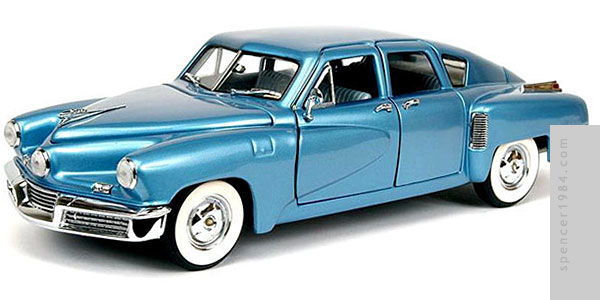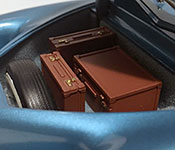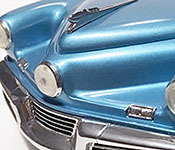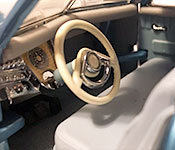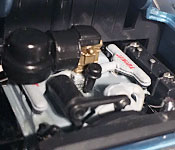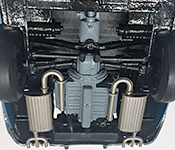 Background
One of Tucker's innovative concerns was safety. Massive front and rear bumpers, an armored "safety chamber," and a recessed instrument "pod" were specifically designed for the safety of drivers and passengers...In fact, the Tucker was not only safe, but durable and dependable. So much so, that Preston Tucker had one built expressly for his wife. This particular Tucker was painted "Waltz Blue."
Packaging
As with cars by The Danbury Mint, Franklin Mint has the Tucker packed safely in a styrofoam clamshell slipped into a carboard box. An envelope with the paperwork for the Tucker is glued to the outside of the box, and more paperwork is in the box itself. Sheets of tissue paper further protect the car within the styrofoam.
Casting/Paint
Despite being first released in 1992, the Tucker compares favorably to many modern diecasts. The entire body is metal, including the separate luggage lid, doors, and engine cover. The panel gaps and alignment are excellent, especially considering the myriad compound curves that need to line up just right: the pontoon front fenders, curved door tops, and fastback roofline are all complex shapes just inviting mistakes but Franklin Mint pulls it all off beautifully. The Waltz Blue paint is equally well done, with a smooth, blemish-free finish in an era-appropriate gloss. Chrome-plated plastic is used for the bumpers, hood ornament, headlight bezels, parking lights, mirror, wipers, windshield divider, wing window frames, door handles, air intake ducts, taillights, and grille. Clear plastic is used for hte three headlights, windshield, rear quarter windows, and rear window. As with other cars of this era, leaving hte glass out of the wing windows produced a more realistic result than plastic inserts would have. Both grilles and the side ducts have a black wash to bring out their detail, and black is also used for the windshield, quarter window, and rear window frames. Red paint is used for the taillights, and the Tucker name and crest are printed on the rear bumper and engine cover, respectively.
The interior is almost entirely medium gray, which is all the more impressive when you realize how many different materials went into it. The painted headliner, plastic seats and door panels, and flocked floor are all nicely matched to give a clean, consistent look. The unique instrument cluster/control panel is chrome plated plastic with a printed insert and single-unit gauge cluser. The steering column and "crash cowl" are painted gray to match the rest of the interior, while the steering wheel is ivory with a chrome horn ring. The pedals are black, and more chrome is used for the door handles and window cranks.
Up front is a fully-stocked lugage compartment, with three pieces of brown luggage and the spare tire set in a gray flocked space. At the rear of the car is a nicely detailed recreation of Tucker's flat 6. The block and transaxle are painted gray, and detailed with a separate air cleaner, carburetor, intake, oil fill, and drive belt assembly. The battery is jut right of the main engine, while the radiator is just ahead of the rear bumper. Separate steel-painted exhausts are mounted underneath, ending in the distinctive trident exhaust tips with dimpled ends. The paint work here continues the good work seen elsewhere, down to the "Tucker" script printed on both intake manifolds.
Chassis detailing is good, with some nice attention to detail including the horns, front suspension, and textured undercoating on the main floor. It rides on vinyl tires with plastic inserts for the whitewalls and chrome hubcaps with stickers as the center crests on each one.
Features/Accessories
The front and rear lids and all four doors open and close on nice, smooth-operating hinges. The engine cover is the only one that won't stay open on its own, but this is by design: a tiny wire prop rod is included as part of the lid to hold it open. It also has posable front wheels attached to the steering wheel.
Accuracy
Because of Tucker's extremely short production run, this diecast represents not just the make and model, but specifically car serial number 31 in Vera Tucker's preferred blue. Franklin Mint's replica is accurate on all counts, even scaling to an essentially perfect 1/24.
Overall
Fantastic work all around. Models like like this were what gave the Mints a reputation for "expensive, but worth it." As noted in the paperwork, the marque was the central element of Tucker: The Man and His Dream, making this an excellent addition to a Hollywood diecast collection as well.
Have a question, comment, or criticism about this review?
Send me an e-mail
with your thoughts!