Made By:
Modarri
Type:
Reconfigurable Toy Car
MSRP:
$59.99
Other Building Toy Reviews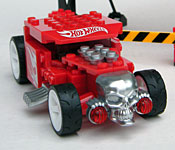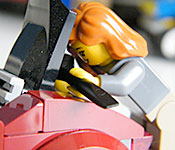 LaQ Frog
K'NEX Greenhouse
Mega Bloks Super Stunt Test Facility
Luke's Toy Factory Fire Truck
Mega Bloks Super Blitzen
K'NEX Ferris Wheel
LEGO Batman: Riddler Chase
LEGO Cement Mixer
LEGO Fuel Pumper
LEGO 4-Wheelin' Truck
Slotto Puzzle
LEGO Delivery Van
LEGO Flatbed Truck
LEGO Fuel Tanker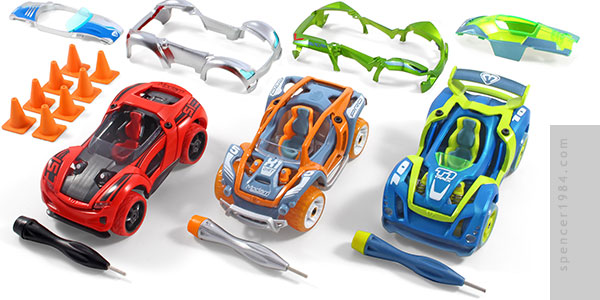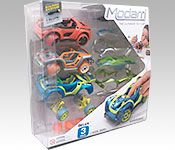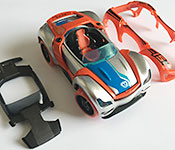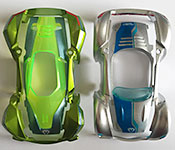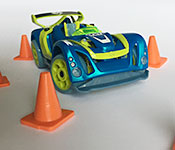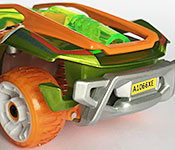 I first encountered Modarri's rebuildable vehicles at ToyFair 2015, and was immediately impressed by both the look and concept behind the cars. By using standardized connections on uniquely shaped parts, they offer the ability to make dozens of unique designs with no modeling skills required. Once assembled, these cars feature working suspensions, working steering, and a single seat big enough hold a LEGO Minifig, Friend, or similarly-sized driver.
This set is the "Delux 3-Pack," and comes with three chassis, three upper frames, three wheel sets, three seats, five fenders, five upper bodies, eight traffic cones, and three screwdrivers. The box claims over 235,000 combinations are possible with the set, though clearly some are a bit more successful than others.
Assembly is very straightforward. Each chassis is a plastic piece about 2¼" (60mm) wide and between 4½" - 5" (110mm - 130mm) long, and has standardized ports for mounting the front and rear suspensions, seat, and body parts. Some bits are visible around the bottom edge, forming bumpers, air dams, and diffusers, plus they also form the floor and firewall inside. The seat and suspensions mount by placing them into the indicated keyed slots, then securing them with their respective screws. Going with captive screws was a nice idea, as it prevents losing these small parts and ensuring that builders will always have the hardware needed to make their cars go together. Once this much is together, the cars are ready for play...but as a wise man once said, "It goes somewhere, but it ain't, you know, boss."
To really give these their "wow" factor, each body comes in three pieces: a set of fenders, a center upper section, and a perimeter frame. The fenders are molded in plastic, and form the outermost section of the body including bumpers, grilles, and door sills. They usually have separate clear headlights and transparent red taillights added to them, though this varies a bit based on the exact design. The center upper sections form the hood, trunk lid, and windshield/canopy, often with the latter being a separate piece of transparent plastic but sometimes the entire part is cast as one piece and the glass is simply left unpainted. The perimeter frame is diecast metal, and has two captive screws located just above and ahead of the rear wheels. This frame seats over top of the two other parts, and once screwed down holds everything securely in place.
Design-wise, these look great. There's a surprising amount of variety in the shapes they used, and doing a single swap like changing the red drop-top frame for the orange roll bar frame alters the whole look and feel of the car. The colors are loud and funky, so much so that they actually compliment each other even when you put together ridiculous combinations like flat blue, red, and metallic lime. I also appreciate some of the smaller details here, such as placing the body screws so that they look like fuel fills. It speaks to a desire to have these look good and finished once they're together, not just "close enough."
The quality of the parts is very good, too. With so many options flying about, having a tricky assembly every once in a while would be unsurprising but everything fits together smoothly and comes apart easily. The only place I had any interference was making particularly aggressive turns, as you can force the tires up into the fenders far enough that they rub. The low-profile tires work better overall, especially when paired with a higher/smoother set of fenders to reduce the risk of rubbing.
Driving the cars through the included cones takes a little practice, if only because they're far more responsive than you'd expect: shifting the weight with a light touch works far better than trying to slam the car into a corner. Also, the steering geometry means they work better going forward than backwards, though both directions can be done smoothly with a little practice.
Overall, these both look and feel like quality items. The parts fit is solid, the finish is nice and clean, and the options are nicely varied.