Site Features
Getting Started in the Hobby
Model Categories
Made By:
LEGO (set #6696)
Type:
Building Blocks
MSRP:
N/A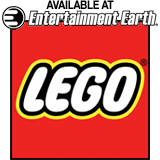 Other Building Toy Reviews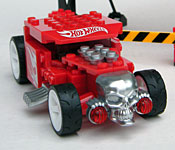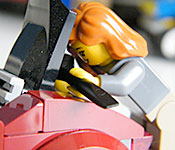 K'NEX Greenhouse
LEGO Batman: Riddler Chase
Mega Bloks Super Blitzen
LEGO Delivery Van
Luke's Toy Factory Fire Truck
LEGO Cement Mixer
LaQ Frog
Mega Bloks Super Stunt Test Facility
LEGO 4-Wheelin' Truck
LEGO Fuel Pumper
Slotto Puzzle
K'NEX Ferris Wheel
LEGO Fuel Tanker
LEGO Flatbed Truck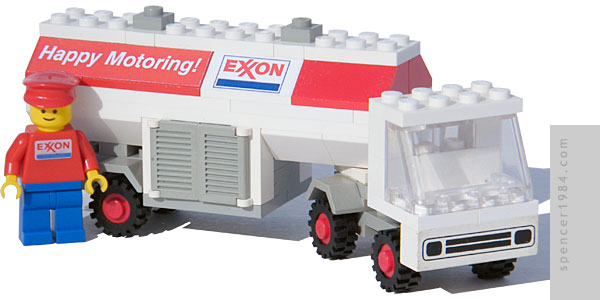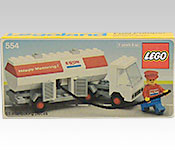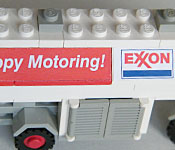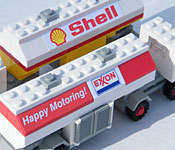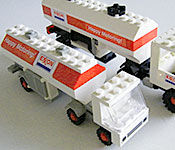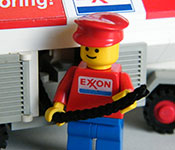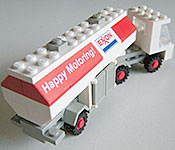 Minifigures were introduced in 1978, but it would be another couple of years before they could sit inside their vehicles. The earliest closed-roof vehicles were generally solid constructions with cabins that were too small to get a figure inside of. The Fuel Pumper, released in 1979, was one of these designs. It was the American variant of the European-exclusive #671 Shell Tanker, and came with 97 pieces, one minifigure, and a sticker sheet.
The minifig has a red Police-style cap, standard yellow smiley head, red torso with "Exxon" logo, and blue legs.
Because this was such an early set, it lacked all but the most basic features. It was articulated thanks to a 2x2 turntable, but without any kind of support under the trailer it was never meant to be split (as the Fuel Pumper would be). And while there is a string "hose," it has no nozzle or reel. Instead, it is anchored by a knot fed through a small window brick, and the hose is simply wadded up in the compartment behind the gray shutters when not in use. The headlights and grille are a printed 1x4 brick, and there is nothing to indicate taillights, fuel tanks, or exhausts. The only markings come from stickers that get applied to the sides of the trailer.
Though the builds are the same, the Shell version greatly benefits from the extra colors. This one isn't bad, but the gray chassis is not different enough to really stand out against the solid white body. The red stripe helps, but it is so high up and broken by the white sloped brick that it isn't quite enough.