Made By:
Banpresto
Scale:
N/A
MSRP:
¥1,000
Overview:
Packaging (Design):
8/10
Packaging (Durability):
8/10
Casting (Body):
8/10
Casting (Interior):
N/A
Casting (Chassis):
N/A
Casting (Engine):
N/A
Paint (Exterior):
8/10
Paint (Interior):
N/A
Paint (Trim/Graphics):
7/10
Overall Panel Fit:
7/10
Total Score:
7.7/10

Other Cartoon & Anime Models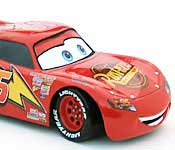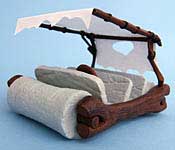 Roadster Racers Daisy (Review)
The Simpsons Family Sedan
Roadster Racers Minnie (Review)
Max Steel Jet Racer (Review)
Rugrats Movie Reptar Wagon (Review)
Chop Socky Chooks Cars (Review)
Betty Boop '39 Chevy Deluxe (Review)
Jetsons Spaceship
F&F: Spy Racers Crawler (Review)
101 Dalmatians Cruella's Car (Review)
Gunsmith Cats Shelby GT500
Roadster Racers Donald (Review)
Batman:TAS Batmobile (Review)
Ghost in the Shell Motoko Kusanagi
The Real Ghostbusters Ecto-1
Cars 3 Jackson Storm (Review)
Roadster Racers Mickey (Review)
Ninjago Ultra Sonic Raider
Zootopia Police Cruiser (Review)
Freedom Project Tricycle (Review)
Other Motorcycle Models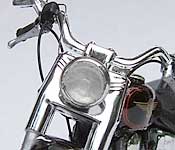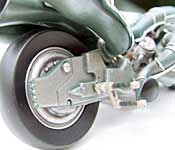 MOSPEADA/Robotech VR-038
Indiana Jones and the Last Crusade Bike
Kamen Rider Hurricane
Kamen Rider W Accel Gunner

Kamen Rider Cyclone
The Mouse and the Motorcycle Bike
MOSPEADA/Robotech VR-052
Tron Legacy Clu's Light Cycle
Tron Legacy Sam's Light Cycle
Final Fantasy VII Fenrir (Review)
The Great Escape Bike
Tron Light Cycles (Review)
Terminator 2 Harley-Davidson
Final Fantasy VII Motorcycle (Review)
The Walking Dead Chopper
The LEGO Movie Cycle
Grendizer Duke Buggy (Review)
Kamen Rider New Cyclone
Ghost Rider Stunt Bike (Review)
Transformers: RID Sideways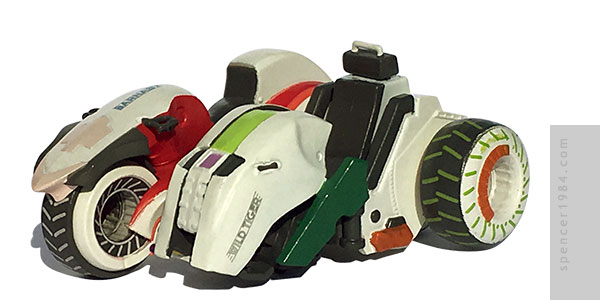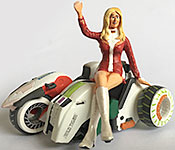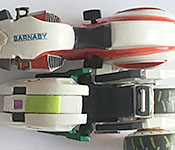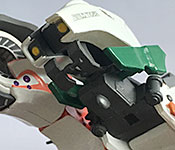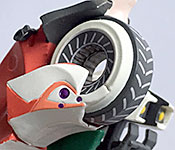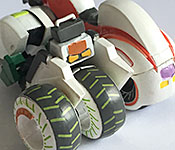 Background
In the future Sternbild City, Kotetsu T. "Wild Tiger" Kaburagi and Barnaby "Bunny" Brooks Jr. are among the myriad corporate-sponsored heroes whose adventures are documented on the reality series HERO TV. Kotetsu follows an old-fashioned code of justice that is more effective than flashy. To help boost his popularity, his employers pair him with rookie Barnaby, who has similar powers but a very different style when fighting crime. Their vehicle is the Double Chaser, a motorcycle/sidecar combination that can split into two separate bikes.
Packaging
Banpresto's Tiger & Bunny series is packed in small boxes, measuring 4½" (11cm) tall and 2" (5cm) square. The front of the box has a photo of the Double Chaser set against a comic book-style background, complete with halftone cityscape panels and action balloons above and below the photo. The Tiger & Bunny logo is at the very top of the panel, next to the Banpresto logo and above the World Collectable Figure logo. The bottom of the panel marks this as #8 in the series. One side panel has front, side, and top photos of the Double Chaser, with callouts for "Wild Tiger's Lonely Chaser" and "Barnaby's Lonely Chaser" done in a similar comic book style as the front panel. The opposite panel shows a grid of all the figures in the series. the back and bottom have the various legal and contact info, and the top panel has a large Tiger & Bunny logo. Inside, the Chaser and its base are in separate pouches of a single plastic bag. The overall package is simple, but very effective and makes the most of what it has to work with.
Casting/Paint
This is essentially a trading figure, cast in a tough but still flexible vinyl. The material is generally better suited to organic designs, as there are certain limitations inherent to the material that show up more on mechanical designs. For example, it doesn't hold matching angles or perfect symmetry all that well, resulting in things like the foot pegs not quite sitting at right angles to the centerline. Also, the seams down the centerlines of both vehicles are more pronounced than usual. That all said, Banpresto actually did a very nice job under these limitations. Wheels, handlebars, foot pegs, and the panels on Tiger's half are all cast as separate pieces to avoid a monolithic look. While there are no action features, the way that things are formed and extra details like hinges and panel locks are all in place to suggest what is possible. Paint isn't quite as good, with lots of rough edges on the smaller details. Other details like the tire patterns and the "Barnaby" and "Wild Tiger" scripts help bring the score back up a bit.
Features/Accessories
Each figure in this series includes a black plastic octagonal base embossed with the World Collectable Figure logo. Otherwise, this is a simple static statue with no other accessories (the figure in the above photo is Revell's Linda Vaughn, only here to demonstrate scale).
Accuracy
While most of the figures in this series are highly stylized, the Double Chaser is actually pretty realistic: no outlandish proportions, wacky accessories, etc. It's a good looking model that captures the look ad feel of the vehicle very nicely. Scaling is very difficult to determine thanks to the unique design and lack of any official specs, but comparing the seat to a 1/25 scale figure suggests the bike is somewhere in the 1/26-1/28 range.
Overall
While your purchase of this is more dependent on whether you're a fan of Tiger & Bunny, it's actually a neat little piece that captures the look of the anime vehicle nicely.
Have a question, comment, or criticism about this review?
Send me an e-mail
with your thoughts!