Made By:
Revell-Monogram
Scale:
1/24
MSRP:
US$11.45
Overview:
Packaging (Design):
9/10
Packaging (Durability):
9/10
Casting (Body):
8/10
Casting (Interior):
N/A
Casting (Chassis):
N/A
Casting (Engine):
7/10
Paint (Exterior):
N/A
Paint (Interior):
N/A
Paint (Trim/Graphics):
N/A
Overall Panel Fit:
9/10
Total Score:
8.4/10

Other Motorcycle Models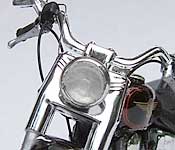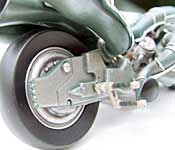 MOSPEADA/Robotech VR-052
Tron Legacy Sam's Light Cycle
Kamen Rider New Cyclone
Transformers: RID Sideways
Tron Legacy Clu's Light Cycle
MOSPEADA/Robotech VR-038
Final Fantasy VII Fenrir (Review)
G.I. Joe RAM
Kamen Rider W Accel Gunner

Tiger & Bunny Double Chaser (Review)
Other Toy Models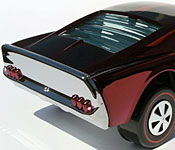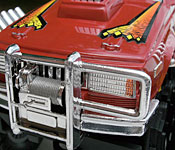 Robots In Disguise Prowl (Super)
R.A.M.S. Wave Warrior (Review)
Transformers G1 Road Rage
G.I. Joe RAM
Transformers G2 Gearhead
Cybertron Cannonball
Hot Wheels "Heavy Chevy" (Review)
Hot Wheels "Boss Hoss" (Review)
R.A.M.S. 4 x Force (Review)
Transformers G1 Ratchet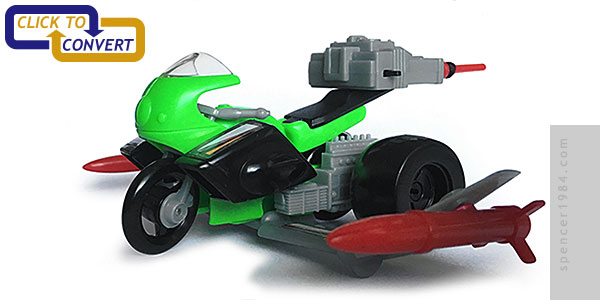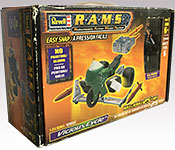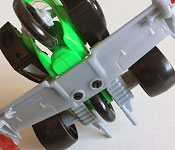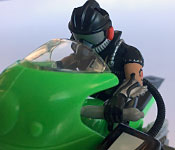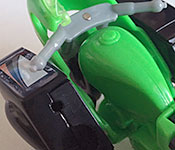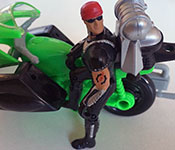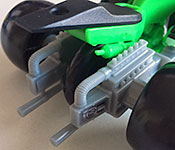 Background
In late 2000, Revell launched an experimental series of toys in an attempt to attract new builders. The series was dubbed RAMS: Rebuildable Action Model System. A mini universe was created that pitted the RAMS Squad against the Techno-Raiders, with each side having vehicles that could be reconfigured using a modular building system. Six vehicles were launched in that first wave, including a staple of every transforming squad: the flying motorcycle. Ridden by the "lightning quick Eco RaiderT," the Vicious Cycle is referred to as "a vehicle of environmental disruption" (odd thing, that designation going to arguably the most fuel-efficient vehicle in the series).
Packaging
The RAMS vehicles are packed in cardboard "lunch box" style packages, with a hinged lid and a plastic handle sticking out the top. The front panel has a large picture of the Vicious Cycle in attack mode just left of center, with a cutout in the top right corner revealing the included Eco-Raider figure. The Revell and RAMS logos are in the top left corner, just above multilingual callouts for "Easy Snap" and "No Painting/Gluing." The bottom left corner has the vehicle name under a 1/24 Scale callout. Under the figure window is a callout for his name and team affiliation. The bottom right corner claims that the Vicious Cycle can be rebuilt "25+ ways." Both end flaps are essentially resized versions of the front panel, with the only difference being a cartoon drawing of Eco-Raider instead of the actual figure (while the drawing has the Eco-Raider looking like a robot with a human face, the figure look like a pretty standard Road Warrior-inspired biker). The top panel has photos of the Vicious Cycle in Undercover and Revenge modes flanking the handle, along with the series title, team affiliation, vehicle name, and a repeat of the "25+" callout. The bottom has photos of two alternate configurations, and the back has photos of the Vicious Cycle's inventory next to co-sells for the other five vehicles in the series. Inside, all the parts are bagged and there is a separate instruction sheet, sticker sheet, and poster.
The instructions start with a spec sheet on the Vicious Cycle, listing its driver (Eco-Raider), top land speed (200mph), top air speed (350mph), Armaments ("Whip Leash" bolo launcher and two Shadow Strike missiles), and special features (Shadow Wing which allows Eco-Raider to evade radar when flying low to the ground and Rocket Backpack has smoke screen feature which belches toxic smog at enemies). Actual instructions start on page 2 with the sticker placement guide, followed by three steps of snapping the motorcycle together narrated by Eco-Raider in English and French. The final page shows three "missions," aka alternate modes for the bike. Mission #1 is "Undercover," and has only the basic motorcycle with the ram air intakes attached. Mission #2 is "Confusion," converting the bike to a trike (technically a quad since you don't remove the middle rear wheel) by adding the two engine halves with rear wheels and giving Eco-Raider his jet backpack. Mission #3 is "Revenge," which adds the Shadow Wing, missiles, and bolo launcher. To further drive home the M.A.S.K. homage, Eco-Raider loses the backpack and instead dons a "Shadow Skull Helmet" that comes down to cover part of his torso. The mask helmet has a set of hoses that plug into the backs of the intake units.
Casting/Paint
As relatively small as the Vicious Cycle is, Revell did a pretty decent job hiding the hard points. There's one on the back of the seat and two molded into each rear swing arm, but they're integrated nicely enough that they don't seem like play features so much as extra details. Considering how few pieces it's made of, the detail is pretty good: disc brakes, suspension and drive detail, and even a fair amount of engine. Everything is cast in green, gray, or black ABS, with a little clear thrown in for the windshield. Some paint would help a lot, but the cast in detail is there.
Features/Accessories
The big engine halves, bolo launcher, and wing are cast in light gray plastic, and the missiles and bolo projectiles are cast in red. A short string ties the two projectiles together, with one fitting in a spring-loaded launcher and the other just resting in a hole. They work...not great. The spring is too weak to reliably launch the first projectile, much less have it and the second one go spinning off as a weapon. The wing tips can be repositioned, and while they're fine at holding their positions unencumbered, the missiles add a bit too much weight unless you have them posed just right. The Eco-Raider figure is basic but competent, with painted features and joints in his neck, shoulders, hips, and knees. The backpack snaps into his back easily enough, and the helmet fits tightly over his head and chest so it won't fall off. You can get him to hold the handlebars and have his hoses plugged in, but it will take a little effort.
The stickers were good quality, but poorly sized: nearly every one of them needed some of the clear border trimmed off before they would fit in their assigned places.
Accuracy
While it seems like every transforming vehicle team has a flying motorcycle, none of them have really been great looking bikes. Condor was probably the best, but even that was so big that Brad Turner sat in it rather than on it. Real motorcycles are simply too small to be anything other than motorcycles. That said, Revell did pretty good with keeping this close to a believable size and style.
Overall
Vicious Cycle was one of the two "small" sets in the RAMS line, and while it's not as impressive as some of its bigger casemates it's still a solid addition in both Undercover and Attack modes.
Have a question, comment, or criticism about this review?
Send me an e-mail
with your thoughts!