Made By:
GreenLight Collectibles
Scale:
1/24
MSRP:
US$24.99
Overview:
Packaging (Design):
9/10
Packaging (Durability):
9/10
Casting (Body):
9/10
Casting (Interior):
9/10
Casting (Chassis):
8/10
Casting (Engine):
N/A
Paint (Exterior):
9/10
Paint (Interior):
9/10
Paint (Trim/Graphics):
10/10
Overall Panel Fit:
9/10
Total Score:
8.0/10

Other Police Models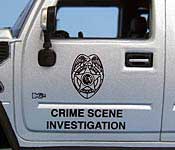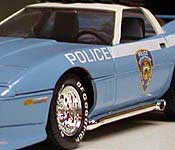 LAPD Monte Carlo SS Aerocoupe
The Fifth Element NYPD Car (Review)
The Bourne Ultimatum NYPD Impala
Stranger Things Chevy Blazer (Review)
iZombie Police Car
Piranha 3D Crown Victoria
Short Time Dodge Diplomat
CSI: Miami Hummer H2
Blues Brothers Bluesmobile (Review)
Transformers Saleen S281
You're Under Arrest Crown Vic
Transformers: RiD Diablo
Animal Precinct Crown Victoria
Resident Evil Raccoon City Police Car
Transmorphers: Fall of Man Crown Vic
Blue S.W.A.T. Striker EX (Review)
NYPD Corvette
Sharky's Machine Dodge Diplomat
CHP Diablo
Mad Max V8 Interceptor (Review)
Other Classic TV Models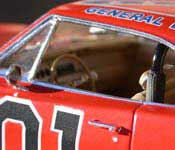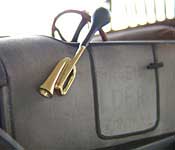 Kaiki Daisakusen Tortoise (Review)
A-Team Corvette
Supercar
Man from U.N.C.L.E. Piranha
Bewitched '69 Camaro (Review)
Riptide 1960 Corvette
V Laser Jeep
Highway Patrol Buick
Dukes of Hazzard Undercover General
Doctor Who TARDIS
V.I.P. Jaguar
Danger Mouse Mk III
Knight Rider KITT
Beverly Hillbillies Truck
Starsky & Hutch Ford Torino
Married...With Children Dodge
Flintstones Family Car
Dukes of Hazzard General Lee
WWF "Macho Man" Bronco (Review)
Jetsons Spaceship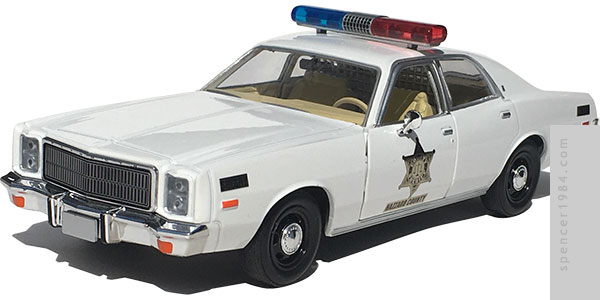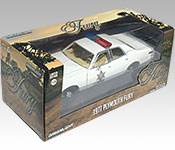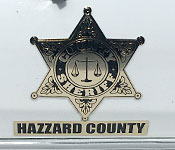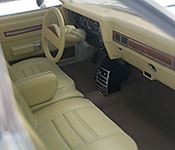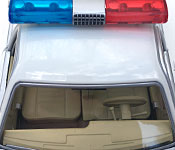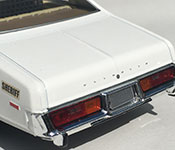 NOTE: This is a modified reissue of an existing model, and this review will focus on the changes made between the cars. You can see the original review for more details.
Background
As with many of Rosco P. Coltrane's other attributes - his hard edge, being a crack shot, the active role he played in various schemes - his patrol car only became established as the 1977+ Monaco/Fury later on. Earlier cars included a previous generation Monaco, a Polara, and even an AMC Matador.
Packaging
Because Warner Brothers discontinued licensing of Dukes of Hazzard merchandise in 2015, this is not sold as part of Greenlight's "Hollywood" series, but is instead in the same size box with graphics that do not menion the show. They instead show a rural estate with a tree-lined dirt road with a wire fence off to one side and a yelow-tinted sky. The logos and callouts are all in their usual locations, but where a movie title or graphic would normally go now has a large "Fury" script drawn like the car's fender badge. The inside of the box continues the country road, essentially having the car parked crosswise on it.
Casting/Paint
From the outside, the only differences between the 4th-gen Monaco and 7th-gen Fury are the grilles and rear bumper. GreenLight has recognized both, with Rosco's car sporting a vertical bar grille and a rear bumper with outboard bumperettes and revised taillights. The all-white paint is just as clean as the previous LAPD paint scheme, with a high gloss and no sign of runs, fade, or other issues. The new "Plymouth" scripts are expertly placed and sharply printed, while the gold Sheriff badges on the doors and four corners have abright metallic finish and crisp black insets. the trim and marker lights are still as clean as ever. Inside, the car has a new color scheme with darker carpeting and does not include the dash lamp.
Features/Accessories
The front doors open and close as usual, though the driver's door has a slight gap that did not appear on the Terminator release.
Accuracy
Aside from lacking license plates, the only things missing from this are the right sideview mirror and the side trim on the fenders and rear doors. However, both details are correct for the 1976 Fury used in the show.
Overall
Another excellent release by GreenLight, cleverly working around Warner Brothers' licensing embargo (not unlike Round 2's "Country Charger" model kit). Given the myriad shortcomings of the old MPC model kit, using this in my Hazzard county collection instead is a no-brainer.
Have a question, comment, or criticism about this review?
Send me an e-mail
with your thoughts!